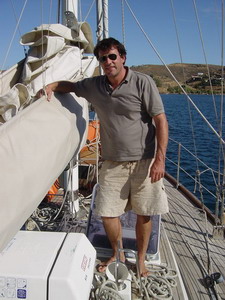 "There are several places from fast food to good standards all around the main square (Plateia Heroon). Special attention deserves the 'Yard', located directly at the bus stop from Athens, conveniently between the main square and the port.
The 'Yard' is a rather modern style and very clean place that offers traditional Greek dishes as well as a variety of international plates, prepared and offered in a nice style with decent prices. Further it offers the biggest variation of beers in the entire area. In a separate facility it offers some entertainment and has a bar-style.
Another very good place of interest is the 'Kokovios', located next to the National Bank, nearby the Plateia. It offers very good food to reasonable prices in a traditional and very clean facility.
Nightlife is abundant around the port, even though the prices are made for the Athens/Sounion visitors.
Several very nice tavernas and restaurants are found just out of Lavrion, like the 'Faros' on the road to the Sounion temple near ' Passa Limani ~ 5Km). It is especially known for its variation of Greek starters (Meze), offers a very warm atmosphere and is decent priced."
Stefan owns the beautiful sailboat Caraya II and does charters to the Cyclades, Saronic islands and the Peloponessos and is one of the few companies that does year round charters. Stefan makes his home in Lavrion where is wife Fotini is an archaeologist and an expert on the area of Lavrion. One of the wonders of the area is a giant hole. Stefan explains the possible origins of it:
"The history of the big hole is not entirely cleared yet (not many people are working on a clarification anyway), but the most reliable is the one of the ancient Meteorite, which would explain as well, why there are so many minerals around that area, that attract large numbers of collectors and geologists every year. Through the heat occurring at the impact of that celestial rock, stones around the area got molten, and these minerals formed.
Another theory claims, that these minerals were there anyway, since the entire area always held minerals of all kinds, and it was just by chance that around the hole is a concentration of them. The hole itself got rather created when a cave or the cover of a lake under the surface collapsed.
I am not a Geologist, but I don't like this theory, since there is no water held at all inside the hole, even though it is some 200' deep, and normal caves are located on the foot of a hill, and not right at the top, -but I may be mistaken.
A 3rd one, which is rather Gossip, says that the hole got dug out by men on search for valuable minerals, since the companies next door were all just searching for silver and lead, and had their very own structure of tunneling the area."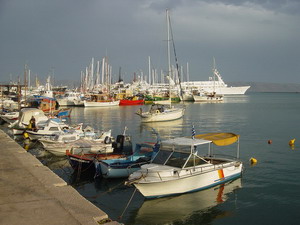 For those of us who live on the island of Kea, the change in Lavrion is amazing since this is where we have had to catch the ferry. Lavrion is no longer a place we don't want to get stuck in. It is now somewhere we can go to visit if we need a break from the island, need to do some shopping, or need a culinary change when we tire of Kea's restaurants. This change in fortunes for Lavrion could not have come at a better time. It appears that Lavrion, a city with a glorious past, now has a promising future, something that may have seemed impossible just a few years ago. However as one might imagine of an area which has been known for thousands of years for its industry and mining, there are some pollution issues that must be dealt with. Until they are, Lavrion has to fall under the category of one of those places you might want to visit but you probably would not want to live there. In the meantime, if you love rocks, minerals and crystals or need a good starting point for your trip to the Greek islands, or a seaside taverna on a sunny afternoon, Lavrion is not the scary place it was a few years ago.
Don't forget to visit the Temple at Sounion. Across from Lavrion is the former prison island of Makronissos. Be sure to visit the ouzeries in the Lavrion Fish market which have excellent fresh fish as you would expect. I alo like Glaros, the fish taverna overlooking the harbor. On Thursday Lavrion has a fantastic Laiko Agora (farmer's market).
Visit the nearby island of Kea too.

Visit my Lavrion Photo Album