Greek Island Ferry Information
Everything You Need to Know About Booking Ferries to the Greek Islands Including Some Things You May Not Want to Know But Should
About the Ferry Boats to the Greek Islands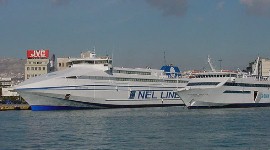 Greek Ferries are the primary means of transport to and from the islands, and the trip is an experience to be savored, like a cruise (sometimes). Islands like Lesvos, Rhodes and Crete are best reached by ferry because the trip is overnight and it's like being in a big moving hotel. A really nice cabin for two should cost about 120 euros or so. Santorini should be appoached by ferry for the view which is breathtaking and worth the 8-10 hour trip, especially if you can get there in the late afternoon. Unless of course you don't like being on boats in which case no view is worth 8-10 hours of boredom punctuated by the arrivals and departures from the other islands on the Santorini route.
Flying Dolphins are more like planes than ferries and serve the Saronic Islands. You sit in airplane seats and unless you stand by the door and watch the islands go by it's like being on a turbulant jet flight. There are windows but they are always covered with salt and spray and you can't see anything. The giant high-speed catamarans and modern super ferries like the Aeolis Express, Speed Runner and the Highspeeds are like being on a modern spaceship on the sea. There are rows of comfortable seats, tables, TVs, game rooms, and snack bars with pretty decent food. Not as good as the restaurants on the overnight ferries but spanakopitas, sandwiches and if you are on a good one terrific coffee and espresso. They are also more expensive but you can be in Mykonos harbor in about 3 hours and Sifnos in about 2 and a half hours. You can be in Santorini in about 5 on the high speed catamarans. You can even be in Lesvos or Crete in six hours. But you have to ask yourself would you rather be sitting in an airplane seat for 6 hours and arrive late at night and have to pay for a hotel? Or would you rather have a cabin, have a nice meal in the ship's restaurant, go to the lounge for a drink, go to your cabin and read and then fall asleep and wake up the next morning on the island? It's kind of a no-brainer if you ask me.
The cheapest way to go is to go what we used to call deck but what is now called economy. There are air-conditioned lounges to hang out in and airplane seats so you don't have to literally be on the deck being lashed by wind and high seas (rare). But if you have a sleeping bag and it's a night ferry, there is no better place to be then under the stars with a bottle of wine and some fellow travelers.
For those young people traveling deck who are musicians take note of this simple equation:
Guitar+ferry+wine = friends or even true love(for a week or two anyway).
Buying Ferry Tickets
If you are a budget traveler, backpacker or student, going deck even on the overnight trips is the way to do it. (Even on the Greece-Italy ferries). Plus you won't need to buy ferry tickets in advance except for certain days.
Those certain days are:
1) The Thursday and Friday before Easter
2) the Friday of Agios Pnevmatos (Holy Spirit) which is like our memorial day weekend, a moveable feast that happens sometime in the beginning of June, a good time to just stay in Athens. Its 40 days after orthodox Easter.
3) The last Thursday, Friday and Saturday of July and the beginning of August which is the month when every Athenians and Thessalonikian who can afford it leaves the cities for the islands. Getting out of Athens can be a miserable experience if you don't have a ferry ticket and sometimes even if you do. The boats are packed. Again this is a good time to be in Athens.
4) The Thursday and Friday of the weekend of August 15th when anyone who did not leave Athens by August 1st will be going to the island for the big holiday weekend.
Two important things to think about. Coming back to Athens after these weekends is a tough ticket too, as is returning the last week of August. And a warning to Mykonos travelers. You will notice that these are religious holidays for the most part and this will affect you more than those going to other islands. That's because the island of Tinos is the Lourdes of Greece and it is on the same ferry route as Mykonos. For those going to Lesvos I have bad news for you. The second holiest place is Agiassos and the ferries are filled with pilgrims preceding those holidays. You can get tickets if you book in advance but if you meander down to Pireaus and expect to get on a boat you may find yourself back on the metro looking for a hotel for your weekend in Athens. (But Athens is GREAT during those weekends when everyone leaves.)
Ferry Tickets for Greek Island Travelers Using Greek Travel Agents
Whether you are booking a package or just using the agency to book your hotels for you they will handle your ferry tickets for you. You probably won't have to ask but if they don't mention it then you should because if you have booked your hotels through them there will be no sir-charge and when you arrive at your Athens hotel there will be an envelope waiting for you with a nice little note about when the boat leaves and instructions on getting there and your ferry tickets and vouchers for your hotel on the island. Those getting packages will probably have transportation to and from the airport, hotel and port provided and the agency representative will give you everything and explain what it is.
Travel agents on the internet have no incentive to book ferry tickets alone because they don't make any money on them. In fact if you factor in the time it takes to call the ferry companies and make sure there is a boat, issue the ticket, mail the ticket and subtract the charge the bank makes them pay for credit card sales, they lose money. It is a service they provide to their customers who book hotels and tours. So if you are trying to book ferry tickets on the web the agency will say no or there will be a sir-charge. (Most likely they will say no).
There are ticket agencies in Pireaus when you get to the boats in the big old buildings at Platia Kariaskaki by the bus station (sort of across from the metro). There are also ticket booths by many of the boats and there is even one right in the metro station and on the street outside. In Athens there are a couple agencies on Nikis street that sell ferry tickets but beware that there are agencies that send hustlers out to track down confused looking tourists and bring them in to sell them packages. If you walk into an agency for ferry tickets and you leave with a cruise you have not been ripped off. It's like if you went to buy a used Chevy and left the used car lot with a Porsche. The reason you wanted a Chevy is because that is what you could afford but the salesman used all his tricks to get you to buy the Porsche. They may say there are no more ferry tickets, or the island is full, or whatever it takes to get you to do what they want you to do. If I may say this without being too self-serving: if you have spent hours or days on my website and choose to do it on your own rather then work with one of the agencies I recommend and then you go to Athens and get sold a cruise or an expensive hotel package when all you wanted was ferry tickets, then you probably screwed up somewhere.
Anyway the point is that if you want a cabin or want to be sure of a seat on a highspeed then buy your tickets in advance and the best way to do that is by booking your hotels with a RELIABLE Greek Travel Agency. You won't pay more than by booking directly with the hotels and you won't have to worry about the tickets or the schedules. Don't bother trying to get ferry tickets through your local travel agents because they will just e-mail me and ask me how they can get ferry tickets and I will tell them what I just told you. You can also use my Create-an-itinerary Form to book hotels and ferry tickets.
Online Ferry Booking Services
The other option is to use on-line ferry booking companies. Be sure you understand the terms and try several before settling on one. You want to use a company that allows you to pick up your ticket in a convenient location (like by the boat for example) or gives you a printable e-ticket or a code that enables you to get the actual ticket at any ticket office. Make sure there is not a sir-charge. If you want them sent to you there will be a charge but sometimes that's the cost of feeling secure. Try using the Dolphin Hellas Ferry Booking Page which is easy to use and if you have any problems at least you can contact the agency who are reputable.
Free Tourist Information and Greek Ferry Schedules
At the GREEK NATIONAL TOURISM ORGANIZATION (EOT) office you can get the weekly ferry and bus schedules, a free map of Greece, a free map of Athens, fares, brochures and so on. Their new office is on Dionysiou Areopagitou which is the road that the Acropolis Museum is on. You can get maps of Athens at most hotels and some will have the very helpful map of Greece that EOT so generously provides for free. There are websites that have the ferry schedules but the often don't have the schedules until weeks or months after you hav tried to book your hotels, unless you are doing it at the last minute. Not the fault of the websites but the ferry companies themselves submit their schedules for the next week with the Ministry of Merchant Marine, or the Ministry of Transportation or maybe it is the Ministry of Pointless Paperwork where it has to be approved. So in other words ferry schedules you read in May for a week in June mat not be accurate because they have not even been submitted yet. The good news is that if you are working with a travel agency in Athens it won't matter because they can book your hotels and ferries and make the changes if they have to by making endless phone calls. The bad news is that if you are one of those proud people who do their own bookings directly with the hotels or with on-line hotel sites you can find yourself on one island, booked in a hotel on the next, and no ferry to get there. But hey! You saved 4 euro. (Except for the small matter of the Hotel cancellation fee which can be 90% if you cancel the day you were supposed to arrive). But for you hard-nosed troopers I can give you some idea whether your plan is possible or whether you have booked yourself an impossible holiday. You can e-mail me for help.
If you decide to book ferries on your own then you can book hotels through Matt's Booking.com Page which gives you hotel descriptions, rates and photos. For those backpackers who plan to wing it you should at the very least book your Athens Hotel before arriving.
Ferry Prices to the Greek Islands
This is the kind of section I don't like because if I forget about it and don't update it then things may have changed. Ferry tickets are cheap if you are going deck. Once you go by highspeed or get a cabin then the price starts going up dramatically. You can figure that if a deck or 3rd class ticket to Mykonos costs 27 euro then the highspeed will cost almost double that. Overnight ferries like those going to Crete, Rhodes and Lesvos will cost around 35 euro for deck and double that for a cabin. That's per person for the cheapest cabin. Ferries that go to Aegina are like buses that come and go all day and cost about 4 euro and 8 or 10 for the Flying Dolphins. There are ferry passes but I don't know anyone who has used them. They may seem like a good idea if you are 'island-hopping' but the problem is that if you love the first island you hop to and want to stay there you may feel compelled to leave just to use your ferry pass. (Yes people think like that). Ferries are cheap enough so that when you make up your budget you can off-set the cost of a ferry by skipping a meal or getting a tiropita. Once again if you need to know what the cost is of a particlar ferry you can e-mail me and I can give you a decent estimate if I don't know the exact price.
About Greek Island-Hopping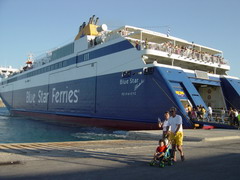 This word is over-used and the process is over-rated. Back in the old days when Greece was dirt cheap and people had a month or more to wander around the islands and little old ladies would meet the ferry to offer the handful of travelers who got off a room in their homes, island hopping was fun and sort of charming. But let us face the fact that Greece has been discovered and when that happens the little old ladies are shoved aside by guys with signs for their fancy hotels, or the little old ladies themselves have built fancy hotels. More critical though to the difficulty in island hopping is the monopoly of the ferry boat companies who fight over the popular routes and leave the smaller islands with connections to Pireaus and maybe a few islands surrounding them. No longer can you make a list of islands you want to visit and hop on the boat to the first one and make connections to the rest. In some cases an island that you can see from your hotel window in Sifnos (like Paros for example) won't have a connection, except by going back to Pireaus. You can still island-hop but it now requires some planning. That is why I made up the Create-An-Itinerary-Page which allows you to decide which islands you want to visit and then send in the form and the agency will tell you if it is possible and send you an itinerary with hotels and ferries. You tell them what your budget is and they find the best places to suit it and all you have to do is show up on time for the boats. For me the best way to visit the Greek Islands is to pick one or two that are convenient to each other, experience those and come back next year.
Getting to the Ferry Boats
Any taxi should know exactly where your boat is and should take you right up to the gang-plank. If you are taking the proastiakos (suburban) train from Athens get off at the last stop which is Pireaus though make sure you are on the correct line so you don't end up in Corinth. If you are going to the Cyclades you should be able to walk to your ferry easily. There is also the E96 bus from the airport that will take you right to the boats. From Athens the 040 goes from the bottom of Syntagma square to Pireaus and the new X80 is an express version of the same route. There is also a stop near the Acropolis museum on Vas Amalias Street near Hadrian's Arch on the Plaka side of the street.
If you take the metro to the final stop cross the pedestrian bridge and...
...boats to Santorini, Paros, Naxos, Sifnos and the Western Cyclades should be directly in front of you.
Mykonos, Syros and Tinos boats are on your left. The high-speed catamaran is there too.
Beyond are the boats to the Saronic Gulf islands of Aegina, Hydra, Poros and Spetsi.
The last boats on your left are to the Dodekanese islands of Patmos, Rhodes, Kalymnos, Kos and for some reason the Western Cyclades (Serifos, Sifnos, Milos).
To the right of the Cyclades ferries are the boats to Crete, followed by the boats to Lesvos, Chios, and Lemnos on the very end.
The Flying Dolphins leave from Pireaus too (not from Zea anymore) and can be found between the Dodekanese boats and the Saronic islands ferries.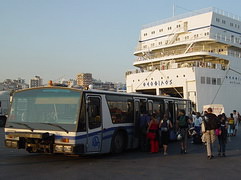 There is a shuttle bus that you can ride to the more distant boats. For supplies there are shops in the area and a few working class restaurants and fast food places. There is also a big cafe to hang out at on the dock near the Cyclades boats behind where all the city buses park and the ticket agencies are. The cafe has been improved in the last couple years and is open 24 hours, has internet access and even a place to leave your luggage so you don't have to stay in one place or wander around Pireaus like a lost turtle. This is great for people who arrive in the morning from one island to connect to an afternoon or evening boat. You can dump your stuff and take the metro to Thission and walk up to the Acropolis.
There is luggage storage in at least 2 locations. The first is at Akti Tzelipi, which is behind the ticket offices and the Kariaskaki Square bus station on that penisula that juts out into the harbor. There is a big 24 Cafe-restaurant with an internet cafe too. You can leave your bags and go back into Athens on the metro and visit the Acropolis if you have a few hours to kill (get off at Thission and walk). There are two more of these cafes, one by the Dodecanese (and Sifnos) ferries that has luggage storage and another by the Crete and Lesvos ferries which may also have luggage storage. (I know that I am supposed to know this but maybe someone can check it out and let me know before I go back next summer).
The port gates are numbered and have the names of the islands those boats go to. The whole port is wireless by the way so if you have your laptop you can plop down in one of the cafe chairs and research your next island or send e-mails home.
Other Ferry Ports for Athens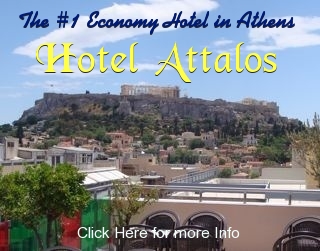 Other boats leave from Rafina where the ferry trip is two hours shorter (though it takes at least an hour to get to Rafina). These boats go to most of the Cyclades and Andros, which you can't get to from Pireaus. The Avra Rafina is a 4-star hotel convenient to the ferries to the islands for those want to avoid Athens and go straight to the islands and spend the first night in Greece in a Greek-island-setting.
They say that in the next couple years many boats will leave from Lavrion. If you are going to Kea (like I do) then you will have to go to Lavrion to get there. It's a hassle unless you take a cab but you can take a bus from Mavromateon Street at Green Park (parallel to Patission street just past the National Museum and the intersection of Alexandras Avenue.) The buses to Rafina and to Oropos for those of you going to Evia. Besides Kea there are boats from Lavrion to Kythnos and the Agoni Grammi (see below) comes here a couple days a week. You can also catch ferries to Chios, Psara, Agios Eftsratios, Samothraki, Thassos, and some other off-beat islands from there.
When Ferries Leave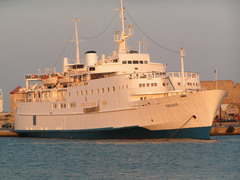 Almost every island has a daily ferry, even in the winter. The exceptions are places like Astypalia, Kassos, Karpathos, Symi, Folegandros, Amorgos and I think you get the idea. Islands that you have heard of like Mykonos, Santorini, Paros, Naxos and even Sifnos have several ferries a day in the summer and at least one a day in the winter. Usually there is a regular ferry and a highspeed or two leaving at 7:30. Then sometimes there is a highspeed in the early afternoon and another at 5:30 and a ferry at about 10pm. Overnight boats leave late in the afternoon with the Rhodes and Dodecanesos boats leaving earliest because the trip is longest (17 hours to Rhodes). The Lesvos boats leave around 7pm and the Crete boats around 9pm. The Aegina ferries and Flying Dolphins run continuously from about 6am to 11pm and to a lesser degree so do the boats to Poros, Hydra and Spetses though the last boat probably leaves around 6pm or maybe 8pm at the latest. You have a better chance of there being a late afternoon or night boat to the Cyclades on a Friday for weekenders. As for returning any boat that goes to an island will come back. Finding when is easier on the islands. There is an exception to these and this is called the Agonia Route. The word means fruitless or unprofitable. This is the boat that hits all the islands including the ones that the only people who go there are those who live there. In some cases you will have to take this boat to get from one island to another. When you look at the ferry schedule in the Athens News pay attention to the islands that your boat is going to. If your island is the last of fifteen or so then this is the Agoni Grammi and you may be in a little agony yourself by the time you reach your island. But for those who love ferries and can afford a cabin the Agonia can be like a multi-island cruise. There is an Agoni Grammi boat that leaves from Syros almost every day that in the course of the week visits all the Cyclades. You can usually catch it once or twice a week in Lavrion too.
Traveling on the Ferry Boats in Greece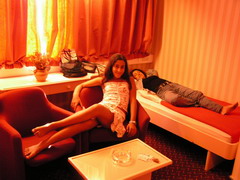 Many of the ferries that go to the islands are very modern with carpets, air-conditioned cabins, lounges, bars, restaurants, video-game parlors and so on. The boats to Crete are usually the best and the fastest. The Superfast gets there in about 6 hours or so. The others take around 10 and are like being in a big modern luxury hotel with very small (but comfortable) rooms. The Elyros which goes to Chania is probably the nicest boat I have been on along with the Superferry to Heraklion which even has a swimming pool. The Speedrunner is an aging highspeed that goes to Sifnos, not as nice as the Highspeeds but gets you there fast so who cares? The Nissos Chios and the Nissos Mykonos are both modern, built in Greece, fast ferries that take about three-quarters the time a normal ferry takes to islands like Lesvos, Chios, Samos with stops in Mykonos, Syros and maybe other Cyclades. The Blue Starferries are big and modern. Not exactly highspeedsbut somewhere in between and they go to the Cyclades and the Dodecanese islands.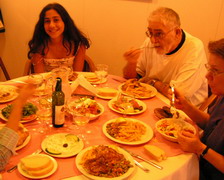 There are a few older boats that are being phased out. There is a 35 year limit on how old a ship can be. Some of them despite their age are more comfortable than the newer ones. Others are pretty bad but usually they are on shorter routes so you won't have to suffer long though it is not uncommon to find yourself on one going to Rhodes or connecting a bunch of islands on a weekly route. For long trips you can be on the worst boat and if you get the most expensive cabin (which can be as cheap as 10 euros more per-person than a normal first class cabin) you won't care. Plus some of the older boats have the best food, sort of like eating in a working class restaurant near Omonia. So if you are on an old boat don't freak out. There are positives and negatives about all ferries.
For those who get seasick and are dreading the trip these ferries are big and it takes pretty rough seas to bounce you around and when it gets that rough they don't let the boats leave the port until it calms down. This does not happen very often in the summer. You can buy dramamine over the counter and even just taking half of one helps if you are prone to sea-sickness. As for the ferry sinking, another common fear, keep in mind that the Greeks are the most renown sea-men in the world with the biggest fleet of ships and it is more likely that you will choke to death on a piece of bread, and you are probably not afraid of bread.
Hotels in Pireaus
If you are staying in a hotel in central Athens anywhere near the metro then you really don't need to stay in a hotel in Pireaus since you can be in the port in about 15 minutes on the metro and a taxi will only cost you about 12 euros or so. Economical hotels like the Hotel Attalos for example are a few minutes walk from the Monastiraki Metro Station, as is the Hotel Cecil, Hotel Plaka and the Hotel Adrian. As for hotels like the Grande Bretagne and Electra Palace they are close to Syntagma so you would have to switch trains in Monastiraki, but I assume that if you are staying in these hotels can afford a taxi. But there are circumstances where you may want a hotel in Pireaus within walking distance of the ferries, for example if you arrive late at night and are leaving early the next morning. So with these people in mind I have listed several Pireaus hotels that are an easy walk to the ferries. There are a number of good hotels of all category in Pireaus and if you use the Booking.com Pireaus Hotel Search you can find the ones within walking distance to the ferries. The economical Hotel Delfini is the closest to the metro, the airport bus and the ferries. The Hotel Acropole is close and inexpensive as well. The best of the hotels close to the port is the 5-Star Pireaus Theoxenia which has decent prices for a hotel of its category. See also Pireaus Hotels
Returning from the Greek Islands by Ferry Boat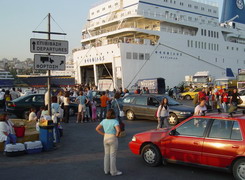 If you know when you have to leave then buy your ticket in the first day or so that you are on the island. There are ticket offices in the ports. Keep in mind that some of these are competing agencies and may represent different companies so get the schedules from them all before you decide when you are leaving. Some agents will say there is no boat rather than tell you there is a boat but not his boat. For those who have to fly back home emmediately after their island trip plan to spend the last night in a hotel in Athens even if you have an afternoon or evening flight. You don't want to miss your plane if the ferry is delayed or go through the stress of a close-call. Most people who spend their last night in Athens end up loving it. Getting a taxi from the ferry in Pireaus to your hotel or the airport used to be difficult but with the economic crisis and the desperation of taxis you can usually find dozens waiting at the port for passengers. But for those who want to know there is a friendly English-speaking driver waiting for them who knows where their hotel is and won't waste time and money driving around in circles to get to it I recommend George the Famous Taxi Driver.
There is a new bus that leaves from Akti Xaveriou which is the main road that is in front of the cruise terminal. The X80 connects Pireaus with the Acropolis and Syntagma Square and it is an express route which means it should get you there and back pretty quickly.
Pireaus Ferry Boat Map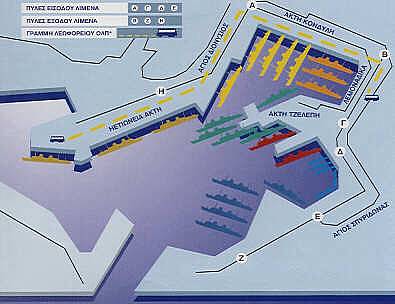 Key to Map
If you are taking the Metro from Athens you will be getting off where the little bus is, just to the left of this key. There is a pedestrian bridge that goes from the square in front of the metro station that crosses the busy street.
The first boats you will see are for the Western Cyclades (Kithnos,Serifos, Sifnos , Milos , Kimilos, Santorini , Ios,Folegandros) and Ikaria and Samos.
The Green boats are to the Eastern Cyclades ( Paros , Naxos , Amorgos, Astypalia, Ios , Santorini and some of the smaller islands)
The red boats are to Syros , Tinos and Mykonos .
The little blue boats that you can barely see go to Aegina , Poros , Hydra , Spetsi, Angistri,Methena and Salomina. The Flying Dolphins are here too.
These boats on the bottom of the map go to the Dodekanese islands of Patmos, Leros, Kalymnos , Kos , Rhodes, Kastalorezo, Simi , Tilos and even to Thessaloniki. Also the Speedrunner and a couple of the Sifnos boats leave from here too..
These are the boats to Crete (Upper middle section). They usually leave in the evening .
These are the boats that go to Xios, Mytilini(Lesvos) and Limnos. They leave in the evenings too.
But to make it more confusing there are also Sifnos boats leaving from where the Dodecanese boats are. Anyway don't worry because there are signs at the gates and if you are taking a taxi they will know where to go.
(Sorry the colors are so weird. I found this map in a hotel lobby)
If you want to know more about the islands see my Greek Island Synopsis and if you want step by step instructions on hot to go to a Greek Island see www.greektravel.com/lesson1