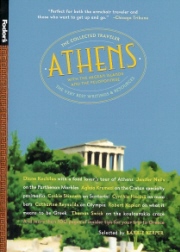 When I am in Greece I am amazed at how many people I see reading James Grisham and Stephen King novels and other time-passers. These books are escapes. If you are in Greece you are already escaping. Why escape from the escape? Embrace the escape. Read about Greece while you experience it. There will be plenty of reading time on your journey on boat trips, on beaches and in cafes so why not further your understanding of the country and the people? No this does not necessarily mean reading Euripedes and Homer though they are an option of course. I am talking about the Philhellenes and modern Greek writers whose works are not only profound but totally enjoyable reading. I have put together a whole site for books with short reviews and ordering information because my list of recommended reading became too big. The site includes history, travel guides and travelogues, modern and ancient Greek literature and books by people who love Greece. The site is at www.greektravel.com/books

BOOK STORES IN ATHENS

There are several English language bookstores in Athens.
Compendeum, formerly on Nikis Street has moved to a new location at 8 Alikarnassou and Lenorman which is across the railroad tracks, sort of behind the Larissa Train Station in an area that may be tough to get people to come to but should be a lot cheaper rent-wise. Compendium was to Athens as Shakespeare and Company is to Paris, a place where ex-pats came to browse and famous poets and authors dropped in to do a reading though its new location may make guests less frequent. You can find lots of books about Greece, plus a large variety of books in English including current best-sellers, maps, guides, newspapers and magazines. They have also started selling used books and have a large number of best sellers. If you are wondering about your island reading save a few hours of your first couple afternoons in Athens and stop in here, pick up a half dozen paperbacks for what you would have paid for one book at the airport bookstore. They also have a large collection of classics and a week or two on a Greek island is a good time to read those books you have been meaning to read your entire life but never quite got around to it. You can get directions by e-mailing info@compendium.gr
For a good selection of Guidebooks and maps go to Ekdoseis Infognomon at 14 Filellinon just three blocks up from Syntagma Square across the street from Fantasy Travel. They have maps of all the islands, Greece maps, Athens street maps, and all the popular Guidebooks as well as maps and Guides for other countries.
Travelbookstore at 71 Solonos Street in Kolonaki is a bookshop specialising in travel guides and maps of Greece as well as of all international destinations. They have a great variety of editions in Greek, English, French, German , Spanish from companies such as Lonely planet, Rough Guides,Dk, Insight, Michelin, Hachette, Baedeker, Jana Seta, Cicerone, Hallwag, Marco Polo and many others. If you need maps of Greece then this would be a good place to go because they have the largest selection of any bookstore in Athens, and probably the world. They also offered to give a 15% discount to anyone who mentions that they found them in my Athens Survival Guide. If you are looking for a particular map or guide you can e-mail them at info@travelbookstore.gr
There is a giant Eleftherodakis on Panapistimiou street across from the University with a selection of English language books and a cafe on the top floor but lately they have been focusing more on the Greek market. Still they probably have the largest collection of English language books and maps and will be the easiest to find.
Pirinos Kosmos, behind the Athens University on the corner of Acadamias and Ippokratus street (or somewhere around there) is one of the best Occult-Alternative Healing-Religious bookstores in Athens. The English language section is upstairs. Many obscure books you won't find anywhere else. You can e-mail them at info@pyrinoskosmos.gr
Also in Monastiraki there are a few used book shops and they all have a few English language paperbacks if you go in and search around. If you walk down Ermou street (away from Syntagma) there is one on the left about halfway to the end in Monastiraki. There are also one or two on Ifestou street which is the main street in Monastiraki next to the train station. Travelers also leave their old books in hotels in Athens and on the island so if you don't see them around ask at the desk.
Odyssey Magazine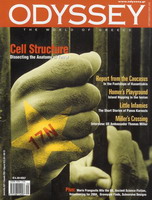 Odyssey Magazine is a wonderful source of info with interesting articles, photos, news, art, culture and more. I love this magazine and get very excited when it comes in the mail. If you are a Greek American it will be like your lifeline home and if you are a traveler you will learn more about Greece than you thought possible. Many articles on history, the diaspora, well known or up and coming Greek artists, musicians, writers, politicians, and their summer issue is as full of practical information as any of the guidebooks. Great color pictures and excellent graphics. Classy magazine.
You can order it at a special discounted rate at: www.greektravel.com/odysseyform