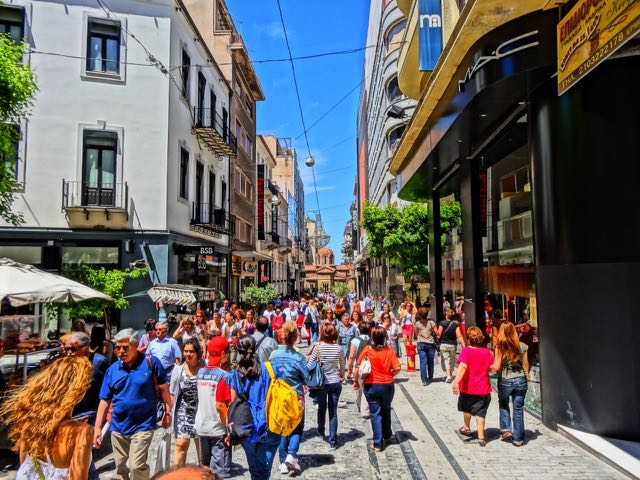 People ask me all the time, besides the ruins, cafes, restaurants, nightlife, and day-trips, what is there to do in Athens? When in Athens do the thing that everybody in our western society does best. Go shopping! Downtown Athens is a shopper's paradise. Besides the areas of the Plaka and Monastiraki which are well known to travelers for their large variety of tourist shops, all of central Athens is full of shops for every kind of person and every kind of budget. Streets that were once choked with traffic have now been closed to all motor vehicles and paved with cobblestones and this diverse shopping area has become a walking shopper's mecca with every kind of store you can imagine, and some you never imagined existed. Why go to places like New York, Paris or London when you can find the same things here and they cost less?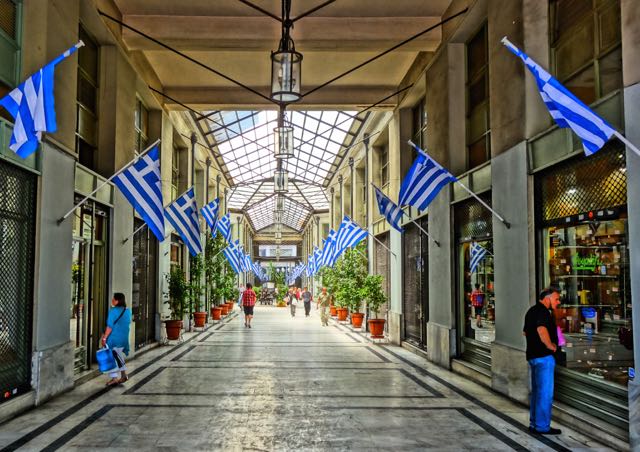 Think about your home town or city or even your local mall. You have the main street with the high rents and this is where you find the well known shops you find in every town, city and mall. If it is your mall you have the giant anchor department stores and your Gap, Abercrombie & Fitch, Apple Store, Banana Republic and Barnes &Noble and so on. In your town you have the stores that were popular enough to not be driven out of business by the giant box stores like Walmart and Home Depot. This is what Ermou Street is to Athens, a large shopping avenue with the best known stores. Then you have the streets that branch off Ermou with lesser known smaller shops that either have their own clientele that keep them going or they are so specialized that people come from all over the city to shop there. You can compare these to the shops in the entranceways that lead into your mall. The rents are cheaper and most shops either can't afford or don't need to be in the main shopping section or street. Then you have the tiny back streets and stoas (covered streets-photo)) where you find the most interesting and innovative shops because the rents are so cheap that people with original ideas can open shops for almost nothing and hang on through even the worst economic times. These are where you find the things you may not find anywhere else, because they may not exist anywhere else. Original clothes designers, candle makers, rare books and prints, stamps, hand make crafts and jewelry, art supplies and so on. You can have a lot of fun exploring the back streets and alleys of central Athens and the further you get from Syntagma, the cheaper the rent and the more chance of stumbling upon a unique shop that has something you love.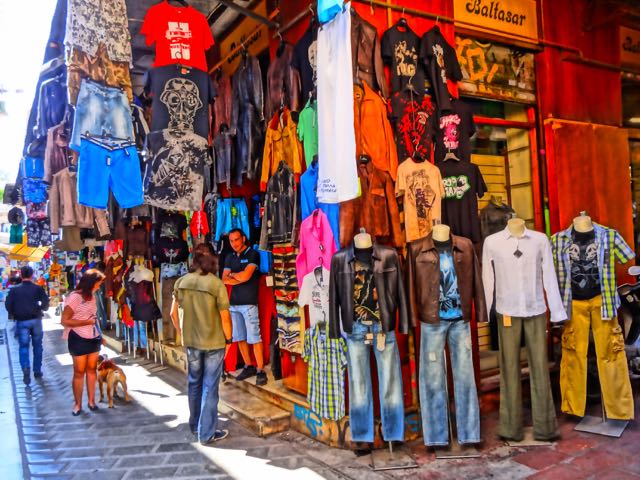 You may not have thought of this but here is something worth considering. Because of the economy in Greece many shops are selling clothing for very low prices. In some cases much lower than cost because if you have to pay the rent, the gas and electric bills or your taxes, having a lot of inventory and no cash is impractical. So instead of shopping at home for clothes for your trip to Greece just bring the bare minimum and do your clothes shopping in Greece and help out the struggling shops in Athens. You will be surprised at the variety and the styles, and probably find stuff that is nicer than what you can find at home and for a lot less. There are hundreds of clothing shops on Ermou Street, Athinas Street, Aeolou and all around central Athens and what better way is there to get to know a city than by shopping for necessities? Better yet take nothing with you and buy all your clothes in Athens. You will come back from Greece with a wardrobe that will make you the envy of your friends.
Ermou Street Clothes Shopping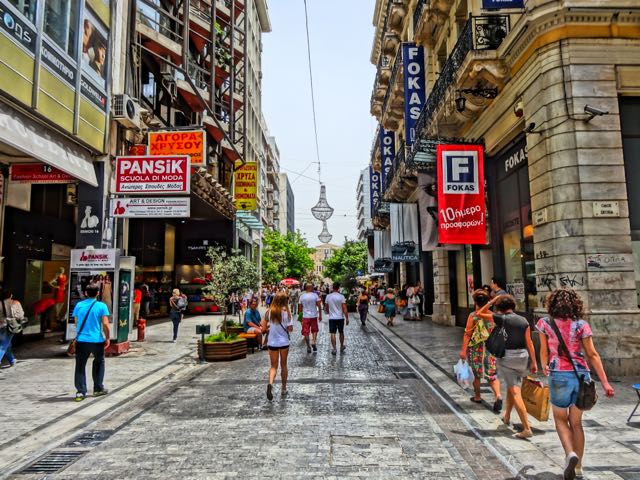 If someone is looking for quality shoes or clothes they will go down to Ermou street, the primary clothing shopping street for Athens. It contains many of the big international names like Benneton, Marks & Spencer, H&M, Zara, Berksha, Sephora, and a bunch of other stores that you have probably heard of but mean nothing to me. The Greek department store, Fokas, is near the top of Ermou in a beautiful old neo-classical building that looks like it would be more suitable housing a museum and is worth a visit, even if you are not buying anything, so you can see what a Greek department store is like. The Hondos Center is also of interest, especially for women, since you may not have experienced anything like it before. It is a giant cosmetic store with other items of interest to women, sort of a department store crossed with a Walgreens. It even has a cafe. For women looking for fabric and other dressmaking supplies on the north side of Ermou near Syntagma, there is Καλυβιωτης (Kaliviotis). They also sell fabric, silk flowers, all kinds of tailoring supplies, buttons, costumes, and God only knows what. Very cool for seamstresses... the shop is full of French women! They had Butterick, Burda, McCall and Vogue pattern books to choose from... current ones! Taking up an entire city block between Stadiou and Panepistimiou is the giant Attika Department store where you could easy spend half the day.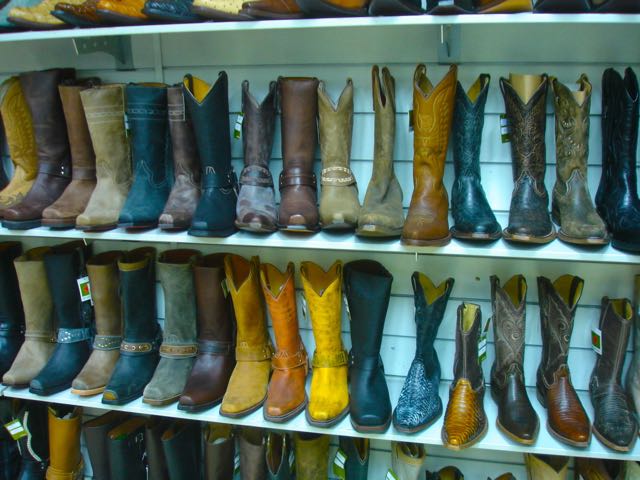 The clothing shops have quality men's and women's apparel from all over the world and the shoe stores make you wonder why your choices at home are so limited. Check out Spiliopoulos towards the bottom of Ermou where I buy my shoes. It is like a shoe-free-for-all that can be like the NY Stock Exchange during a selling frenzy. They sell leather jackets in the back. In August-September and January-February everything is on sale. You can literally go to Greece and replace your wardrobe and the money you save will pay for your ticket. To find Ermou street just go to Syntagma Square where it begins at the McDonald's. Eolou Street begins at Adrianou at Platia Agoras (the square that has been taken over by restaurants and cafes) and crosses Ermou just below the church of Kapni Karea in the middle of the street. It goes almost all the way to Omonia and passes the Central Market and the giant square in front of town hall. There is always something going on at Aeolou and Ermou streets. There are musicians and dancers and thousands of shoppers. Sometimes it is more fun to look at people than the shops.
Athinas Street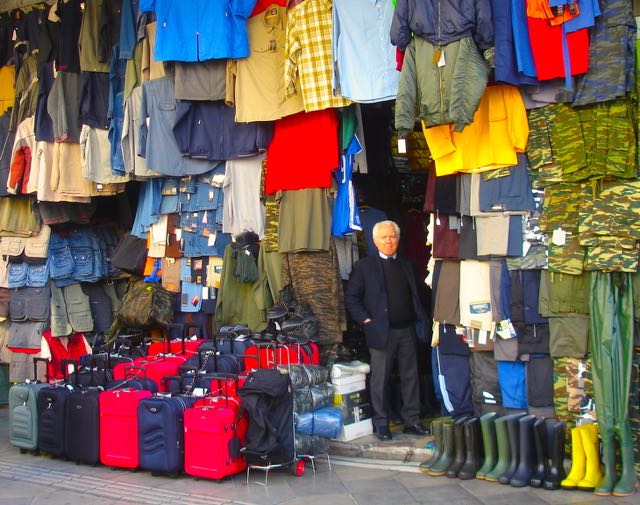 If you go to the end of Ermou and turn right on Athinas Street there are a number of clothing shops where you can find more casual stuff, jeans, T-shirts and these wild Polynesian shirts that I am not allowed to get because they make me look like I weigh 300 pounds (according to my wife). Speaking of weight there is a clothes shop on Athinas street between Ermou and Agia Erinis with clothes for big people. Really big people. Its called Davos and it specializes in clothes for big guys like me. After hours of frustration on Ermou street where it seems like the men's clothes are meant for elves and hobbits it is a great feeling to walk in and find shirts, sweaters, pants and jackets that are too big for me. Davos at # 12 Athinas Street has been open since 1946. Across Athinas street you can buy cool souvenir shirts, not like the ones they sell in the flea market or the Plaka. The kind that even Greeks buy. Soccer jerseys of local teams and heroes, Greek police and military shirts and even American sports team shirts that were obviously made by someone who did not know anything about the sport and barely spoke English. I am certain that these t-shirts are going to one day be the rage of the fashion world.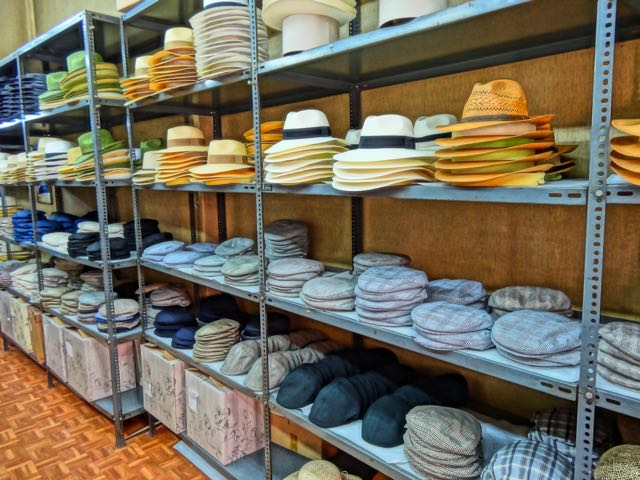 In America when someone wants to open a shop of any kind, the first thing he looks to see is if there is any competition in the neighborhood that may hurt his chances at success. In downtown Athens it is the opposite. You can find an entire block of stores, one after the other that sell doorknobs. Every doorknob known to mankind from ancient to modern times on display. So when someone is building a house and it's time to put in the doorknobs, they know that if they go down to Vissis street (off Athinas Street), one of the many doorknob shops will have what they are looking for. And since they are in the neighborhood that is also known for hat shops so they may pick one up as well on Voreou Street. If they are looking for lights they go to the district where all the lights are on Vouliagmenis Street. If they want furniture they go to that district. If you walk down Athinas Street there are Greek hardware stores where you can probably find that Black & Decker battery that they stopped carrying at your local hardware store and now costs twice as much on Amazon as the weed-eater you need it for.
Music and Computers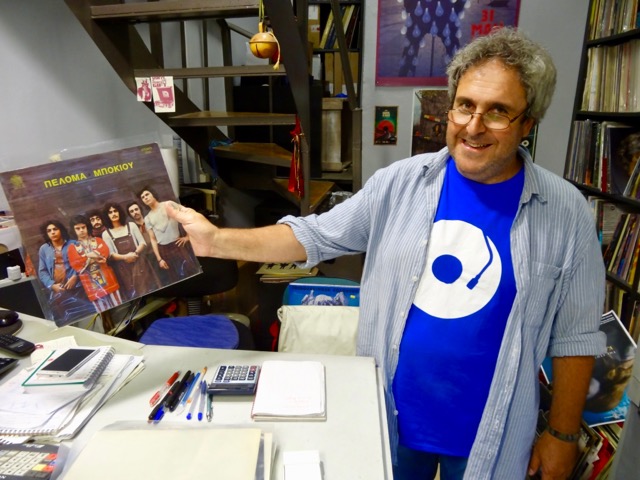 In Syntagma Square there is a giant computer-video-CD-DVD-electronics shop called Public. It's like a Best Buy only with lots more stuff and it is housed in a restored 19th century mansion. If you are a computer guy like me or you want to let your wife check out the clothing shops on Ermou while you do something important like check out the new laptops I think you will be impressed with this place. I know I was. I still go there every time I am in Athens even if I don't need anything because I know I will see something I have never seen before and probably want it. Plus they have a really good selection of CDs and DVDs. And when you get bored just go to the next street which is Voulis and go to Plesaio which is another computer and electronics store. Speaking of cool CD and vinyl there are shops in Monastiraki for you collectors that have some great bargains and many LPs and CDs that you have probably only heard rumors of or seen on Amazon for hundreds of dollars. For those of us who collect vinyl and CD re-issues from our generation there are several excellent shops at #24 and further down Ifaistos Street. For rare vinyl records that you may not find in your home country there is a small record shop that is not easy to find, but once you do you probably won't leave there without several old treasures. Diskadiko is owned by Iosef Aggelidis(photo), a long time fan of the Greek and International music scene and a passionate collector of albums, art and music paraphenalia. He can also tell you the history of the Greek music scene because he was a part of it. To find the shop you can walk down Protogenous Street which is the small street off Athinas Street right next to the Hotel Attalos and the Lesvos food shop. Look for his sign on the street which tells you he is open. Or take a left on Agios Eleoysis Street. If you are coming from Ermou Street just take a right on Miaoyli Street and again look for his sign, or turn right on the street in front of the metro entrance. If that fails you can call him (210 698-3804) or e-mail him. You can also visit his website.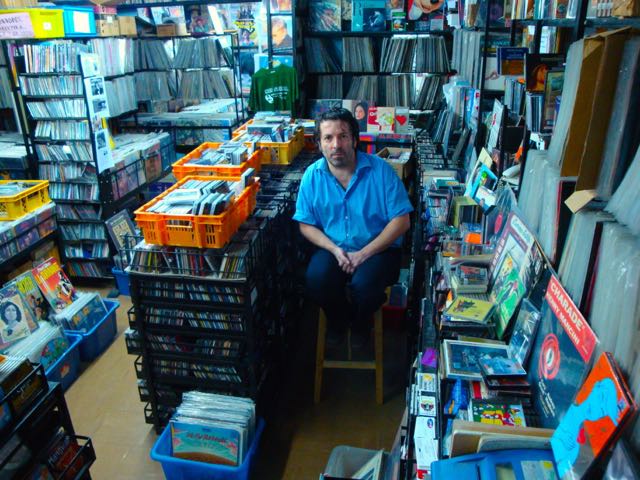 If you visit the radical neighborhood of Exarchia there are all sorts of CD and Vinyl shops in a neighborhood that will remind you of a grungy Haight-Asheberry. Or take the bus or a taxi to Platia Kanaris in Kypseli and go to Fokionos Records with its huge collection of vinyl and CDs located down the stairs in a basement room where Fokionos Negri intersects. Fokionos Records is well known to collectors all over the world and has been in business since the eighties. They have over 180,000 records from historic rembetika and laika to classic rock, heavy metal and just about every genre you can think of. If you are looking for just Greek rembetika, laika and Cretan music, in the Stoa Pezmazoglou at 39 Panepistimiou, right across from the University, there is a very interesting little music shop called Nikos Xilouris. Xilouris is to Cretan music as Hank Williams is to country music and this tiny store is full of his CDs, DVDs, books and memorabilia plus music by other Cretan, Rembetika and Laika musicians. The shop is owned by his son Giorgos Xilouris and is a great place to buy Greek music or just to stop in and say hello if you are a Xilouris fan.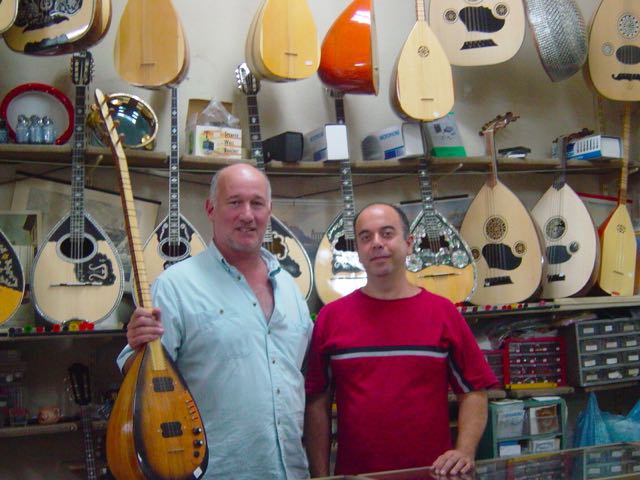 There are also a number of guitar shops in the triangle between Omonia, the University and Exarchia where you can find new and vintage guitars, amps, keyboards, effects and all sorts of stuff you can lug home with you. Nakas is the most well known and many of the famous Greek musicians and even visiting rock bands shop here. Also be sure to check the bouzoukis and guitars at Mousika Organa on Hfaistos 36 in Monastiraki just behind the train station. If you are traveling and you don't want to bring your 40 year old Martin guitar with you then come here and buy a cheap guitar you can carry with you to the islands to serenade the girls with and leave it with the last one you sleep with. He has all sorts of musical instruments, strings, Greek music songbooks, and even amplifiers if you want to come to Greece and start a band. Also Diatoniko Music at #134 3rd of September Street is a bouzouki, guitar and instrument shop owned by local legend guitarist George Zikos who plays around Athens with his band Zero Zero, one of the best 3-piece bands you will ever see. He also hosts the Open Mic Night every Monday at Lazy Club.
Aeolou and Agios Markos Streets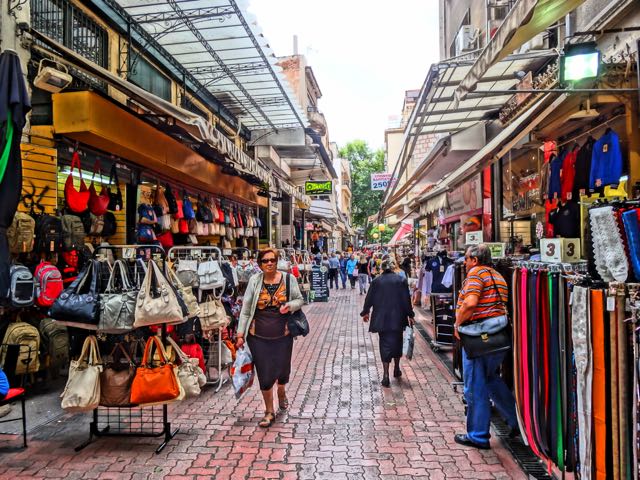 The two other main shopping streets of Eolou and Agiou Markou are the streets where you can find incredible bargains in clothes, fabrics, yarn, shoes, and plenty of cafes where you can catch your breath after a period of furious shopping. There are old women from Russia and young men from Persia, selling silk shirts, socks, and underwear on the street. Agio Markou is a colorful paradise for the homemaker and this is where you will see a large number of Athenian ladies buying the things that keep them sane while the men are out doing whatever it is they do. Ribbon stores, button stores, shops that sell barrettes, scrungies and other hair accessories, purses, cheap blouses, skirts and aprons, house slippers, cheap shoes for women, this is a street that most men would have no interest in. So leave your partner at the hotel and walk down Aeolou Street to Evripidou Street where it connects with Agiou Markou. Aeolou Street has street merchants selling everything from scarves to devices that make stuffed grape leaves or hollow out a zucchini or squeeze every drop of juice out of a lemon. And when it is time for lunch or a snack or coffee you can go to Agia Irini Square.
Olive Oil and Ouzo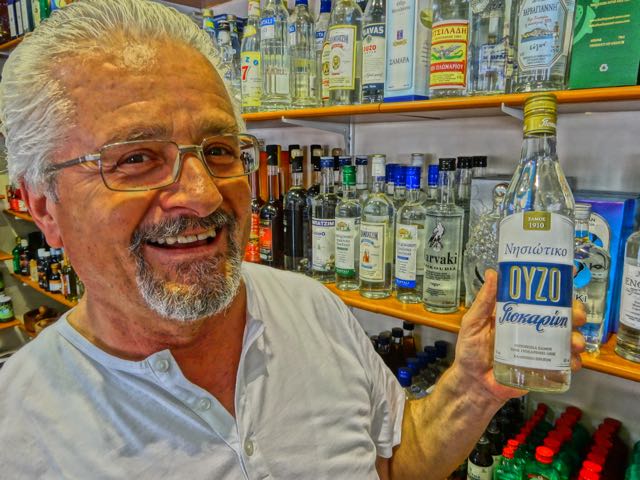 Let's start with olive oil. No I don't mean the stuff that the supermarkets and specialty shops at home carry because it has suddenly become common knowledge that olive oil is really good for you and all the other stuff we have been using has been slowly killing us. I mean the olive oil made by small family run companies in smaller quantities of a quality so high that they don't export it, they keep it here and sell it locally or package it for individuals to buy and bring home. Olive oil, olives and products made from olive oil like soaps, shampoos, body lotions and more have become the most popular item for tourists since worry-beads and there are a number of shops selling them in the Plaka and Monastiraki. Evonon at 124 Adrianou call themselves a traditional Greek Products shop. They sell all sorts of food, herbs and soaps but their main emphasis is on Greek olives and olive oil which they sell in all shapes and sizes. A few doors down is Angelo the Ouzo King whose specialty is, you guessed it, ouzo! From every part of Greece and he will even give you a taste. He also carries tsipuro, raki, sikoudia, masticha and Greek wine. How much ouzo can you bring back from Greece? I don't think anyone really cares. I have had my luggage gone through by inspectors when the only thing in it was bottles of ouzo wrapped in clothing. Oh yeah, and ask Angelo about his barrel aged tsipuro from Ipirus. It is expensive but not as much as good Scotch and to me this tastes even better. There is more info on his web-page.
H Pigi Tou Dionysou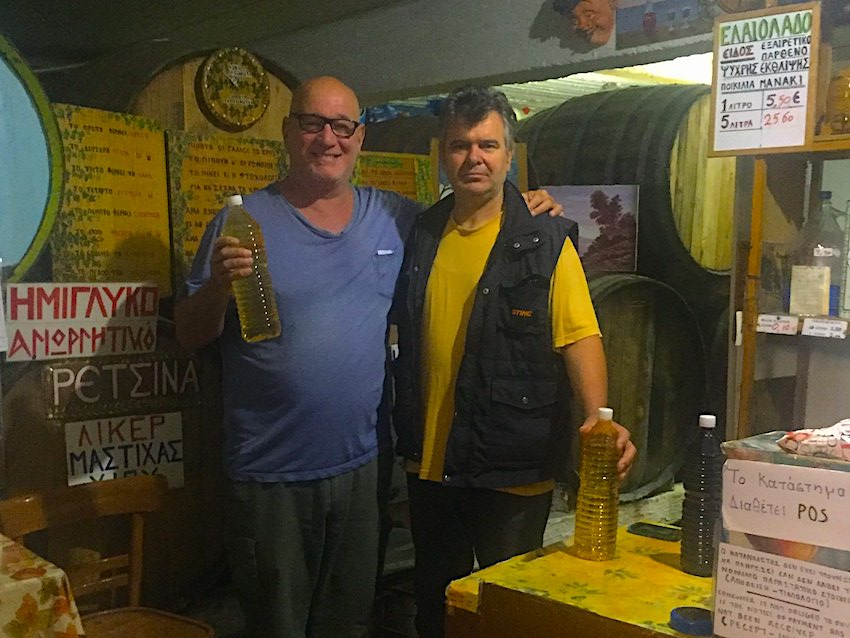 One of the best places to buy ouzo, retsina, tsipuro and other spirits right from the barrel is in Athens at the small underground kava (that is what these stores are called) in the neighborhood of Kypseli, called H Pigi Tou Dionysou (The Spring of Dionysious). Their retsina is excellent and is made right there. You can even see the resin that he puts in the barrels. This cava is certainly worth stopping in to stock up if you are in the neighborhood and some of their wines are worth going out of your way for. He puts them in plastic 1.5 liter bottles and tapes them up so they won't leak and you can bring them home with you and not worry about them breaking. Also most of his stuff is better than what you will find in bottles. It is located on Xanthis Street which is just a block long and connects Lelas Kardiayianni and Tenedou streets just off Ag Zoni which is off Fokionos Negri.
Antiques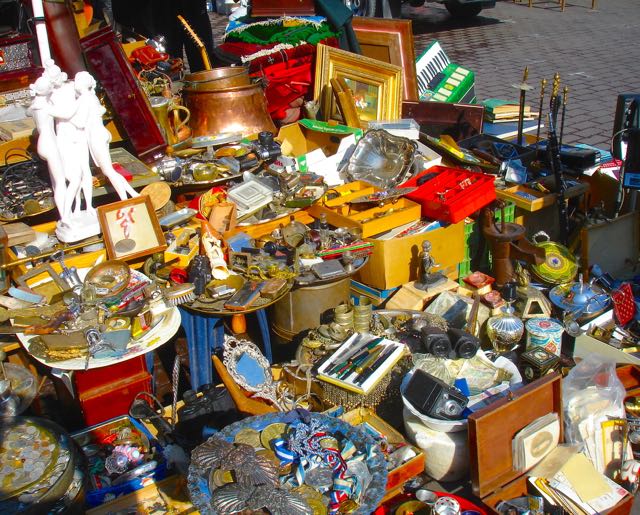 Are you a lover of old things who is looking for an object that will make you the hit of the Antiques Road Show? Go down to Abysinia Square in Monastiraki where you will find everything from beautiful expensive 19th Century furniture to totally worthless 20th century junk all displayed in a wonderfully disorganized fashion, especially on Sunday when gypsies and villagers pour into town with piles of stuff they have found from all over Greece. During the Second World War many wealthy and middle class Athenians were trading family heirlooms, expensive furniture, jewelry, paintings, vases and statuary for food and olive oil to people in the villages. It might have been one of the biggest mass transfers of wealth from the city to the country in history and for decades it has been slowly trickling back in. Stamp collectors, coin collectors, even card collectors can find shops specializing in these things in Monastiraki and the small streets and stoas (covered streets) between Omonia and Syntagma Squares.
Jewelry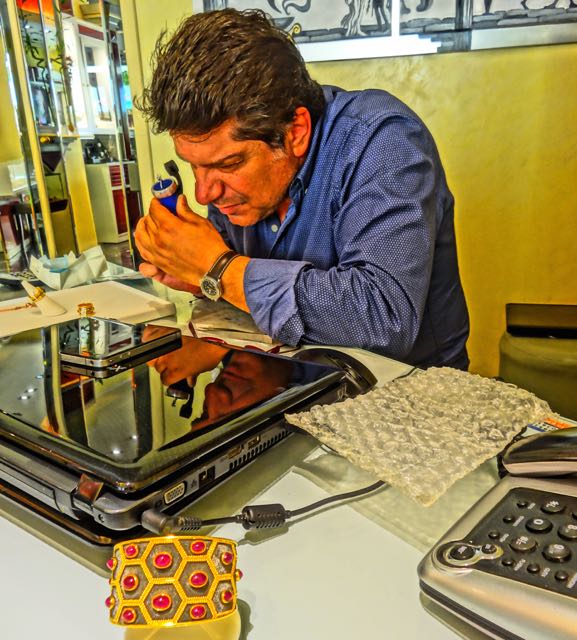 How about jewelry? Athens is full of jewelry stores. Some are big name shops like Lalaounis and Fanourakis and international names like Bulgari but there are dozens, no hundreds of small individually owned jewelry stores. Some sell cheap factory made imitation Greek pieces made in China or India, but there are some that specialize in Greek and Byzantine jewelry like Byzantino and Olympico (photo) who feature pieces made by local artisans and designers. And shopping for jewelry is fun in Athens. You walk in, look around, they offer you a seat and a Greek coffee or espresso and you have a nice warm conversation about anything in particular and then get down to business. Whether you like 22k or 18k or even white gold, silver, platinum or chains with crosses or ancient Greek and Roman coins, or even some of the more modern Greek stuff that does not even look Greek, you will find it in Athens. You don't know anything about Greek jewelry? Don't worry. Once you sit down they will tell you everything there is to know about it. And if you love jewelry but you don't have any money? There are lots of hippy craftspeople selling hand made jewelry and trinkets who have set up their stands in Monastiraki and Thission and just about anywhere they can and buying from them helps the Greek economy too. Also nearby at Mpenizelou Palaiologou 3 is the renown Dimos Jewelry, an institution for over 50 years. Owned by Sotiris Dimos and his talented son Stavros, this is a must visit shop for anyone who loves jewelry. You can also visit their new easy to find location at 87 Adrianou Street in the Plaka. It is right across from the Historical Neo-Classic Elementary School.
Carpets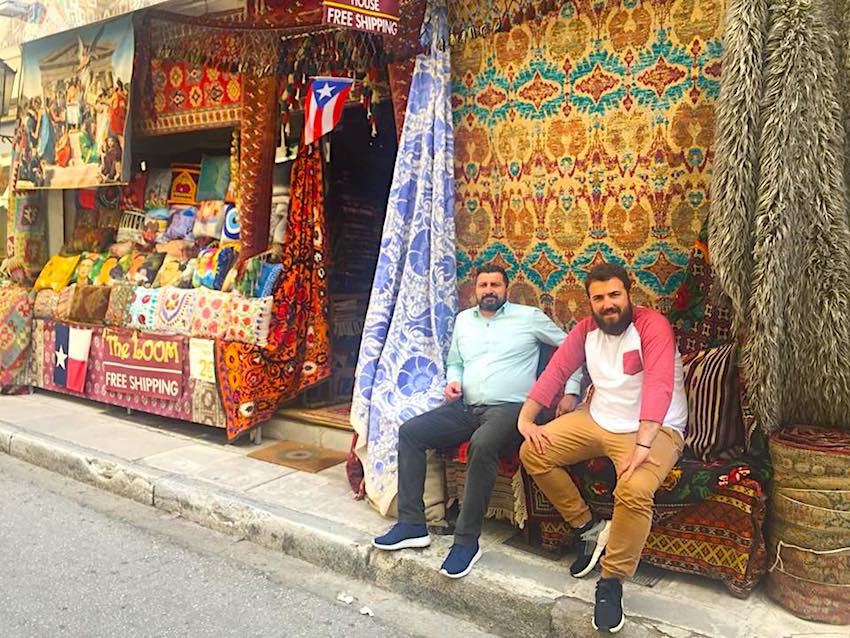 In the old days people would come to Athens and buy flokati rugs by the ton. Now it seems like the flokati age is over. I guess they are too hard to clean and if you have a cat or dog that sheds you don't know which hair is which. But carpets from Turkey, Persia, Armenia and yes, Greece (including flokati), are still something that many people have on their things to buy list and the fact that the carpet shops will ship them home for you, (who wants to carry a carpet around?) makes them a great gift to yourself or someone you care about. Vahan and Theo at The Loom at 94 Adrianou Street in The Plaka are the kind of guys who make carpet shopping a fun experience. Those of you who have been to the Grande Bazaar in Istanbul know what I mean. You come into the shop, they offer you tea or raki and give you a tour of the world of carpets. You sit back and enjoy the show as they unroll carpets not just from Greece and points east but from all over the world. They also feature antique carpets, pillows, tapestries and embroideries. To find them just walk down Adrianou Street in the Plaka and they are on the left. You can't miss the shop. It is covered in carpets and if the weather is nice and there are no customers Vahan and Theo are usually sitting outside. But if you need directions call 21 0323 8540. They offered to give a 15% discount to any customer who mentions my name.
Sandals from the Poet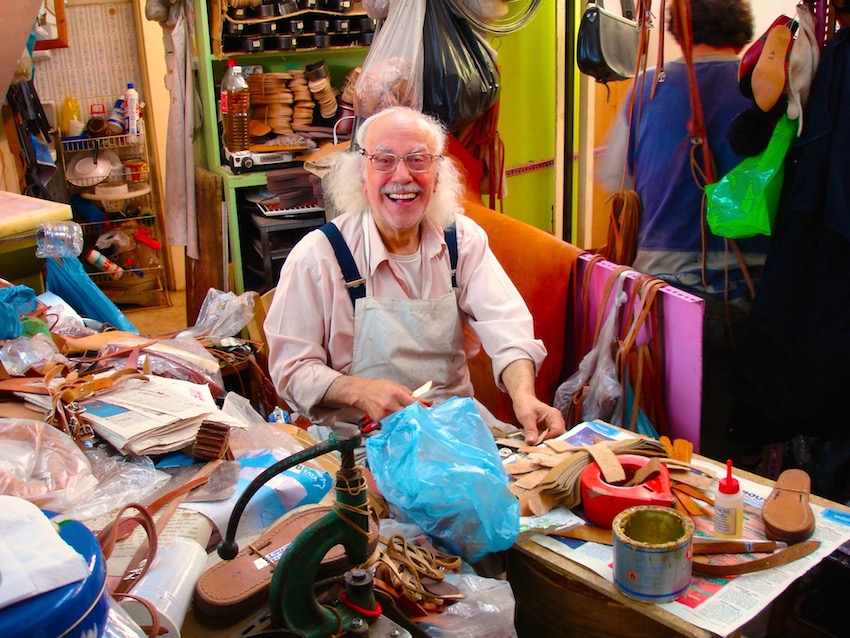 For 100 years there has been a member of the Melissinos family selling shoes and later sandals, in Athens. Stavros Melissinos was known as the Poet-Sandal-maker of Greece and his designs were world famous and adorned the feat of The Beatles, Jackie Onassis, Sophia Loren, Rudolph Nureyev, Margo Fontaine, Anthony Quinn, George Pappard, Ursula Andress, Joseph Cotten and Gary Cooper. When he retired, his son Pendelis took over the shop. An accomplished playwright, poet, painter and musician with a degree from Parsons School of Design one might think he is overqualified for the job of measuring the feet of travelers for his hand made sandals. But anyone who has visited the shop will tell you that it is one of the more rewarding experiences you can have when you visit Athens. Pandelis is a philosopher and an entertainer with a reluctance to raise prices much beyond what his father was selling his sandals for when I bought mine there in 1969. To find Pandelis and his shop take the metro (or walk) to the Acropolis Station which is next to the Acropolis Museum at the intersection of Makrianni Street and Diakou Street. Walk down Diakou and you will see it on the left at the intersection with Tzireon. If you have Google maps handy it is at 16 Tzireon.
Shopping in Psiri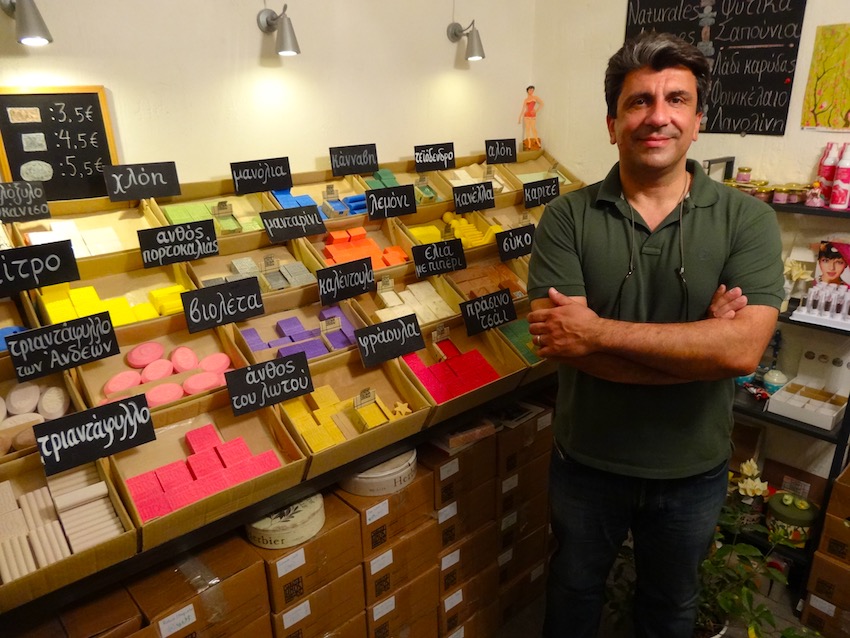 If you wander around Psiri on Agios Theklas Street, a block up from Ermou Street at the Naxos grocery store you can buy an entire wheel of delicious Naxos cheese that you can hide in your luggage and eat for the next year. Almost as famous is Remember Fashions, the first punk-fashion store in Greece and an institution. Run by designer Dimitris Tsounatos, this boutique has been visited by your favorite rock stars, actors, fashion designers and models and there is a photo album full of them to prove it. It is at Eschilou 28, (right across Iroon Square from Beer Time). Or go up to Athinas Street and beneath the Hotel Attalos is the Pantopoulio Peri Lesvou who sell all sorts of cheeses from Lesvos as well as ouzo, sardines, wine and a whole variety of dry goods from the island. Walk back to Platia Iroon Square and you ladies can leave your husbands at the El Habenero Cuban Cigar Shop you can follow Agia Anargiron Street and stop in the Komboloi Museum maybe the best komboloi (worry-beads) shop and turn left until you see an amazing soap shop at 19 Takis street called Babouki with some of the best smelling natural soaps and beauty products in a very colorful setting. I bought the cannabis soap and have been taking several showers a day ever since. Also see the two shops that sell copper pots and pans and all sorts of interesting things where Takis Street becomes Navarchou Apostoli. There are a couple antique stores on the street as well. Or check around the corner on tiny Nika Street which intercests with Ag Anagiron Street near the small church where there is a shop where bouzoukia, baglamas, aouds and other stringed instruments are handmade.
Food as Gifts? Is it Legal? Who knows?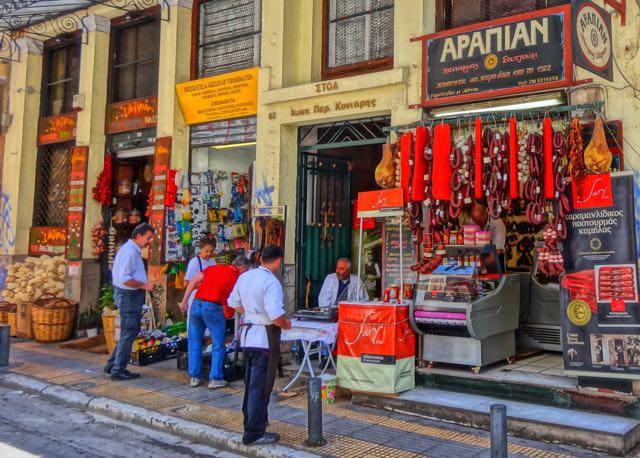 If you go to Evripidou Street right by the open air fruit and vegetable market on Athinas Street and shop at the little butcher shop at Evripidou 41 called Arapian which has been there since 1922, just about the time when the Turks kicked the Greeks and the Armenians out of Smyrna. In fact Arapian is an Armenian name. The shop is full of interesting sausages, pastourma and other smoked and dried meats and they will vacuum pack them so that they can handle the trip back home. They make a fantastic souzouk, a spicy beef sausage that is usually found in places further east like Istanbul where they like spicy foods. Ask for the spiciest souzouk they have and bring it home and impress your friends and increase your appreciation of Preparation-H. Or buy a couple pounds of their pastourma which is a hunk of beef that is spicy but not hot and used to be made with camel meat. Right next door is Elixor which sells herbs and spices and traditional concoctions. Towards Athinas are the stores where you can buy seeds if you want to grow horta and vleeta at home. In the other direction are the oriental shops that sell who knows what, all of it cheap.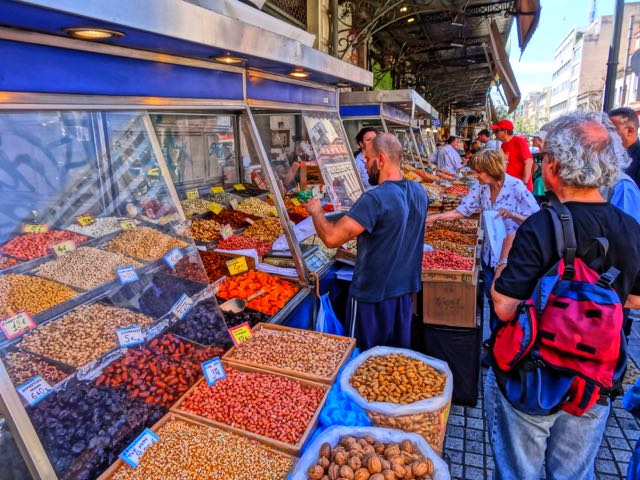 Walk through the central market where you can find all sorts of stuff you will never find at home including the delicious pistachios from Aegina that are sold in the dried fruit and nut shops on Athinas Street in front of the meat and fix market. You can buy a year's worth of those peanuts with the salty red skin that they serve in the bars or the delicious cashews from who knows where, probably Iran and if you keep them in the fridge they last forever. You can buy the dried Smyrna style figs that are sold all over the world though by the time they get to you they are probably too dry. Squeeze the ones they sell in the market in Athens and feel the difference, then buy 20 pounds to bring back to your fig loving friends and family. What are you allowed to bring back from Greece? I have no idea. I am sure there are written rules somewhere but you bringing a bag of dried apricots or nuts through customs probably won't result in a prison term. Confiscation? Possibly. Most likely they don't even care. I brought home a whole pickled skoumbri (mackerel) one trip and shared it and a plastic water bottle of raki that night with the friend who picked me up from the airport. And enjoyed it as much as I would have in Greece. Food makes the best gift from Greece, especially if it is a gift for yourself so check out the Market on Athinas Street.
Tourist Stuff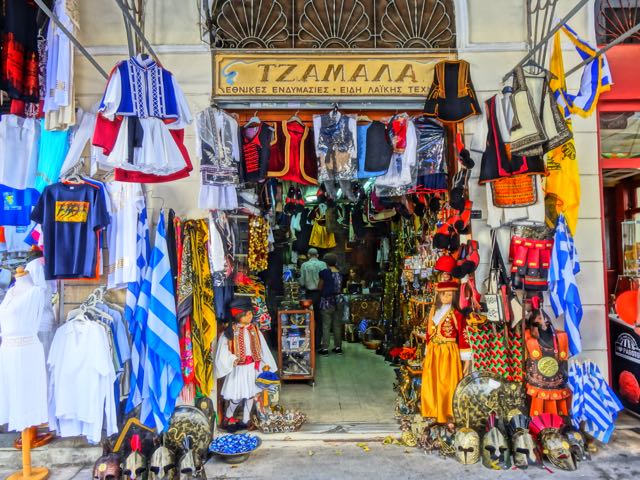 But what about you, the common tourist, who is not interested in ouzo and pickled fish or other practical things? What about the tourist who wants to buy touristic things but you want them to be authentic? You don't want worry beads made in Chinese factories, or t-shirts with the same designs you saw in the Bahamas or Jamaica. You want to buy tourist stuff that you can't eat, but you want it to be authentic. You don't want to go back to the cruise ship and find out that you have bought the exact same thing as everyone else on the boat. At the intersection of Pondrossou and Aeolou Street in Monastiraki is a small shop called Tzamala which is one of the last of the original Greek tourist shops where you can find all the things that tourists used to buy fifty years ago before the commercialism that made every Greek tourist shop the same set in. Or if you want to just go back to the seventies go to Remember, the first punk-fashion store in Greece and an institution. Run by designer Dimitris Tsounatos this boutique has been visited by your favorite rock stars, actors, fashion designers and models and there is a photo album full of them to prove it. If you are looking for unique designs in clothes, jewelry and art, or if you just want to see something different from the typical tourist shops then stop in at Eschilou 28, (right across Iroon Square from Beer Time) in Psiri. Or try the tiny gift shop with the unpronounceable name, something like Konsianioglou, at 17 Athinas Street. You can also visit the original tourist stalls on Lysicratous Street which sell pretty much the same tourist items they always have. Eclectica is a small shop where you can find things like classical academic sketches of 1800s, statues, old flags, maps, corals, perfumes etc. It could be defined as a "cabinet des curiosites". It is located behind the monument of Lysicrates, right by the historical church of Ayia Ekaterini at Chairefontos 10 in the Plaka. Another of the more unique shops in Athens is Elaias Gi, which means Olive Earth. This small shop at 122 Adrianou Street in The Plaka sells beautiful hand made products made from olive wood including backgammon boards, goblets, spoons and other kitchen utensils as well as other interesting items.
Shop Hours and Days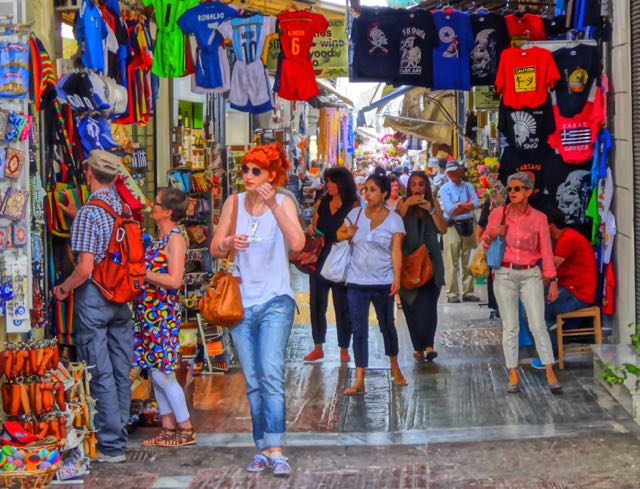 Remember that the shops open in the morning and stay open until 9pm except on Mondays and Wednesdays and Saturdays when they close at around 2:30. Generally shops are closed on Sundays, but that's the day to go to the Flea Market in Monastiraki or the Plaka where the shops are always open and you can wander around with the crowds and hopefully end up in some ouzeri or taverna. That is one thing about shopping in Athens: You are never far away from a dozen or so good restaurants. Keep your eyes open when shopping in Athens. Not every shop has a big glass window with their goods displayed on the sidewalks of a main street. Some shops are hidden away in alcoves, atriums, basements and even the backs of apartment buildings. In fact many of the true craftsmen have shops that seem like they are hidden, either because they have a circle of customers that keep them busy enough or because they are artists happy with the way things are and don't seek more business. An example would be Harris the Beltman, who makes beautiful handmade belts in the back of an apartment building at 21 Nikis Street in the Plaka.
Because the shops and the archaeological sites are all in the same area you can easily do both at the same time. Go see the Acropolis, cut down through the Ancient Agora into Monastiraki and shop your way through the Plaka and up to the Acropolis Museum. The non-shoppers in your group can wait for you in any of the cafes and restaurants if they are tired of sightseeing. If you have had a busy day and return to the hotel and your energy returns before everyone else's does, just leave them a note: Gone Shopping. See U Later!
Other Athens Shopping Pages: Jewelry, Buying Greek Music, Gifts, The Poet, Photo Tour of Ermou and Eolou Streets, Monastiraki Photo Tour, Monistiraki Flea Market, Athens Central Market , Athens Central Market Photo Tour , Geniko Emborio Eklekton Proionton Naxos , Olive Shop Tour , Athinas Street, Kolonaki
Help Support Matt's Greece Guides
Do you enjoy using my site? Have you found it entertaining as well as useful? If so please show your appreciation by booking hotels through the travel agencies and the links found on my Hotels of Greece site. The small commission I make on the bookings enable me to keep working and in most cases you won't find them any cheaper by searching elsewhere. You can find hotels in Greece by location, price, whether or not it has a swimming pool, and see photos and reviews by using this link to booking.com which also contributes to my website when you book. If you are appreciative of all the free information you get on my websites you can also send a donation through Paypal or Venmo
Join Matt Barrett's Greece Travel Guides Group on Facebook for comments, photos and other fun stuff. If you enjoy this website please share it with your friends on Facebook and other social media.