Only got a couple days to spend in Greece?
This page will tell you how to make the most of them.
For travelers coming from Europe or even from the USA on their way somewhere else, a weekend in Athens can be quite an experience trying to cram in all there is to do in the city. The key is to arrive early enough on Friday and leave as late as you can on Sunday or even Monday morning. This would be a good plan for your weekend in Athens.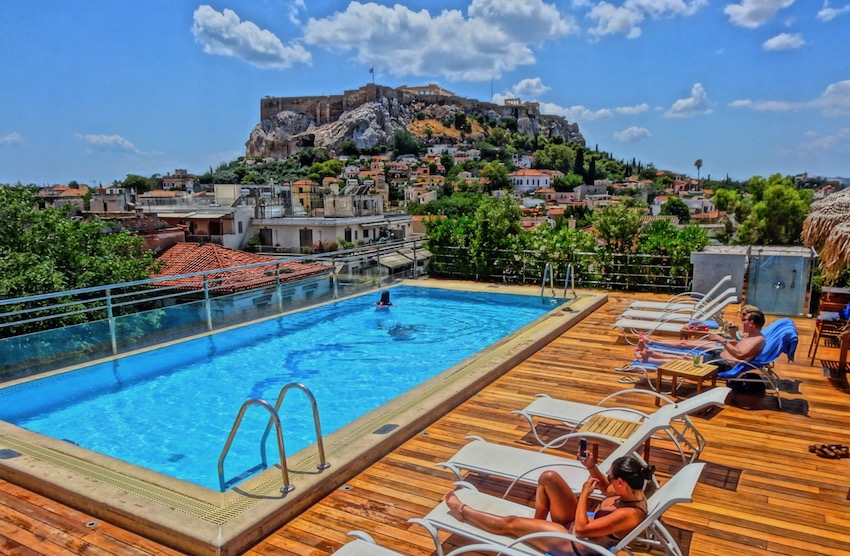 Friday: Athens
Arrive at Eleftherios Venizelos International Airport. Take a bus, taxi or metro into the city and leave your bags at your hotel. You will need a centrally located hotel in or near the Plaka because this is where most of your time will be spent. If you are on a budget try the Hotel Attalos, Hotel Central, Hotel Amazon, or the Hotel Adams and the Hotel Cecil. If you can afford it stay at the Electra Palace, with its rooftop pool with Acropolis view, as seen in the above photo. You can find these on the Athens Guide Hotel Page. Some people may opt for a taxi-transfer from the airport like those provided by George the Famous Taxi Driver. This costs around 55 euros, versus the 35 euros a street taxi will charge, but you know what you are getting with George: an English-speaking driver who knows where you are going and will make sure you get there and get checked in.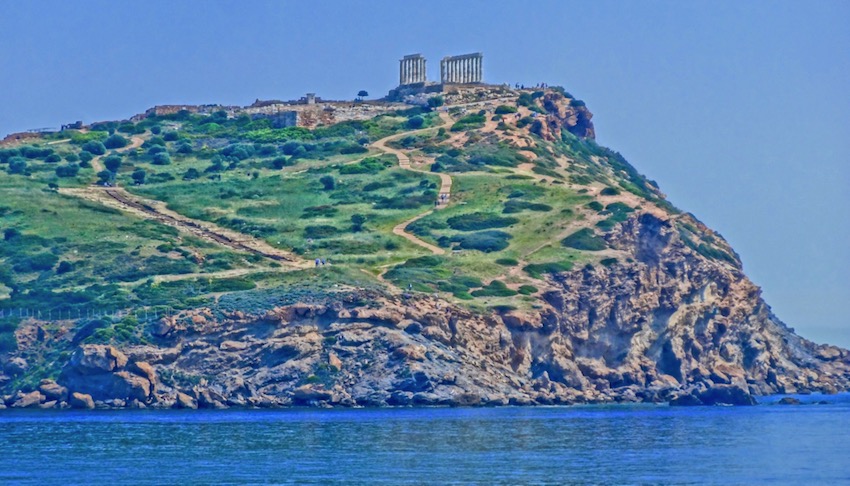 But here is a variation on the typical transfer. A transfer costs about 55 euros. But a tour costs around 30 euros an hour. So have George meet you at the airport to begin your tour and instead of going right into Athens, drive out to the Temple to Posideon at Sounion, see the site and have a nice lunch at one of the tavernas on the beach and even a swim if the weather is nice. Don't worry. Your luggage will be safe in the trunk of George's Mercedes. Then drive into Athens and check into your hotel. The cost will be 180 euros, and you will have seen one of the most important archaeological sites within the first hour of your arrival.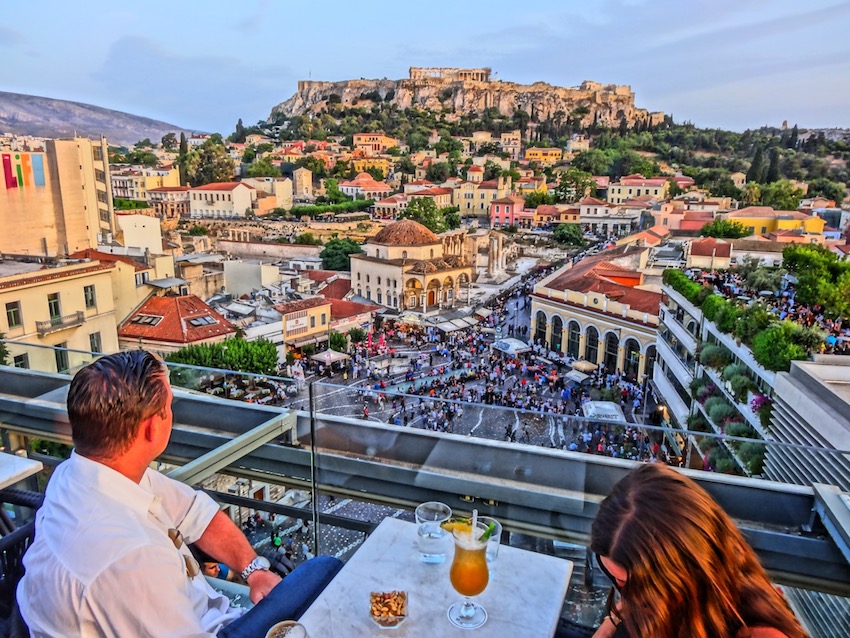 If you have not had too much wine, leave your bags and have George drop you off at the entrance to the Acropolis. If you have had too much wine take a quick nap or a cold shower and then go for a walk around the Plaka. Do a little shopping. If you are a woman visit Byzantino Jewelry or Olympico Jewelry, right next door at 120 Adrianou. Check out the ruins of the Roman Agora and walk down into Monastiraki. Go visit the Poet. Just make sure you leave a little time to take a break in your hotel or else sit down in a cafe and have a Nescafe Frappe which will keep you buzzed and going late into the night. If you want a nice view to get your bearings try the cafe on the roof of the A is for Athens Hotel in Monastiraki Square.
Friday Night in Athens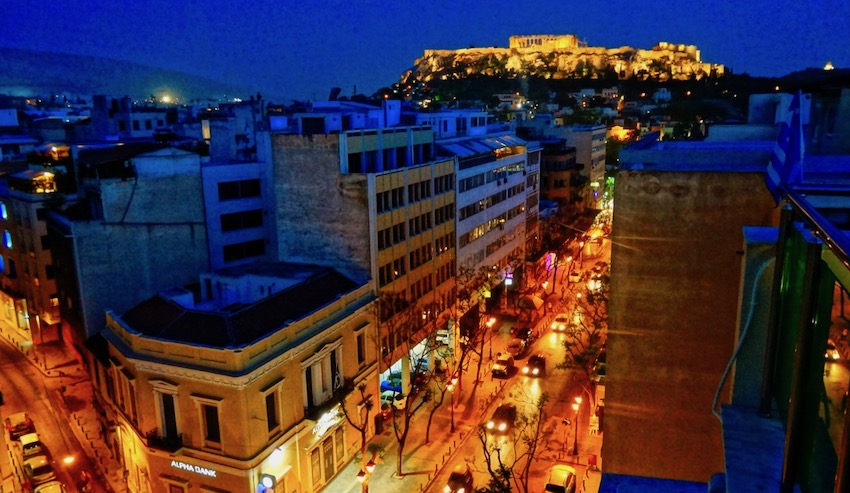 In the evening if you are in a hotel near the Plaka walk down to Kydatheneon Street and have an ouzo in the square. One place is just as good as another for a drink, just make sure it is not a restaurant, unless you want to have an early meal. As for where to eat that first night go to Saita, which is across from the small churchyard where Voulis Street meets Kydatheneon Street. Its in the basement and is as cozy a taverna as you will find. If it is not winter they have outdoor seating too. You can find these in the Athens Guide Restaurant Page. But since your time is limited and you don't want to be confused go to my Best 12 Restaurants in Athens and find the closest restaurant that appeals to you or if one looks really great take a taxi.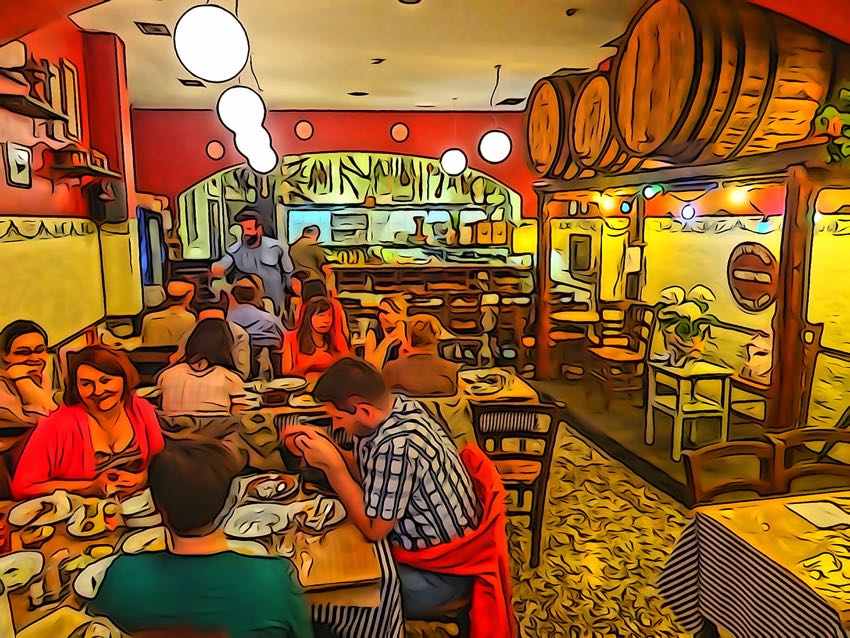 For those staying at the Hotel Attalos (where I usually stay) have a drink at the rooftop bar and watch the lights come on the Acropolis or go behind the hotel into the neighborhood of Psiri and have a drink at one of the many cafes and ouzeries. Have dinner at the Taverna Psiri or Taverna Oinopouleion just up the street from Platia Iroon (Hero Square). Great paidakia (lamb-chops), delicious home made and bottled wine at Oinopouleion and even live music on weekends and some weekdays. You can get directions from the concierge at the hotel or ask anywhere. If you are a serious night owl there are plenty of bars and clubs listed in Late Night in Athens. If you are young just wander around Psiri, Gazi and Agia Irini Square which are all nearby.
Saturday: Athens Day-trips
Since you have hopefully already seen the Acropolis you have lots of choices for what to do today but let me make it simple for you and just give you three.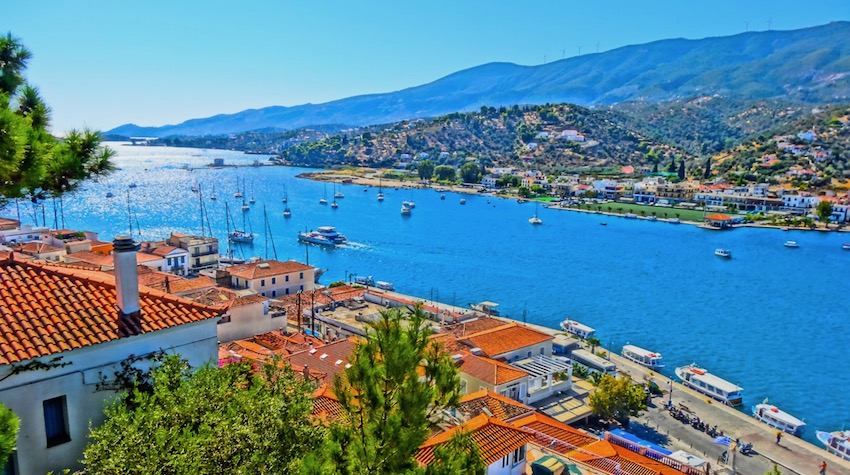 Option 1: If I had never been to Greece and only had a weekend then I would take the One-Day Saronic Cruise which leaves in the morning and visits the islands of Aegina, Poros and Hydra and includes lunch. They pick you up by bus at your hotel and drop you off when the cruise is over, though this depends on the hotel. So if you choose to do this make sure you are staying at one of the hotels they stop at or at least nearby. The cruise goes 364 days of the year, or so they say and it is a terrific Greek Island Sampler. Because all the islands are just an hour apart there is enough time to walk around, see the archaeological sites, have a swim and have a meal or spend your day sitting in the waterfront cafes of each island. Or if you like you can choose one and go on your own. Aegina, Poros or Angistri are your best options because they are closer and cheaper to get to, especially with the normal ferries. Hydra and Spetses you can only reach by highspeed so the boat tickets alone will cost almost as much as the 3 island cruise and you will have to buy your own lunch and get to Pireaus on your own.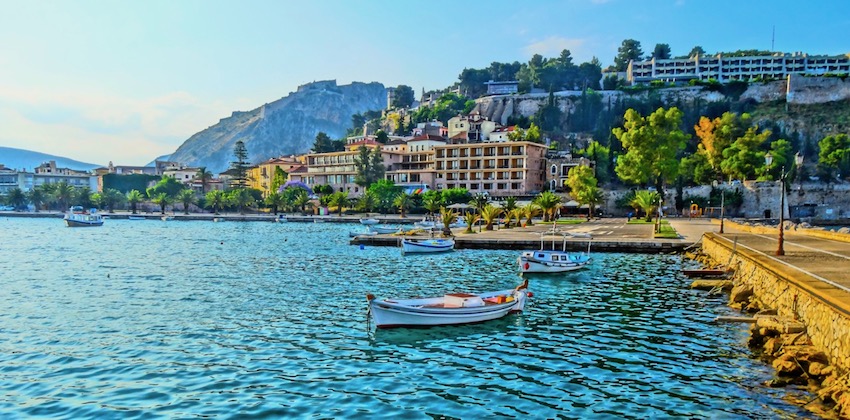 Option 2 for Saturday is a trip to either Delphi or Nafplio. Nafplio(photo) also includes Myceneae, and Epidavros. You can do either of these itineraries with George the Famous Taxi Driver who charges about 280 euros a day or through any of the travel agencies on my website who charge about 90 euros per person. If you are 4 people then go with George because it will come out to 70 euros each and you will have a lot more freedom. You can even stop for a swim. But the Fantasy Travel Day Tour to Myceneae/Epidavros is fun too and you will make friends. The Day tour to Delphi even includes lunch. Both the tour and George deliver you back to your hotel by 8pm, in time to take a shower and get ready for the evening.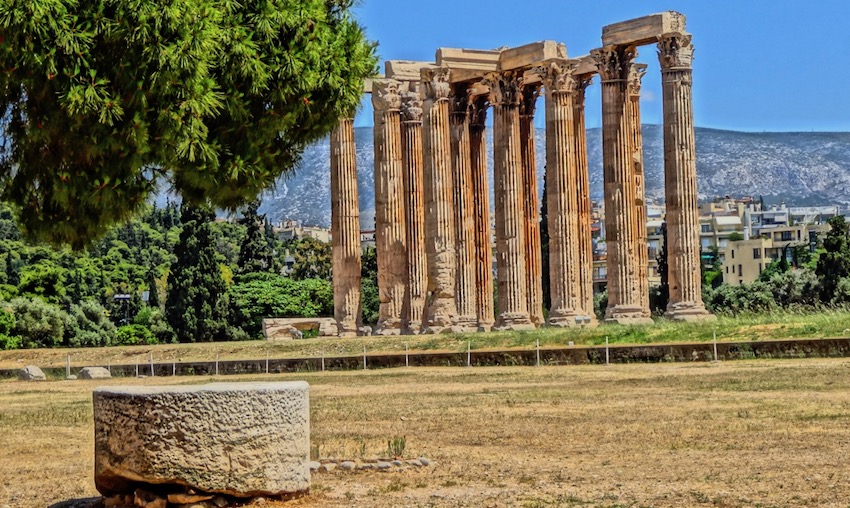 Option 3: Don't do anywhere. Just wander around Athens and visit the museums and archaeological sites like the Ancient and Roman Agora, or even the modern Agora, the Ancient Cemetery of Keramikos, the Temple of Olympia Zeus, the National Gardens or go shopping on Ermou Street or in the Plaka or Monastiraki. Hang out in cafes and watch the people go by or have a long lunch at one of the great restaurants in Athens. Or take the tram, the bus or a taxi and go to one of the many beaches around Athens and have lunch at a fish taverna.
Saturday Evening in Athens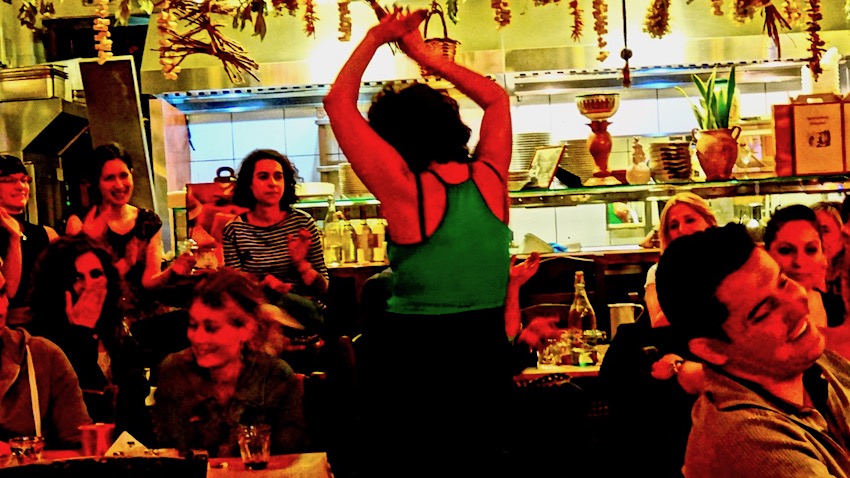 If you want a quiet night go to the Plaka or Psiri and eat at a restaurant you did not eat at last night, unless you liked it so much that you want to go back which is cool too. If you really love a place there is no need to go searching for something you will love more, and when thewaiters or the owner see you have returned they usually act pretty pleased and may even treat you to something. Go back and reread my Best 12 Restaurants in Athens. If you want entertainment with your meal go to Psiri, particularly in the winter when everyone is inside listening to old rembetika and laika and even if the bands are not that great as the evening gets later and people get drunker the dancing gets wilder. If you want a typical Greek bouzoukia night that the tourists love then go to the Old Taverna Stamatopoulos on the corner of Lissiou and Flessa streets just above Adrianou street. The food is almost decent and the dancing can go on all night and chances are someone will drag out on to the floor if you look too lonesome. As on Friday nights the Oinopouleion Taverna (photo) has live music as do any number of restaurants in Psiri. In the winter time there are a number of rembetika and laika clubs open as well as pop and rock and dance clubs too, most of them downtown. In the summer they move out to the coast. If you get a copy of Athenorama Magazine which comes out very week and you can buy at any kiosk (newstand), even if you don't read Greek you can figure out what is going on and where just by the ads.
Sunday: Athens or Day-trip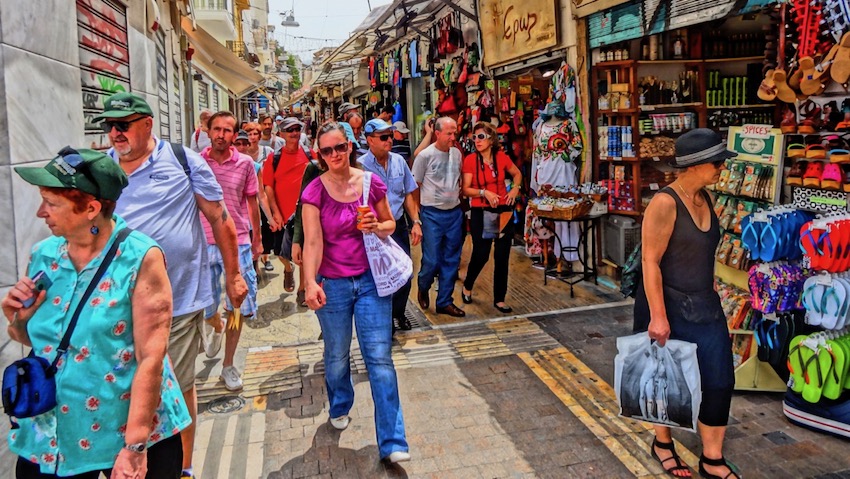 Sunday Morning, besides being the time to watch the music and pageantry of the Changing of the Guards at the Tomb of the Unknown Soldier in front of the parliament building at Syntagma Square, is the traditional day for the tourists and locals to get together by going to the Monastiraki Flea Market. This is the day when merchants flood Monastiraki with antiques and junk, vintage clothes and rags, collectables and crap. There are vendors on the streets and many of the regular shops are open too. The streets can be so packed you just have to flow with the crowd and it goes on all morning until the early afternoon when people drift home or to the many cafes, ouzeries, mezedopoleons and tavernas of Plaka, Psiri, Monastiraki and Thission. In fact on Sunday the cafes are full everywhere in Athens.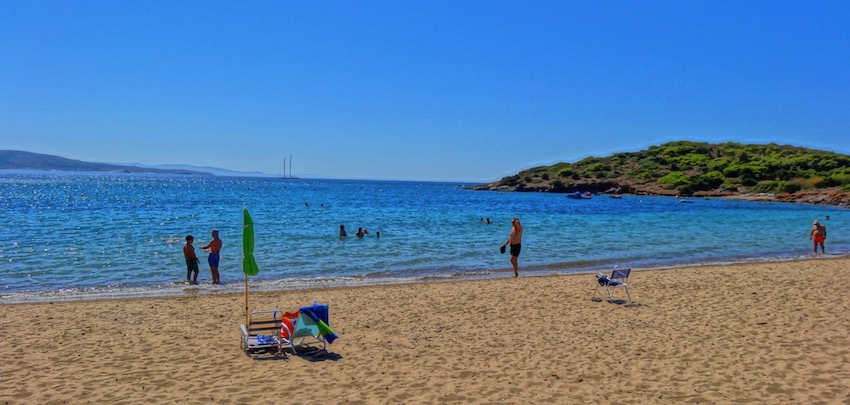 Many people drive along the coast to go to the beach and have lunch in a seaside taverna like those in Anavissos on the road to Sounion or north of Athens in places like Schinias. Others go to the port and take the ferry to Aegina or you can take the Coastal Tram and go to Glyfada Square or get off somewhere on the way along the sea and walk. Its also a good day to visit the National Archaeological Museum or the Benaki Museum or any of the numerous museums, galleries or archaeological sites of Athens, or just wander around until you find somewhere that looks festive or has a good view of the parade of people like Adrianou Street in Monastiraki next to the Stoa of Attalos and the Ancient Agora.
Sunday Afternoon in Athens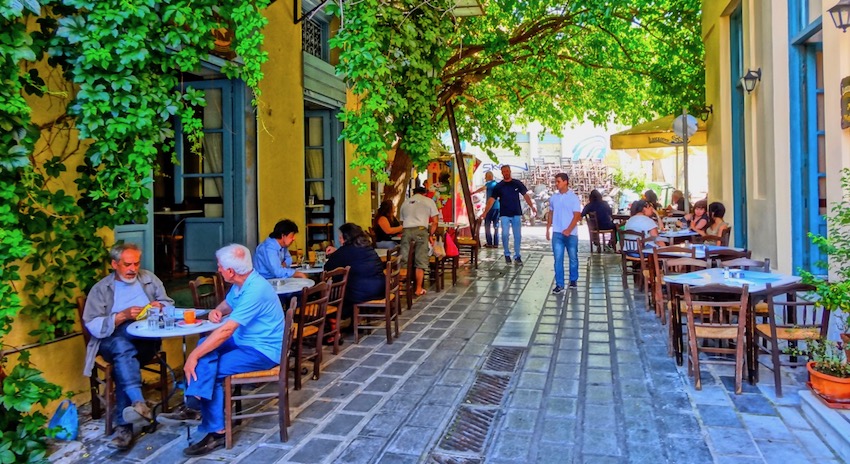 Sunday afternoon can be the most enjoyable time of the weekend in Greece, unlike the USA where Sunday is this dead period before Monday and work that you fill with football or going to the mall. In Athens friends meet, eat, drink and often continue on into Sunday night. Sometimes its hard to know when lunch ended and dinner began. For me Sunday is a day I meet my pals and find a nice place in the sun to eat and drink and talk. Because I spend so much of the year in Athens, usually someone I know passes by and joins us. You may think that this won't be possible because you don't know anyone but you will be surprised at the number of people you may recognize from whatever you did the last few days. They may even join you and your friends. Even if they don't you will have plenty of company. The parade of serenading musicians on Sunday is non-stop and you may want to keep some small coins in your pocket to reward them for good music or pay them to leave for bad. The best place to hang out on Sunday to people watch is on Adrianou Street in Monastiraki, right next to the ancient Agora and the metro tracks at any of the cafes, ouzeries and restaurants. Most of the restaurants in Psiri are open on Sunday afternoon too and a lot of them have live music.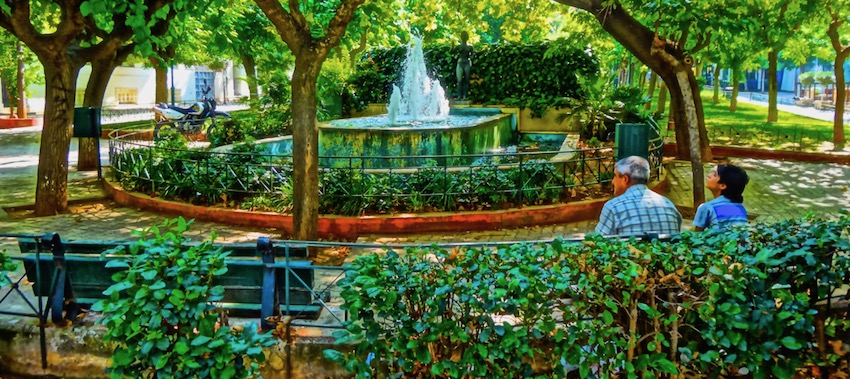 Or if you feel like you want to save the fun for evening do another day trip to whichever place you did not visit on Saturday. Or call George the Famous Taxi driver or take a bus to the beach, or Sounion or to the Attika Zoological Park. If you are leaving Sunday evening you can go to either of these places on the way to the airport. Or maybe go to the Psistarias of Vari and feast on some roast lamb, pork, goat or beef before getting on your plane. Or maybe take a tour of one or more of the wineries in Attika or climb Mount Lycavettos. Or you can go visit my neighborhood of Kypseli where there is a long pedestrian avenue called Fokionos Negri (photo) that is lined with restaurants and cafes and is a good place for seeing the real Greece, without tourists.
Sunday evening in Athens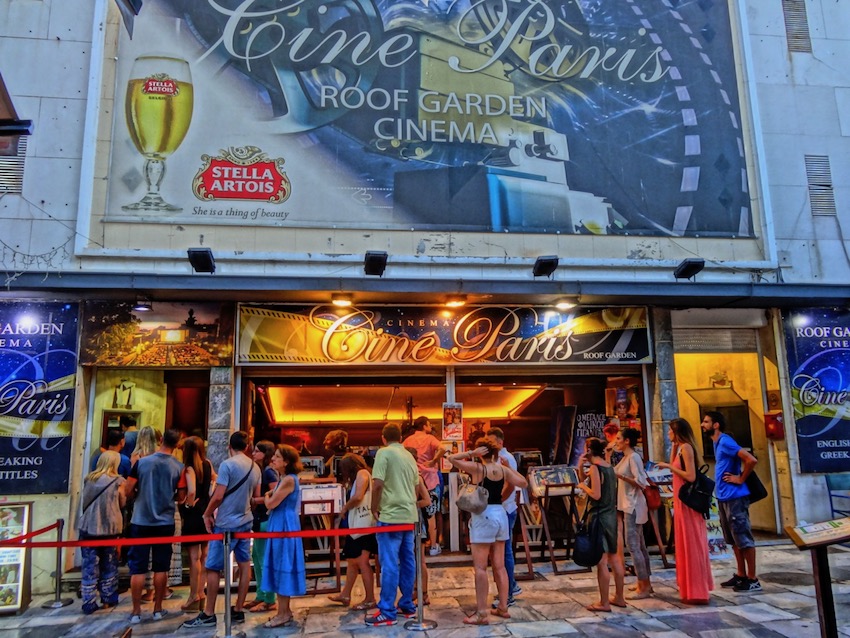 For those who have Sunday night in Athens you will be happy to know that almost everything that was happening on Friday and Saturday is happening on Sunday though a little more reserved since many locals have already spent the entire day eating and drinking and are probably going to stay home or at least nearby. But this does not apply to you so before dinner (or after) you can go see a film at the Cine Paris outdoor cinema on Kydatheneion Street in the Plaka. Films are usually in English with Greek subtitles and if you get bored there is a view of the Acropolis. In the summer there are several outdoor movie theaters including one at Zappion in the National Gardens, and in Thission. Or you can go bowling! But probably what you really want to do is go to a quiet taverna, have some wine, eat slowly and savor every bite and every sip. Think about how much fun you had in your weekend in Athens and make plans for your next trip to Greece for at least a week or two.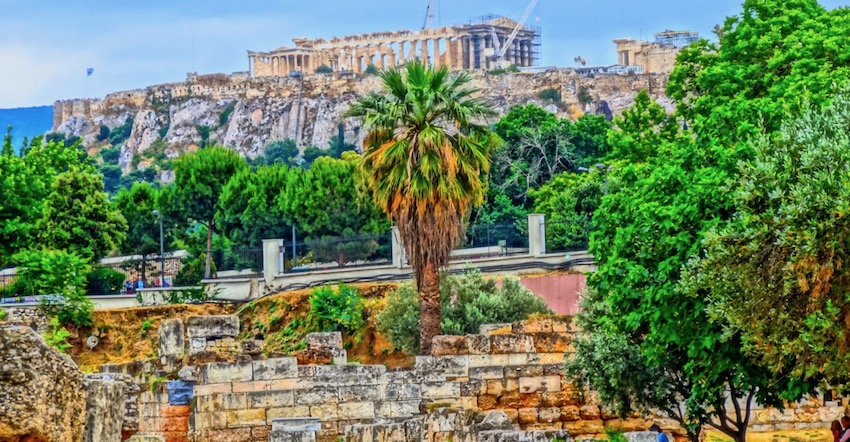 Athens for a Weekend Resources

You can go to my Create-an-itinerary page and fill out the form and put the URL to this page in the comments and Fantasy Travel will pout this together for you. This would be the easiest way to do your weekend in Athens.
Any of the travel agencies at www.athensguide.com/agency.html can help you book hotels and tours and make the most of the short time you have in Athens. If you plan to use George the Famous Taxi Driver for tours then just ask the agencies to book your hotels.
For Day and half Day tours see Fantasy Travel's Tours page
The Hotel Attalos is clean, cheap and right between Plaka and Psiri which is where you want to be. You can find it and other recommended hotels at www.athensguide.com/hotels.html and www.hotelsofgreece.com/athens and also you can use the hotel search option at www.greecetravel.com/hotels
You can book the Saronic Cruise at www.greecetravel.com/cruise/saroniccruise or through any of the travel agencies but you need to book in advance because nobody will be awake early enough to book you on the day of the cruise.
You can get club listings in the Athenorama Magazine (in Greek).
Be sure to print out the pages from the Athens Survival Guide that you will need like Restaurants, Plaka, Psiri, Monastiraki, Museums and the Acropolis.
I have two photo tours that will be very helpful for finding your way around Athens and deciding what you want to see. Have a look at my Walk Around Athens with Matt and my Plaka Photo Album
If you have any questions or need any help you can always e-mail me at matt@greecetravel.com