In answer to all those who have e-mailed me to ask what they should not miss while in Athens I have put together my own Top-10 list of the most important sites and things to do and see in the city. They may not be everybody's Top-10 and I may have cheated a little and squeezed a few more than 10 places in, but that is the nature of Athens. There are few cities in the world with more to see.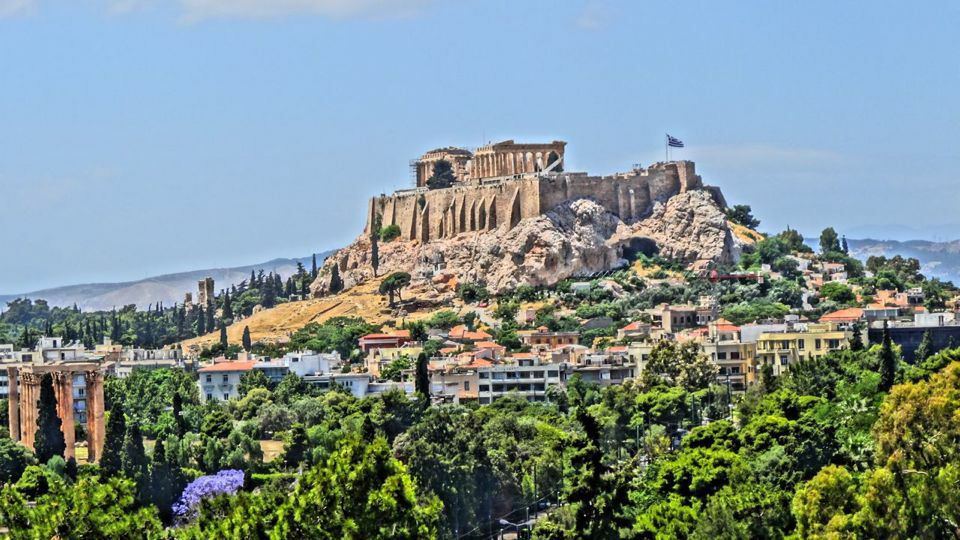 1) The Parthenon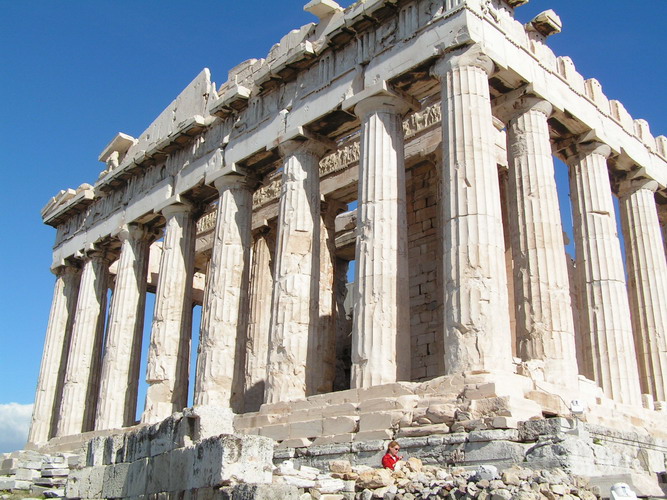 Even if you don't care about archaeology or the fact that if it were not for the ancient Greeks you might be living in a far less civilized way, you can't come to Athens and not visit the Acropolis and see the Parthenon. Yes I know that there are actually Athenians who have never climbed the steps to see one of the wonders of the ancient world, the reason millions of people come to their city, the spectacular building that symbolizes some of the highest achievements of mankind. But that's no excuse. If you do nothing else on your visit to Athens, this is the one thing you should do. Since you can buy a ticket that allows you to see the other major archaeological sites that day I can free up some of my top ten space since the Theater of Herod Atticus, Theater of Dionysious and the Ancient Agora and even Keramiekos are all included among others, in the price of admission. Oh yeah and don't forget the new Acropolis Museum. See The Acropolis
2) The National Archaeological Museum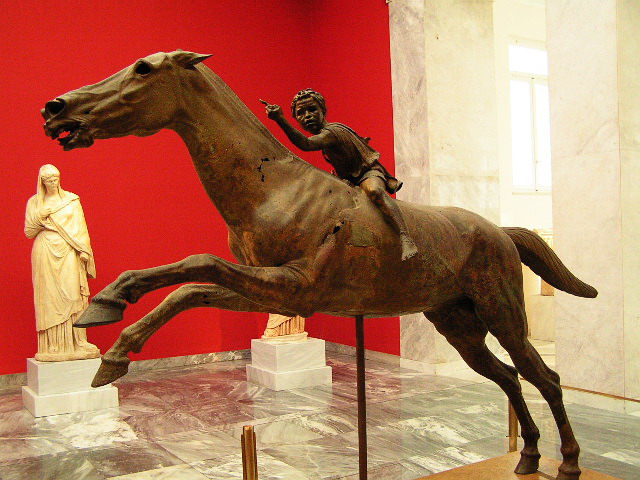 Yes it is a 45 minute walk from Syntagma but this is one of the great museums of the world, right up there with ummmmm, well those other great ones. You won't find a better collection of ancient Greek sculpture, jewellery, pottery, and the Antikythira Device, a 2000 year old computer found in the shipwreck off the island of Antikithira will have you wondering just how advanced those ancient Greeks actually were. Athens has a lot of museums and depending on your interest you may find another that is more interesting, like if you love coins, the Nuimismatic Museum or if you like religious Icons the Byzantine Museum or if you like weapons the War Museum or if you want to see a continuous history from ancient to modern Greece go to the Benaki Museum which I actually like better. But in terms of importance you can't beat the National Archaeological Museum. If you like cars there is the Hellenic Motor Museum, one of my favorites and right around the corner from here.
See Athens Museums, National Archaeological Museum and Hellenic Motor Museum.
3) The Agora-Athens Central Market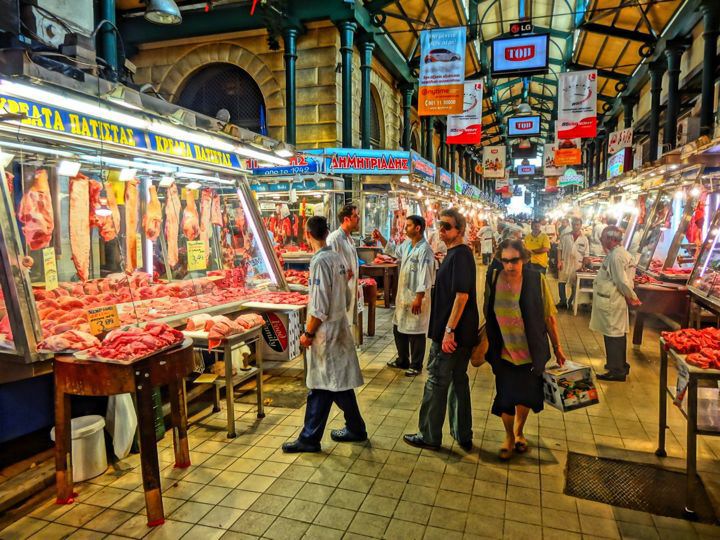 No matter how you feel about fish, meat and vegetables you won't find a more lively place than the Central market on Athinas Street, also known as the Dimotiki Agora (Public Market) or Varvakios Agora. Whether you come early in the morning to watch the trucks unload because you are jet-lagged and suffer from insomnia or you visit between 7am and 1 pm with the majority of the Athenian shoppers, a walk through the market will probably change how you feel about shopping and may make you wish you had an apartment with a kitchen so you could join in. The restaurants in the meat market can't be beat for good food at a cheap price at any time of the day or night. The Market is sandwiched between Athinas Street and Eolou Street, two of the most interesting streets in Athens. Watch your wallet or handbag when wandering through the crowds in the market.
See Athens Central Market
4) Mount Lycabettus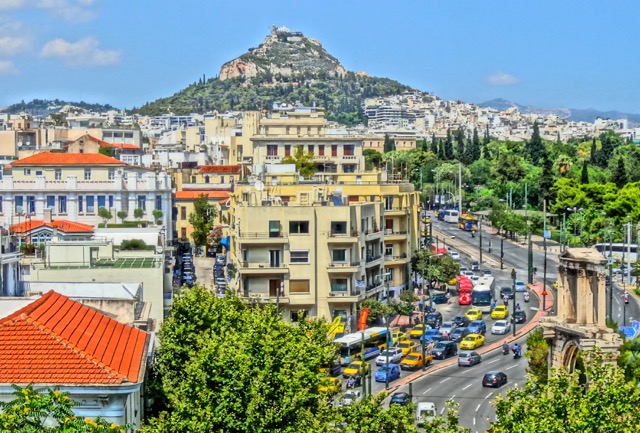 Maybe you took one look at this green mountain rising out of the center of Athens and said to yourself "I hope there is nothing important up there because I really don't feel like climbing a mountain". There is something important up there. An amazing view. Also a great cafe, not to mention an amphitheatre where you can see such renown acts as Leonard Cohen, Peter Gabriel, James Brown and many other acts who visit Greece in the summer. In fact I would say that between Lycabettus and the Theatre of Herod Atticus below the Acropolis, there is no more impressive place to see your favorite band or musician. And you don't have to climb. There is a strange looking train that will take you almost to the top. Walking down is a lot of fun and you never know which neighborhood you are going to end up in. See Mount Lycabettus. If it seems too daunting a task climbing Philopapou Hill is a good substitute and right across the road from the Acropolis.
5) The Plaka


A walk through the oldest neighborhood in Athens is a must and one of the most pleasurable activities especially in the early evening. There are hundreds of shops from kitschy tourist to the workshops of some really great artisans. There are several good restaurants where you can sit outside almost year round. There are also some nice little ouzeries that are cozy when it is too cold to sit outside. The famous Brettos distillery on Kydatheneon could be in this top 10 list on its own. The out-door Cine Paris where you can watch a move on the roof of a building below the lit walls of the Acropolis could too. There are ancient Greek and Roman ruins scattered around as well as some beautiful 19th century and older buildings and several Byzantine churches. Lets not forget Anafiotika, the neighborhood closest to the stone slope of the Acropolis where you can wander around and feel like you are on an island in the middle of the Aegean instead of an island in the middle of a modern city. Best time to be here? Apokreas, which is carnival season. See my Plaka Guide and also Shopping in Athens
6) Psiri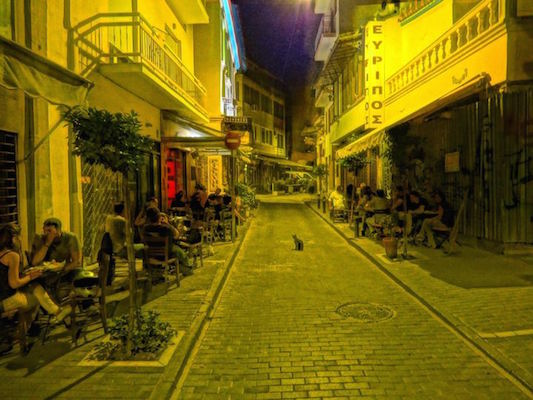 With the up and coming areas like Gazi getting more popular we should not overlook Psiri with its endless small streets of cafes, ouzeries, restaurants, bars, clubs, theatres and galleries, all within a minute's walk from Athinas and Ermou streets or Monastiraki Square. Join the crowds on a weekend night, especially during Apokreas, Greece's Carnival. Psiri came of age as the center of Athens nightlife during the 2004 Olympics and regardess of what people say about its commercialism, you won't find a cooler place to be in any city in Europe or America. You can feel the buzz as you walk past cafes where a hundred people are talking, drinking and smoking simultaneously, or you can find a tiny little cafe on a back street with two or three tables and a guy grilling soupia (cuttlefish) or octopus. Or find a nice ouzerie in the neighborhood where some rembetis are playing un-plugged. See my Psiri Guide or if Psiri seems too tame for you check out Gazi and my Athens Nightlife Page.
7) The Temple Of Poseidon at Sounion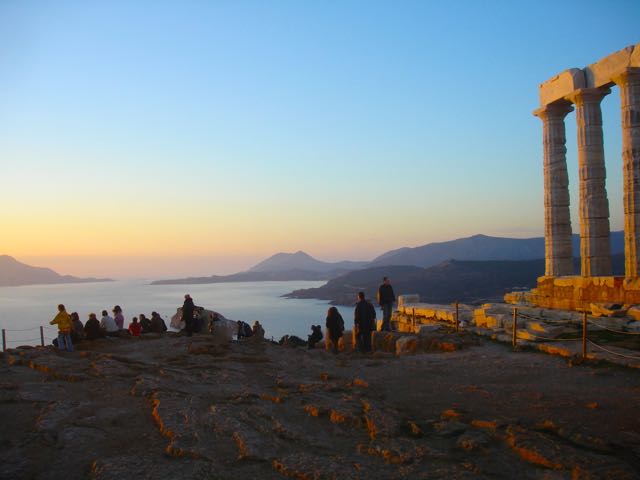 On a hill overlooking the sea at the very tip of the Attiki Peninsula on a spot that could not be more perfect for an ancient site of worship is the Temple of Poseidon, God of the Sea, which boasts not only the carved grafitti of Lord Byron but the best sunsets after Santorini. There is a small beach below and a sea that looks and feels like the islands, as well as two small fish tavernas and many more on the way there and back. Go in the late afternoon, have a swim and an ouzo and some mezedes and see the temple and watch the sunset before going back to Athens for a quick shower and a nap before going out to dinner and maybe out on the town later. OK is not really in Athens but you still need to come here. Its only an hour away by taxi. See Temple of Sounion
8) Monastiraki Flea Market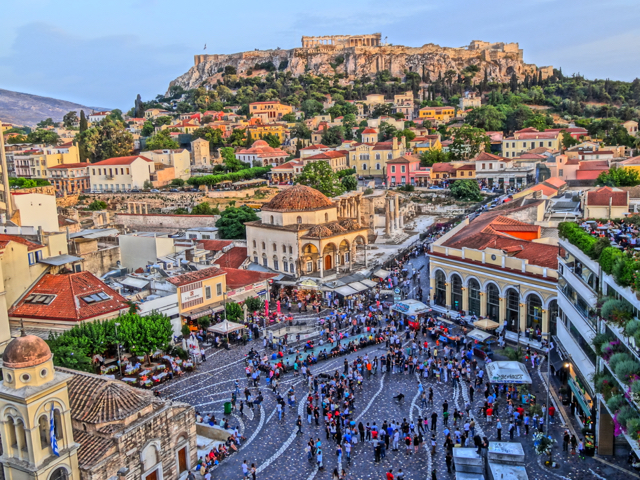 It is not really a flea market in the way most of us think of them, except for Sunday when people seem to come from the hills to lay out their blankets and sell all sorts of stuff that may be junk to you but of real value to someone else. Its a mob scene but worth the experience even if you just sit in the cafes overlooking the ancient agora and the metro tracks on Adrianou Street watching the parade of shoppers, street musicians and African bootleg DVD sellers running from the cops. During the week it an assortment of tourist shops, clothing stores, fur and jewelry stores dotted with some pretty interesting shops, especially if you like vintage vinyl and rare CDs or really stupid T-shirts. Monastiraki Square is still one of the most lively squares in Athens and at night it is filled with young people, street venders and pickpockets. See Monastiraki Flea Market
9)The Poet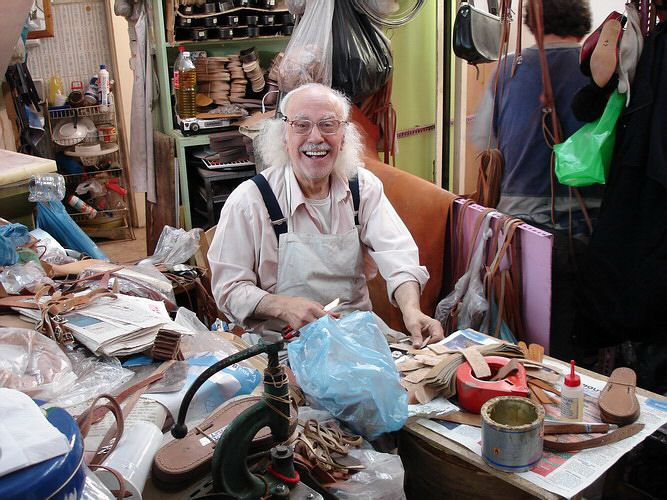 Where else in the world can you find a guy who is a published poet, a really famous one at that, whose works have been translated into English, French, German and Italian and his best known work The Rubaiyat is on the curriculum of a number of American universities and is one of the most beautiful tributes to wine and life that I know of, and who makes sandals for a living? Stavros Melissinos has touched the feet of John Lennon, Paul McCartney, Sophia Loren, Jackie Kennedy, Rudolph Nureyev, Margo Fontaine, Anthony Quinn, George Pappard, Ursula Andress, and Gary Cooper among others as he fitted them for his sandals, which are based on ancient Greek designs and are as famous as his poetry. You may say "Wait a second! How can you justify putting a tiny shop with a little old man making sandals in your top ten along with the Acropolis, the National Museum, the Temple of Poseidon and entire neighborhoods?" The answer is: Easily. To find Stavros shop, (now run by his equally talented son Pandelis, a poet-playwright-musician-painter-philosopher), take the metro (or walk) to the Acropolis Station which is next to the Acropolis Museum at the intersection of Makrianni Street and Diakou Street. Walk down Diakou and you will see it on your left at the intersection with Tzireon. If you have Google maps handy it is at 16 Tzireon. Or visit his statue someday and say "Damn. I could have met him in person and bought some sandals too". See The Poet
10) Pireaus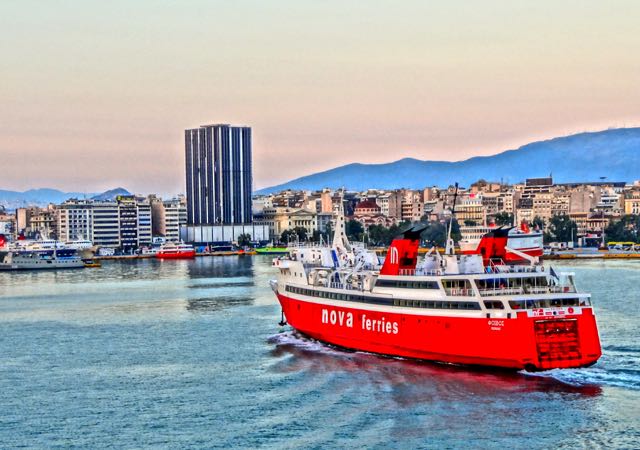 This was the hardest because there were so many places I had to leave off after choosing number ten or I would have to go back and remove one of the other nine. In the running were the National Gardens, the African rain forest in the middle of Athens, which should not be missed whether it is in the top ten or not. Or how about the Temple of Olympian Zeus, the largest of all the Greek temples that took almost a thousand years to complete? Well actually they never completed it but that is besides the point. Right down the street is the Panathinaiko Olympic Stadium rebuilt entirely of marble in 1896 for the first modern Olympics, though the stadium was originally built in 330 BC for the Panathenaic contests. Or Kerameikos, the ancient cemetery of Athens, or the First Cemetery of Athens where all the most famous modern Greeks are buried and is one of the most beautiful cemeteries in Europe. Certainly Phillipapou and the Hill of the Pnyx where such famous Athenians as Aristides, Demosthenes, Pericles and Themistocles used to speak to the Democratic Assembly in the 5th Century BC deserves to be in my top ten. Or the Benaki Museum! Or I could easily write that a day at one of Athens' nearby beaches, or walking the shaded streets of the Northern Suburb of Kifissia deserves a Top-10 listing. But in the end my final entry was the Port of Pireaus. Why? Well, because for me there is no better feeling than going to the harbor and getting on a ferry boat and sailing off to a Greek island. As much as I love Athens, there is a feeling of having escaped as you sail out of the port and onto the Aegean sea and you gaze over the waves at the white sea of apartment buildings and look for those famous landmarks of the Acropolis, Lykabettus and Phillipapou or the mountains of Hymettos, Pendeli and Parnitha. Yeah I guess choosing Pireaus is sort of a cop-out but I think that once you visit all these places I have mentioned and find yourself on a ferry steaming towards the Greek Islands you might agree with me.
You want more choices? Got your own Top-10? E-mail me.