Rafina is a port town, almost a city, just outside of Athens, with fish restaurants, beaches, hotels and ferries to the popular islands, and has a feel like you are actually on an island already.
One of my favorite places in Attika is Rafina on the other side of Mount Pendeli and Mount Himitos. It's like driving to an island and every year I visit Athens, whether it is summer or winter, I make a point to spend one afternoon in Rafina. If I can't get my family or friends to come I go alone. But it's almost like a pilgrimage for me and often it is the last place I visit before flying back to America the next day. There are numerous restaurants that specialize in fried squid (kalamarakia), small fried fish(mareedes), shark with garlic sauce (galeos me skordaya) and other fresh things from the sea and if I can convince someone else to do the driving there is nowhere better to sit, drink ouzo, eat fish and watch the movement of people, cars and boats.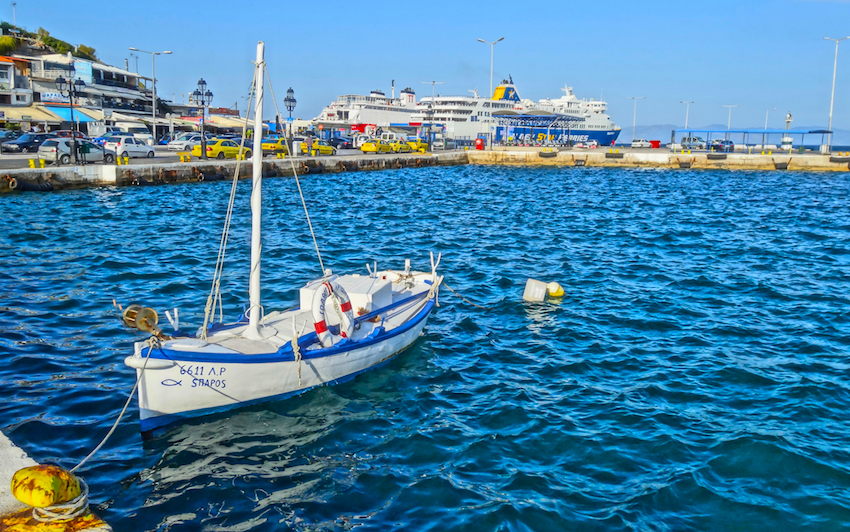 There are ferries going to the Cyclades and Evia, sailing in and out of the harbor and lots of fishing boats so it really is just like being on an island. There is a long beach there that is usually only crowded on Sunday. The town itself has a few too many apartment buildings for my taste having grown up nearby during the time when there were none, but the waterfront is nice enough and the sea air is always invigorating after a few weeks in Athens no matter what season it is. There is nothing like spending the day with some close friends, some fried fish and several bottles of ouzo. The town has a fishing fleet and there are several fish markets with the freshest of fish and the biggest crayfish I have ever seen.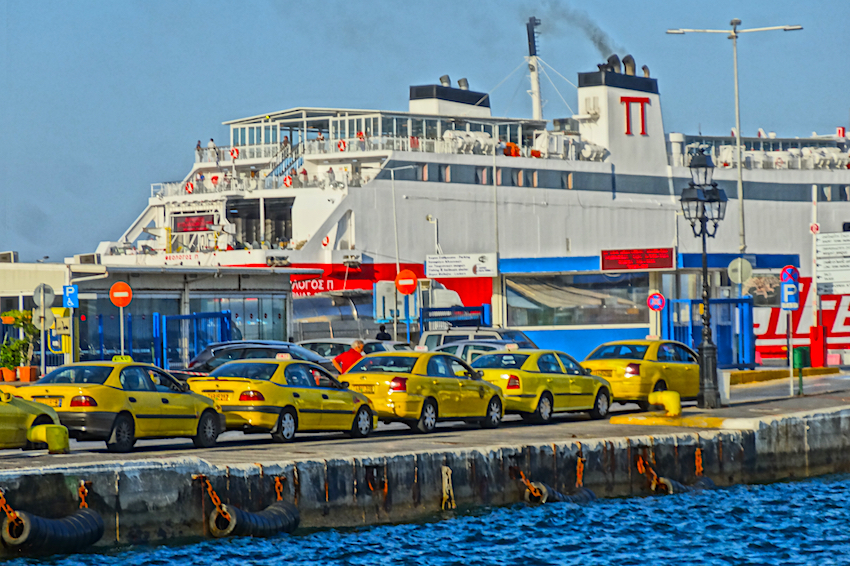 If you are going to the Cyclades islands the boat trip is two hours shorter from Rafina and boats leave later in the day, though if you are coming from downtown Athens you will lose much of the time driving here that you save. So unless you are coming right from the airport to catch a ferry that day or stay overnight to catch one in the morning it probably makes more sense to leave from Pireaus (unless you really hate being on ferries). The plan was after the completion of nearby Venizelos Airport, many people going to the islands would be leaving from here and the port of Lavrion further south, and they have done extensive expansion of the harbors of both ports. There are high-speed ferries that make it to Tinos and Mykonos in less then 2 hours. If you are coming to catch a ferry the ticket booths are on the left as you enter the harbor.
In the summer it's a very busy port with ships going in and out and the restaurants full of people. In the winter it is much quieter and much more enjoyable if you are not coming for any purpose besides eating, drinking and being by the sea.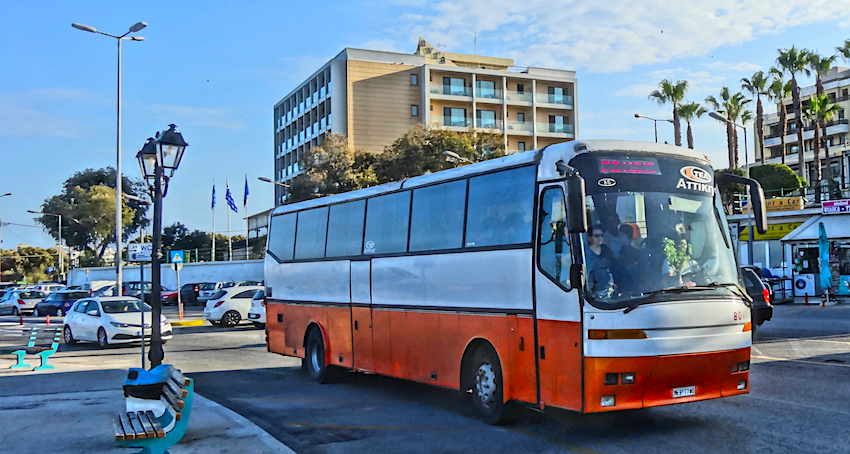 There are a couple ways to get there. The easy way would be to call my taxi driving friend George Kokkotos the Famous Taxi Driver and invite him to be your host. If you split the cost between three or four people it will be quite inexpensive and you will have George there for translations and advice, not to mention entertainment. (Get him to stop at the Sanctuary of Artemis on the way back-see below. You can also go by bus. Take the blue metro line to Nomismakotopio and that is now the bus terminal for many of the Attika buses. There is also a bus to and from the airport which makes it easy if you are going to the islands or staying for a night or two. Traffic from Athens can be heavy at certain times. Going there on weekends can take forever if you don't get an early start. Go during the week and leave Athens early on days when the stores close at 2. If you are driving just follow the signs. By the way the road there follows the ancient road from the beach at Marathon which Phillipides ran to tell the Athenians that the Persians had been defeated.
Staying in Rafina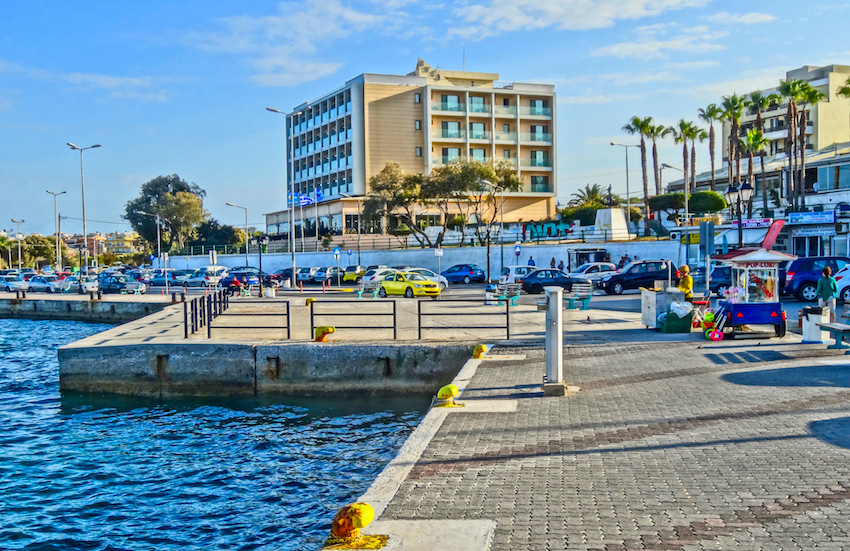 Actually these days Rafina is not a bad place to base yourself since you can easily take a bus or taxi into Athens and see the sites and then come back for a swim and dinner. The Avra Rafina Smartotel (photo) is a Three-star hotel convenient to the ferries to the islands and they have a shuttle to and from the airport. Other hotels in the area include the Ramada Athens Attika Riviera Hotel, the Hotel Mati, the Cabo Verde, the Myrto Hotel, the Attika Beach Hotel and the Miami Hotel, all on the beach in the area of Mati just a couple kilometers from Rafina.
Rafina Beaches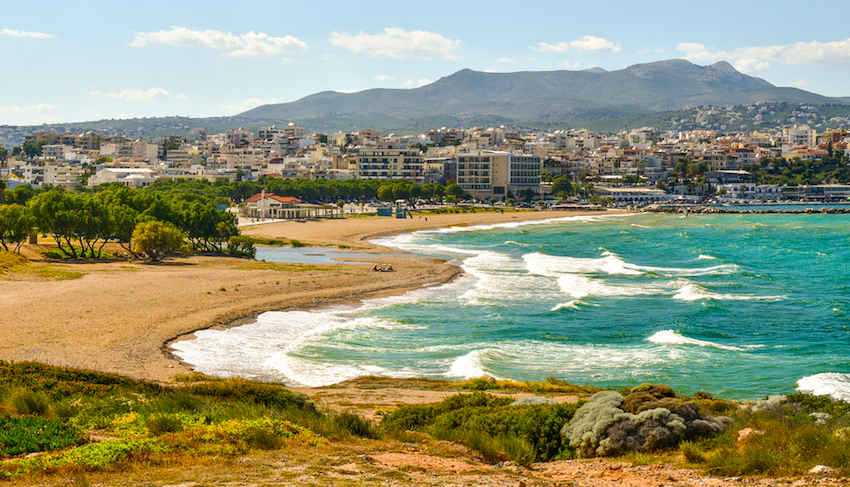 The main beach of Rafina is a long stretch of sand and gravel that starts at the edge of the harbor and ends where the apartment buildings begin. Growing up this was the closest beach to my house and we went here regularly to swim and eat at the one taverna on the beach. Later for several years it was considered a not very nice place to swim being close to an area that had become like a city, not to mention at the end of a small river which carried who knows what from inland to the sea. But a few years ago when I flew into Athens and I wanted to go for a swim and something to eat we gave the beach another shot and it was fine. The sea was clean enough as was the beach. There are several beach bars and this is where many locals swim and when there are wind and waves it is great for windsurfing. Yes it is next to a port but people are caring for it now and if you are staying at the Hotel Avra Rafina for a night waiting for your ferry the next day or your flight home you will be very happy swimming here or watching the windsurfers.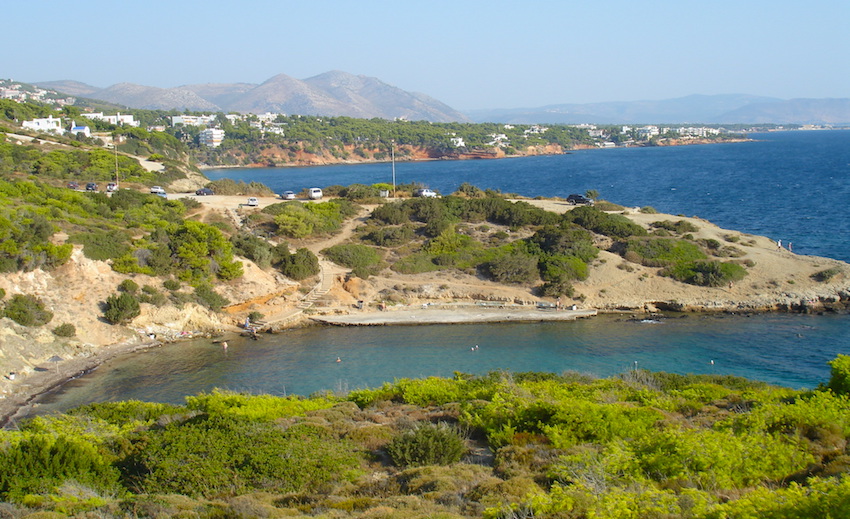 It has been several years since the beautiful forested town of Mati was destroyed in a fire that claimed a hundred lives. A drive through the neighborhoods will show you signs of the damage but little by little the area is coming back to life and there are several very nice hotels, a few fish tavernas, and a series of small beaches and coves which you can reach by following almost any of the roads that lead to the sea. Kokino Limanaki (Little Red Harbor) is one of the nicest and the largest. It is also where many people ran to escape the flames, some who were rescued by boat and some who died. The trees have not grown back but for a beach on the mainland and right in a city it is pretty good. No services though. It is mostly for people who live in the area and can walk to it. But some people from Athens come on Sunday though in my opinion there are a lot better places to swim in Attika.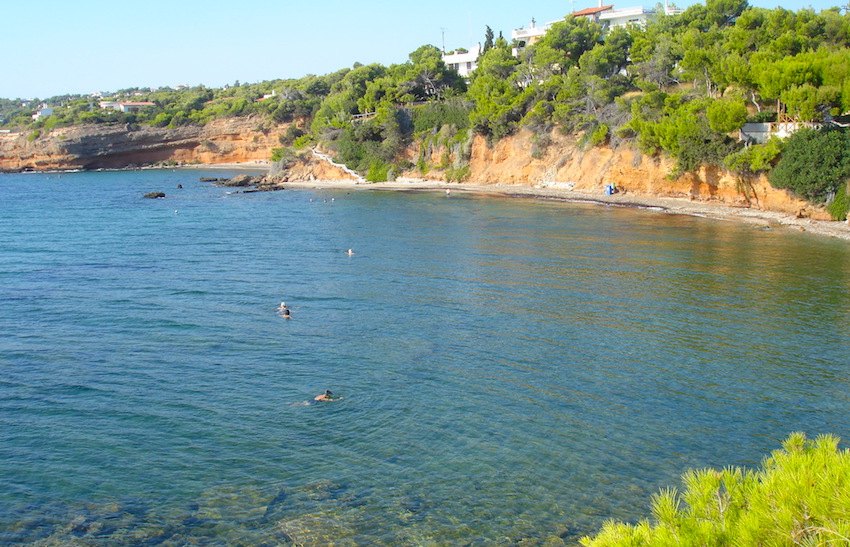 Argira Akti is a tiny stretch of sand right by the famous Argira Akti Psarotaverna which is packed on weekend days but you should be able to find a table on weekdays. Good food in a nice family run taverna and the beach is not bad. If you like to snorkel bring your mask and flippers. This whole section of coast is full of giant boulders that have broken off from the shore which contain a lot of sealife. There is actually a Ramada Athens Attika Riviera Hotel and just beyond that another fish restaurant called Gorgona which is one of the best in the area. Also in the same small port area are the Hotel Mati, and the Cabo Verde, two very nice hotels right on the sea. Closer to Rafina's port is Ble Limanaki (Little Blue Harbor), another small beach popular with locals. It is not like the islands but it is good enough.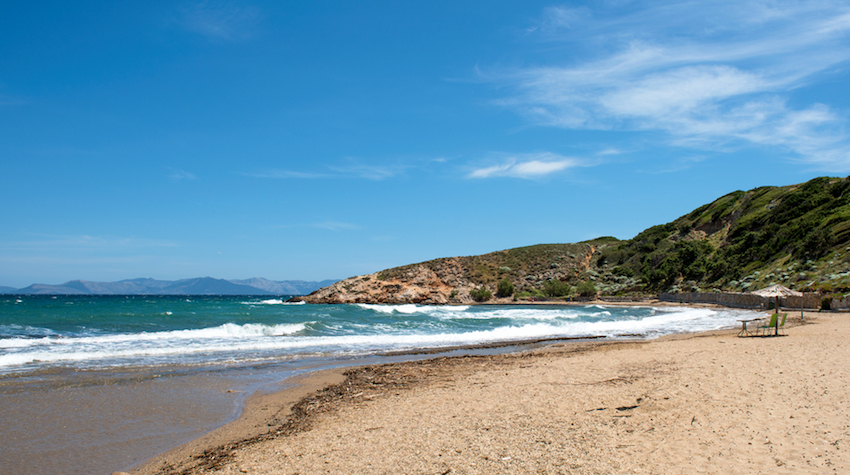 South of the port of Rafina is Marikes Beach which is beautiful but one of those rocky shelf beaches where getting in and out of the water can be difficult and there are lots of stones and sea urchins. But again if you like snorkling you will probably find more to see on one of these beaches than the usual long stretch of sand. And there are sandy areas that you can get in and out of the sea. But the best time to come here when the wind is not blowing and the sea is flat. Or when it is really windy to watch the waves and the ships pass by going to and from Rafina. There is a prehistoric settlement on the peninsula south of the beach but as is the case with many prehistoric settlements there is not much to see. A little further Paralia Agios Nicholaos has a cafe and a small beach. After that comes Paralia Artemidos which is a long sandy public beach with beach beds, umbrellas, restaurants, cafes and shops and the small Temple of Artemis Tauropolos, though all that remains is the foundation.
Rafina Restaurants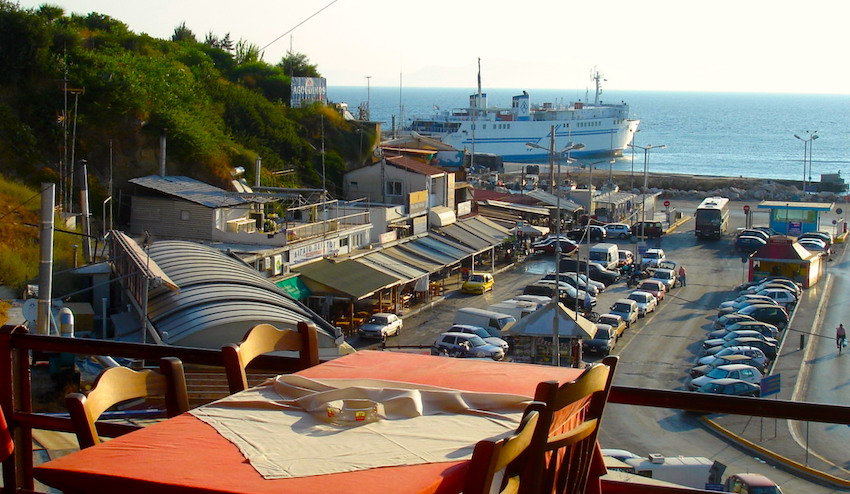 Most people eat at the Psarotaverna Galini right in the harbor of Rafina, mostly because it is the last restaurant you come to before going through the gates to the ferry boats, and secondly because it is one of the best seafood restaurants in town. Don't order mousaka and pastitsio and the other Greek dishes you know. This is a fish restaurant, in a fishing port, next to a fish market where chances are good that you will eat the freshest fish you have ever eaten, (especially if you know what a fresh fish looks like). Go for the grilled sardines, fried gavros, and whatever was caught that day. Most likely the fried kalamari is frozen as are the shrimps though some seasons you may get lucky. Usually if kalamari is fresh they serve it grilled and the bigger the better. They also sell fish by the kilo and they have nice fish mezedes to go with your ouzo or tsipuro. My go-to place is Agoni Grammi whicb is the next to last fish restaurant in the harbor. I don't know why. I just settled on that one 20 or more years ago and when I come to Rafina that is where I go. I think they may even know who I am there or else they are just super nice to everyone. Anyway when you have a bunch of fish restaurants right next door to a bunch of fish markets chances are that you will get fresh fish and most likely the cook knows how to do it right.
A couple doors down is Seirines, another restaurant in the same style which people also come from Athens to eat at and some claim is the best seafood in the greater Athens area. Psarotaverna Joachim is similar as is O Giorgos which is also known for the fish mezedes. You can't go wrong with any of these and considering they are in a port where thousands of tourists pass through on the way to and from the islands it is kind of amazing that they are so good. But they have to be or the people who live in Athens and Rafina would not come when the tourists have all gone home. And it really is a tradition for people to come to Rafina and eat seafood because it is the closest you can get to doing it on an island.
Most people passing through eat at one of the above restaurants in the harbor but Rafina has many more and not all of them are fish restaurants for those who don't like fish. Sta Kala Kathoumena serves dishes from Greece and Asia Minor and yes it is OK to order mousaka or pastitsio here. In fact it is highly recommended. It is located on the SE side of the main square. Lots of great oven cooked meat dishes and they are known for their souzoukakia. Large portions may make it hard to save room for desert but try anyway. For something special try Melinia Restaurant, a modern Greek/Mediterranean/International Bistro with a very good chef and a progressive vision of where Greek food is going or should go. Amazing entrees, salads and deserts and despite the very contemporary presentation it is still at heart a Greek restaurant. It is located in the main square and if you have a few days in Rafina plan to eat here for one of them. If you consider yourself a foodie then even more so. This is a gourmet restaurant with large portions. It is not often you see those two in the same sentence.
Other Places Near Rafina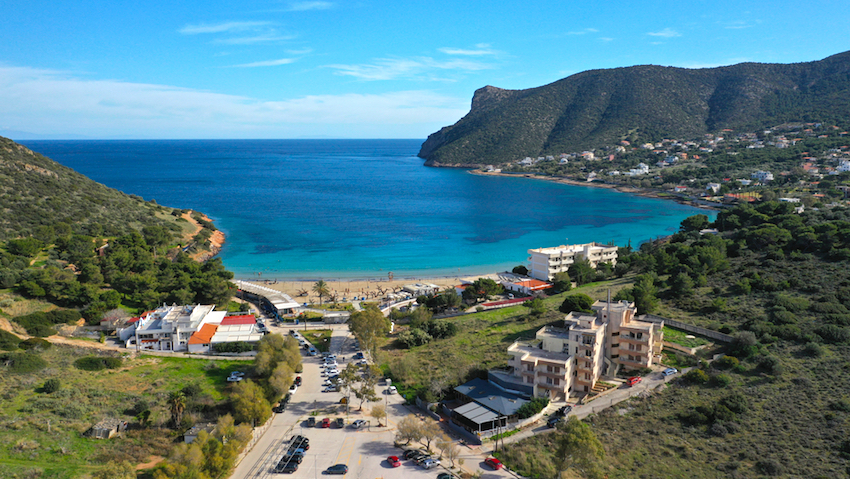 Porto Rafti
If you want to go to a really nice beach keep driving past Loutsa and Markopoulo to Paralia EOT Markopoulo or what we used to call Avlaki. This was our favorite beach growing up, a little further than the others but worth the drive with sand and sea just like being on the islands and a small taverna right in the middle of the beach. Unfortunately that was 50 years ago and now it is a pay beach with cabanas and a huge parking lot for cars and buses, and several restaurants and rooms to rent. But it is still a beautiful beach and the sea is no less lovely than it was 50 years ago, especially if you can go when it is not crowded which means anytime it is not summer, during the week, and early in the day. There are a couple more beaches nearby if you have an aversion to paying to swim. The small Paralia Koronis Porto Raftis is a rocky beach on the other side of the peninisula from the EOT beach. There is a long beach in Porto Rafti that is bordered by the coastal road where you will find beach beds, umbrellas, restaurants, cafes, and shops in a setting that might remind you have a beach town just about anywhere and several other nice beaches which you can locate by seeing their parking lots. By the way Porto Rafti is the port for the town of Markopoulo and if you know your geography you know that Markopoulo is one of the closest towns to Eleftherios Venizelos Airport. So if you want to stay close to the airport and be on the sea then Porto Rafti is also a good spot. See Hotels, Villas and Apartments in Porto Rafti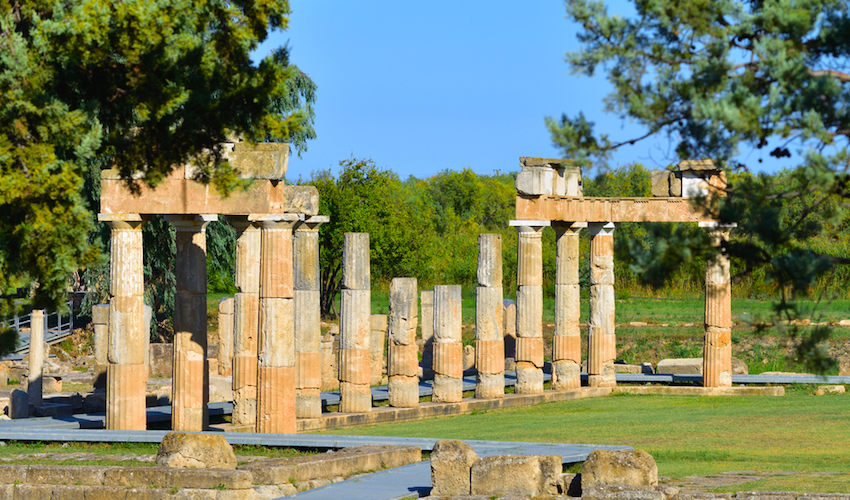 Vravrona
In between Loutsa and Porto Rafti is the town of Vravrona or Brauron, known for the giant resort Hotel-Spa Mare Nostrum. Its also known for the 6th Century BC Temple of Artemis in a beautiful setting right by the crossroads from Markopoulo. Monday it is closed, in fact I must always go by there on Mondays because the last three times I have seen it I have had to take photos from the other side of the fence. But it is one of those quiet magical places you find around Greece and to make it even more attractive the area around it has very little if any development. Its all farms, vineyards, olive and fig trees as well as rocks and bushes, trees and wild plants and looks like much of Attika used to look like. If you have some extra time in Athens I would suggest maybe visiting a winery or two, taking a swim at Avlaki, stopping at the temple and then having lunch in Loutsa (also called Artemida after the temple and sanctuary). Actually if you have a stopover for 4 or 5 hours you could probably do this in about three hours with George. (See www.greecetravel.com/taxi) I would say just grab a cab at the airport but then if you could not find one for the return trip and you missed your flight then I would feel like it was my fault. There is also a brand new museum here with artifacts from the area.

The Temple of Posideon at Cape Sounion
The temple at Cape Sounion was the first and last sign of 'civilization' Athenian sailors would see to and from their journeys. It's a magnificent site on top of a hill on the tip of the Attika peninsula. Not a bad place to watch the sunset either after a late lunch at a beach side taverna and there are two pretty good ones right below the temple. The small beach has sea almost as clean as you will find on the islands. Its one of the nicest beaches within striking distance of Athens. It is split into 2 sections and one appears to be a private beach owned by the Hotel Aegeon Beach. But guess what. You can't own the beach in Greece so don't feel you have to sit in the little stretch of sand outside the hotel boundry. If you are looking for a hotel on the mainland with an island feel (even though there is no village nearby, just Lavrion which is more of a city) the Hotel Aegeon Beach is not a bad choice though it is a long way into Athens to see the sites. Again, if you are coming here on a day trip with three or more use George's taxi. Otherwise you can catch the bus. Try to find Lord Byron's name carved in the marble. Most Travel Agencies offer a trip to Cape Sounion at sunset for a pretty reasonable price. See also my pages on Sounion.

Lavrion
Lavrion which is the closest town to Sounion, has a lively waterfront and town center full of restaurants, ouzeries, cafe-bars and a very nice fish market. In fact you should stop and see the Lavrion mineral museum as well as the ancient site of Lavrion which has one of the best ancient amphitheaters. If it were not for the silver mines of Lavrion the ancient Greeks would not have defeated the Persians in the battle of Salamis since that was how they were able to build their fleet. Lavrion is the gateway to the island of Kea, another nice place for a day trip and you can also get ferries to the Cyclades and the North Aegean Islands. They have spent a fortune upgrading the port and in the future there will be a train here since it saves two hours ferry travel to the islands. Lavrion is one of the up and coming towns and the coast around it is dotted with small coves and beaches. See Matt's Lavrion pages

Marathon Dam, Lake and Beach
Everyone has heard the story of the Persian defeat at Marathon at the hands of the Athenians. Imagine marching several thousand miles only to be wiped out 27 miles from the city you came to conquer by an army a fraction of your size. Marathon is an interesting place to visit. There is not much to see of the battlefield really. There is a burial mound in an olive grove and a plaque that commemorates the great victory and a nice statue. You are not supposed to climb up the mound but from the looks of the worn footpath many people do, including me. There is also the place where the race begins. The beach at Marathon is pretty nice and nearby Schinias is even better. But the most amazing thing about Marathon is the marble dam that holds the water that supplies Athens. It is the only marble dam in the world and it is quite spectacular. There is a nice cafe here with a view of the lake. Marathon lake is around a 10 minute drive from the town of Marathon which is a 10 minute drive from Marathon Beach.
Close to the beach at Marathon is the seaside town of Nea Makri. Formerly a US Navy communications base, it is now a very nice place to come for lunch or a swim.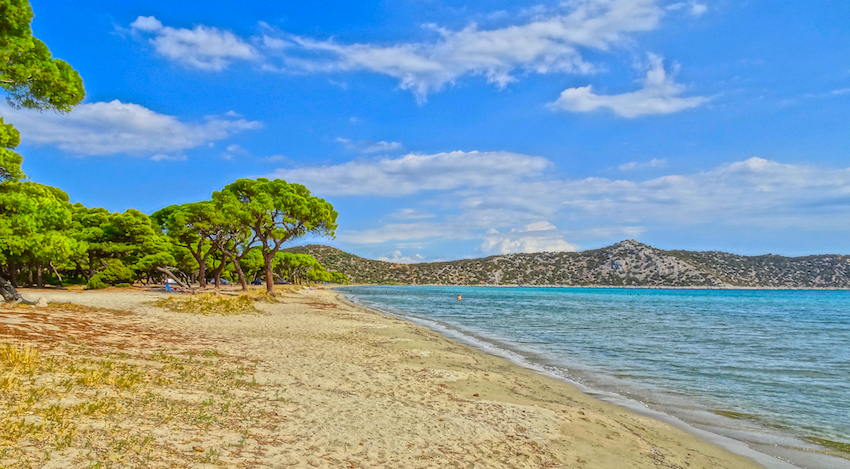 Schinias
Schinias is the most beautiful beach in Attika. It is one of the few beaches that has a pine forest that comes right down to the sea. There were several fish tavernas which ran on diesel generators since there is no electricity there but they were deemed illegal and torn down so now besides beach, sand and trees and in the summer people (many people) there is nothing else here. Whether or not that is a good thing is a matter of opinion. The sea is shallow, generally clean, and if you come in the off-season which means anytime but August and weekends in July, you may be surprised at how few people are here. Because it is shallow you don't need more than a few days of sunshine for it to be warm enough to swim and this is usually the first and last place I swim every year. If you don't have a rental car or go with George you can take one of the KTEL Attika buses at the bottom of Pedion Areos, or take the bus to Nea Makri and take a local taxi from there. Make sure you give him a time to pick you up. For some reason Schinias has traditionally been the favorite beach of American and European x-pats living in Athens and every year various groups come to clean the beach of the plastic and paper that the winter winds and seas have deposited on the beach or blown into the trees.
There are several tavernas on the road that runs parallel to the sea on the other side of the forests which are mostly night places and not necessarily fish restaurants. But if you get hungry jump in the car and drive to the town of Paralia Marathon and eat at Panormites, run by Mr Giorgos, an older gentleman who makes excellent fish mezedes and grilled and fried fresh fish. This is one of the best seafood restaurants in Attika and worth going out of your way for. Nothing fancy, just a small hole-in-the-wall place with great food and an owner with a very big personality.
Ancient Amfiaraion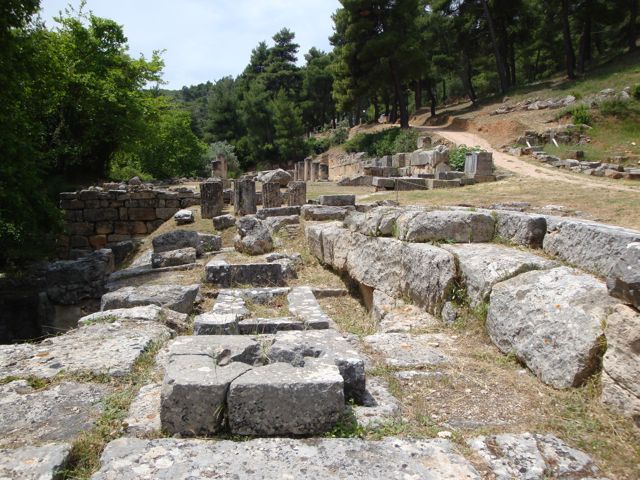 The ancient sanctuary of Amfiaraion is near the town of Kalamos which is near Oropos, in north Attika, where you catch the ferry to Eretria, Evia. It was a healing center and the most important religious sanctuary for the nearby city of Oropos during the classical period. There is a temple to Amphiaraus with some columns still standing, a sacred spring which still has water, baths, an ampitheatre, a long stoa, and the remains of dwellings and shops on each side of a small stream in a wooded area in the hills that lead to the sea. It reminds me of a small version of Delphi or Olympia but its just half an hour from Athens. It was excavated in the thirties but the archaeologists lost interest and much of it remains undiscovered. But it is a beautiful and peaceful setting and nobody visits there. We were there for over an hour and the only other people we saw were the guy selling tickets at the gate (2 euros) and the caretaker in the old museum, which has been closed for years but still has statues, columns and pieces of the ancient buildings. It is an important site, there is even a book about it written by Basil Petracos, the Ephor of Antiquities. Once you see the site you can go to Agio Apostoli or Oropos for a swim and lunch at one of the many fish tavernas.
Ancient Ramnous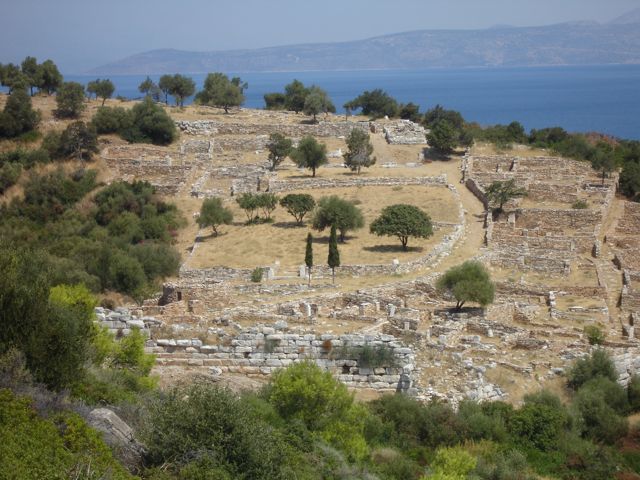 Elias at Swift Rent-a-car told me a story a few years back. A friend of his met an archaeologist who took him to a site that was just being excavated. "It was unbelievable! An entire city of which I was walking down its ancient streets!" he had told Elias and Elias had told us. Follow the signs from Schinias and follow the road through an unspoiled valley of olive groves and farms until you reach the turn-off for the Archaeological Site of Ramnous. Walk up the hill to the ancient Temple of Nemesis, goddess of retribution and mother of Helen of Troy. There is not much left besides the foundation and some broken columns and walls but it is still impressive because of its size and age. But just below is a gate that is slightly ajar and a path that looks like it was an old road, that goes past some ancient buildings. As you reach the crest of the hill you will see below the ancient city, the foundational walls and streets still visible. Walk down and try to capture some of the enthusiasm Elia's friend had when he walked through the ancient streets. I went in mid-August during a heat-wave and though there was a nice breeze blowing, the thought of having to climb back up the hill was enough to keep me at a distance. The site has a connection with the Iraq war. When Brady Kiesling, the US diplomat, stationed in Athens, resigned from the state department in protest of the invasion, he came here with a bottle of wine to contemplate his actions and the path his life would take.

Wineries of Attika
The area surrounding Athens is the Attica Peninsula, known since antiquity for its wine. Though the growth of Athens has pushed the vineyards further and further away, or in many cases caused them to disappear entirely, there are still many wineries, most of them growing the Savatiano grapes that have been used for the most well known wine of Attica, Retsina. Historically these wineries did little bottling, bringing barrels of retsina into the city to sell to the tavernas by horse pulled cart. Many still do but the barrels have become boxes and bags, the horses replaced by engines. And though some of the wine is still retsina, the wineries of Attica have focused on making the most of the Savatiano, since it grows so well here, and proving to people that it has a taste that does not need to be hidden or enhanced by pine resin. That being said there is also a movement to show the wine world that there is a reason retsina was so popular in the past by introducing new recipes where the resin is used to highlight the flavor of the grapes rather than to mask an inferior taste. The idea is to show the world that Savatiano is not a second rate grape, used mainly because it can grow in poor soil, but that the wine should be taken seriously. Most wineries are growing other varieties of grapes as well and making excellent wines. See Wineries of Attika
Ideas for Day Trips from Athens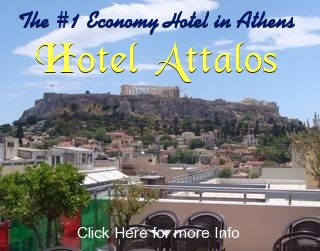 Also recommended for day trips are wine tours of Attika which is one of the largest wine growing regions in Greece. You can combine this with a trip to the Athens Zoo and have lunch on the sea in Loutsa. Attika is a fascinating area and you can read more about it at www.athensguide.com/attika
Other ideas for day trips outside of the Attika Peninsula are the beautiful town of Nafplion, former capital of Greece and sort of like a Plaka-on-the-sea. Nearby is Mycenae , Epidavros , Corinth which are pretty much required for anyone with an interest in ancient Greek history .Read about my trip to the Argolis with George . You can see the whole area in a day if you start early. You can also do a daytrip to Delphi with George, by rental car or through the bus tours the travel agencies offer.
Pahi is the port of Megara a few miles south of Athens and has some nice fish tavernas, beaches and there are a couple museums in Megara. See my Megara and Pahi Pages.
An excellent way to spend a free day is doing the One-day Saronic Gulf Cruise to Aegina, Poros and Hydra. The Spa-Resort town of Loutraki is famous for its beaches, natural spring water and world famous casino. The city of Kalavrita in the mountains of the Peloponessos offers the countries best skiing, the Cave of the Lakes, an amazing train ride through the Vouraikos Gorge and one of the worst tragedies of the Second World War. See George the Famous Taxi Driver for transportation and beach excursions. You can visit several beaches in a day and a few cafes and ancient sites like Sounion and have a nice lunch in a seaside fish taverna before heading back to your hotel to rest up for the nightlife.
The Island of Evia is just 45 minutes from Athens and it is the second largest island in Greece. It is a great place to go for a day-trip or overnight or even longer. You can see the ancient sites, museums, beautiful beaches, eat at inexpensive seafood restaurants, or do like the Athenians who go to the mountains to eat roast lamb. See my Guide to Evia