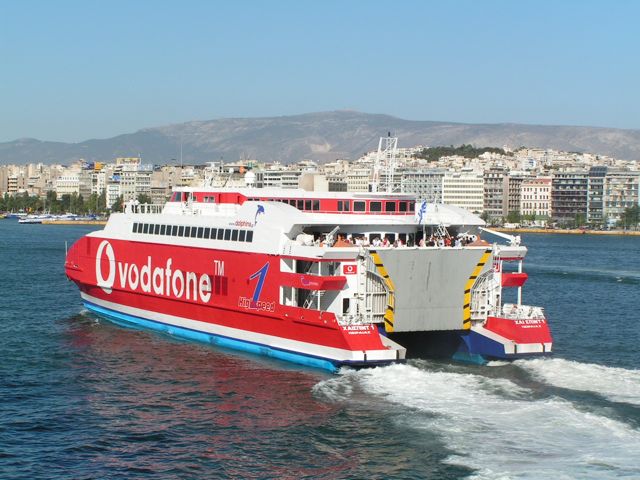 Thanks to the Athens News and the amazing Giannis Smyrnis who for years had been sending me the weekly ferry schedules like clockwork every Wednesday. Unfortunately the Greek Ministry of Merchant Marine stopped sending them out so until they start again, if they start again, you won't find the weekly schedules on my website or in the Athens News. In fact there is no more Athens News either. But since I have you here and I am too lazy to search my site to find every link to this page I may as well educate you some more about Greek ferry boats and booking your island trips so here we go: It is best to book hotels with a reliable Greek travel agency and let them work out the ferry schedules. They can call the ferry companies and get accurate information and won't book you into a hotel that you can't reach on a particular day. Try my Create and Itinerary Form and Fantasy Travel can put together an island itinerary based on availability of ferries and give you a price. You are not obliged to book. Also visit Fantasy Travel's Greek Island-Hopping Programs because you may find the island combination you want to do at a price you did not think possible.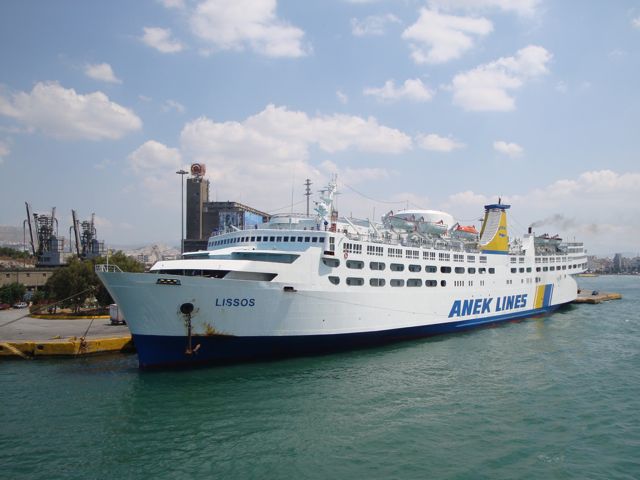 For information on purchasing tickets see Greek Ferry Boat Tickets where you can actually book ferry tickets with Dolphin Hellas who are a reliable travel agency with real live humans and not a computer program that you can't talk to if there is something weird with your tickets. I also recommend Ferryhopper.com which is probably the best ferry booking site out there.
For more information on getting to the port of Pireaus, where the ferries are and everything you need to know about booking ferries in Greece including some things you may not want to know see Greek Ferry Information which is my main page for the ferries and most frequently updated.
For information on the Greek Islands see my Greek Island Synopsis and Matt's Greek Island Guide
You can always e-mail me for more information too. It is an e-mail form which became necessary when I started getting so much spam I could not spot the actual e-mails amongst it.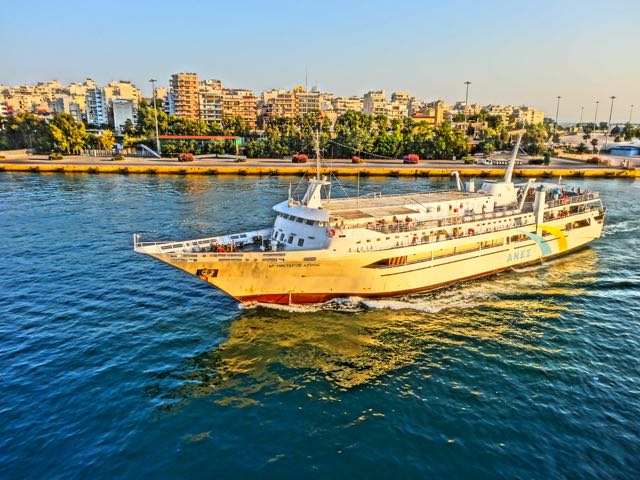 For those going to the Saronic Islands,there are lots of boats every day. From May there are at least 8 boats a day to Hydra and even more to Aegina. Even in the winter there are daily boats to all the Saronic Islands.
For those looking for the elusive 'overnight ferries' to Santorini it is a misnomer. They leave at 8 or 10pm (not every night) and they arrive at 4 or 5 am. Not really convenient when you realize you are stuck in a little port or at the bus station with all your luggage till things open up or you can check into your hotel at noon. To me an overnight ferry is one you get on at 7pm and you arrive at 7am refreshed after a nice sleep in a comfortable cabin. Overnight ferries go to Lesvos, Crete, Kalymnos, Leros, Kos and Rhodes which are all at least 12 hour trips. The Crete ferries in particular are the newest and the best with beautiful cabins, large lounges with non-smoking areas and some even have pools, like the Superfast which only takes 6 hours from Pireaus to Heraklion.
The port of Pireaus is wireless though how well it works depends on where you are, what computer you use, how the system happens to feel that day and any number of factors. There are places to store luggage in the cafeterias and waiting areas which are generally open 24 hours.
Crete-Santorini-Mykonos Ferry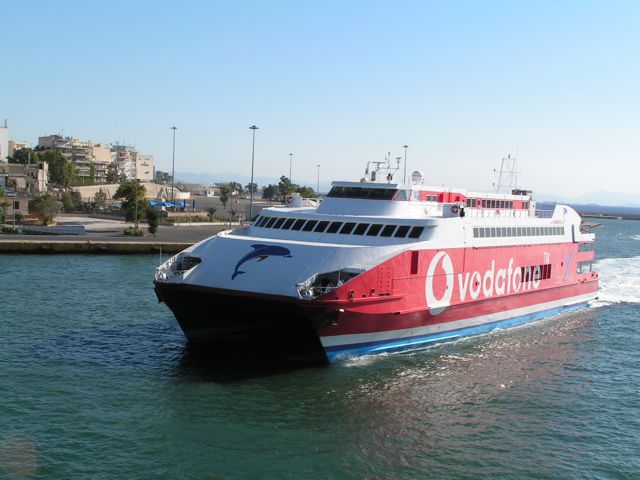 If you are looking for the Connection between Crete and the Cyclades, in typical Greek ferry fashion which defies logic there are two boats leaving within half hour of each other and going to pretty much the same islands: Santorini, Ios, Paros and Mykonos, except one goes to Naxos instead of Paros. This is useful if you are trying to get between Mykonos and Santorini as many people are. This is a summer schedule so don't count on it from late September on and this is based on the 2015 schedule. By the way neither boat takes cars or motorbikes. The Seajets buzz around the Cyclades connecting Mykonos and Santorini to several others. If you have a car, again you are out of luck because both of these boats are for passengers only as well. If you are using this info so you can book individual hotels on your own remember that if they are wrong or change and you can't get to that hotel you will still br responsible for the booking and that is why I encourage you to coordinate ferries and hotels with a reliable Greek travel agency like Fantasy Travel or Dolphin Hellas. If there are any schedule changes they will know and make the necessary changes to your itinerary at no charge. Having said that if you are still intent on booking the ferries and hotels yourself try my Greek Island Hotel Booking Site, made for me by Booking.com which has low rates and hotel descriptions and photos. Plus if you really like my site and want to show your appreciation this site gives me a small commission and enables me to keep doing what I do.
If you are looking for other ferries from one island to another you can e-mail me and I can see what I can find. But I need specific dates and the island you want to leave from and the one you want to go to. Don't send me e-mails asking for all the boats leaving a certain island because I have to look them up by island and date. e-mail me
If you e-mail me I may be able to find the Lavrion-Kea-Lavrion schedule.
About Ferry Strikes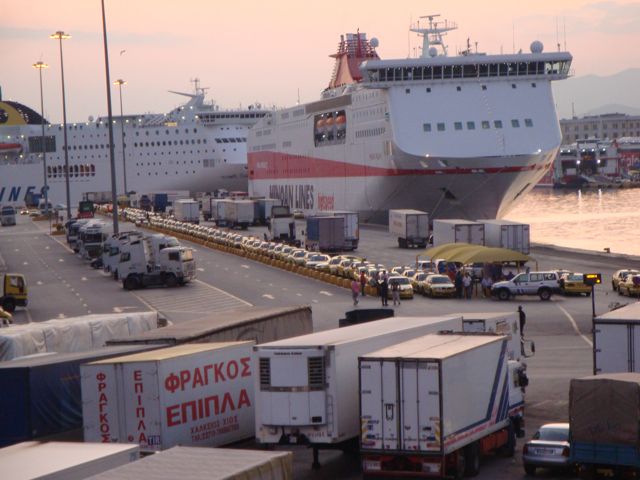 I am not expecting any summer again to be like 2011 when Greek merchant seaman blocked passengers from boarding ferries so that the government would cave to their demands. The practice was just not all that effective, in fact there was not one ferry strike between the summer of 2012 to 2015. Nor were the 2011 strikes the nightmare they appeared to be from the news reports. There were not enough strikers to keep all the boats from leaving and once they got tired and left, the boats loaded up and sailed off to the islands anyway. Though travelers were inconvenienced they were usually people who went to the port with no idea anything was going on. If you have booked with a Greek travel agency and there is a ferry strike or any kind of ferry problem they will change your hotel reservations and you will leave the next day or later that same day and they will find something for you to do and a place to stay and keep your luggage. It is not a big deal. If you are booking on your own then you need to take responsibility for knowing if there is a strike. The Kathimerini which comes out 6 days a week with the International Herald Tribune will list planned strikes and slowdowns and service disruptions for ferries, the metro, buses or whatever. Often a planned strike will be called off too and that may not make it to the paper but you can ask at any ticket agency if the ferries are running. If you are on an island and there is a strike it is the same thing. The travel agency will make the necessary changes to your itinerary. If you are worried about losing your flight home you shouldn't be. Yes airlines can seem heartless and cold but not so much that they would leave you in a foreign country after you missed your flight because of a ferry strike.
Ferry Booking Web Sites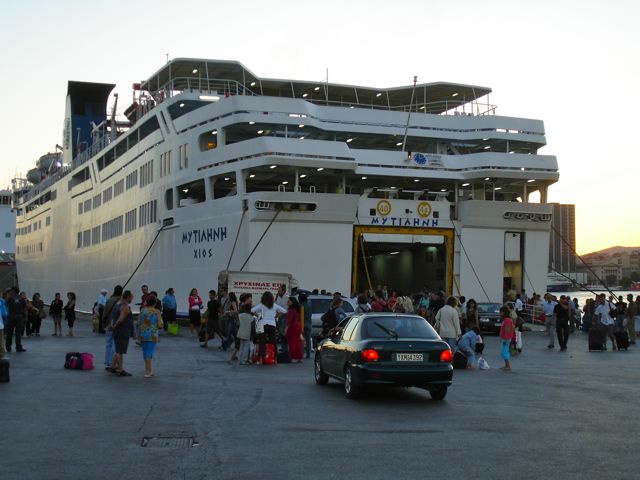 There are now a number of ferry booking sites though I don't know which are the best. In fact because of complaints about them I don't even want to list them or provide links since the last thing I need is a angry tourist e-mailing me that the ferry booking site I sent them to is a scam or ate their money and did not give them a ticket. You should choose the one you use by finding out whether there is a sir-charge, if they deliver your tickets, use e-tickets or you have to go pick them up and where. Some you can get your tickets right at the boat just by giving the ticket agent a reference number and that is what you want. As for the accuracy of these sites, generally they won't list a ferry they are not sure of since refunds are more paperwork for them. If you want to be certain that you can reach your island destination book hotels and ferries with a reliable travel agency. There is no better way to bust your budget than paying for two hotels for the same night and a ferry that does not exist. And if there is a strike you probably won't get an e-mail informing you from the ferry company so it will be up to you to keep on top of the situation and to make the necessary changes to your itinerary that a strike or bad weather can cause. Try my Create and Itinerary Form and Fantasy Travel can put together an island itinerary based on availability of ferries and give you a price. You are not obliged to book. You can get ferry information and book tickets through Dolphin Hellas Ferry Booking Page and if you were going to ask me which is the most reliable ferry booking website this is where I would send you. Not that it is any more or less reliable then the others since they all run on the same database system. But at least with Dolphin Hellas if there a problem you can e-mail me and I can forward it to them and you will get a reply right away where most of the other ferry booking sites don't bother to answer e-mail. (Please correct me if you have had a different experience). I also recommend Ferryhopper.com which is probably the best ferry booking site out there and they also respond quickly if there are any problems with a booking, like for example when you pout in the wrong date or the wrong island.
Ferry Schedules

From Piraeus, Rafina and Lavrion
Sorry. This is where the ferry schedules used to be. When I get the schedules I will post them but who knows when that will be? If you are worried about the frequency of a boat or a connection e-mail me but please make sure you give me the dates you are traveling. I am not going to send you a list of every boat going everywhere but if you tell me you need a ferry from Mykonos to Santorini on such and such a date I will try to find it for you. You can also ask me which islands have daily connections to which other islands. For example these are the typical daily ferry routes every summer:
Paros-Naxos-Santorini (and sometimes Ios)
Syros-Tinos-Mykonos (or Andros-Tinos-Mykonos from Rafina)
Serifos-Sifnos-Milos (and sometimes Kythnos, Kimilos and even Santorini)
Ikaria-Samos (and sometimes Syros or Mykonos)
Patmos, Kalymnos, Leros, Kos, Rhodes (sometimes with a stop at one of the Cyclades)
Crete boats rarely stop anywhere unless it is the once a week boat that goes from Pireaus to Milos, Santorini, Crete, Karpathos, Kassos and Rhodes and is old and smelly and slow.
Chios-Lesvos (and sometimes Lemnos)
Aegina-Poros-Hydra-Spetses
Skiathos-Skopelos-Alonissos (From Ag Konstantinos or Volos)
Kea ferries go twice a day (at least) from Lavrion.
As for the Ionian islands just pick one you like and go there and if you can get to one of the others be happy for that.
Otherwise you can get ferry information and book tickets through Dolphin Hellas Ferry Booking Page and Ferryhopper.com as it gets closer to the date of your trip. If you can't find your ferry keep checking.
Ferry Information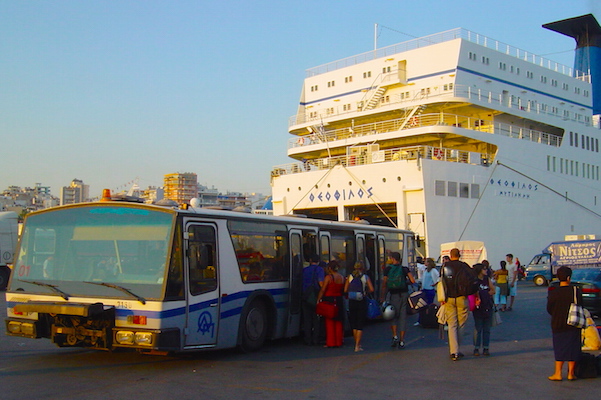 Try my Create and Itinerary Form and Fantasy Travel can put together an island itinerary based on availability of ferries and give you a price. You are not obliged to book. Also visit Fantasy Travel's Greek Island-Hopping Programs because you may find the island combination you want to do at a price you did not think possible.
Did I mention there is a bus that takes you to and from the boats to the metro station, or the bridge that crosses the street to the metro station. It starts at Gate 1 and goes the length of the harbor to the cruise terminal and stops at all the ferry sections.
For recommended Greek Travel Agencies see my Greek Travel Agency Page and you can figure out which agency is right for you.
For a step-by-step guide on how to go to a Greek island see How to Go to a Greek Island written with simple English directions that anyone can understand and practice in their spare time.
For information on the Greek Islands see my Greek Island Synopsis if you like to read or my Greek Island Guide if you like pictures better.
You can get to the port of Pireaus from the airport on the X96 bus and this is the fastest and safest way other than taking a taxi and it runs 24 hours a day. For Airport information see my Athens Airport Information Page
From Athens take the Green-line metro to Pireaus. You can also take the train from the airport to Monastiraki and change there for the Green-line to Pireaus. You can also take the Proastaos (Suburban Rail) from the airport to Pireaus but you have to change for the Pireaus line or you may end up in Corinth. You can also connect to the Green line at Neraziotissa: See the Metro Map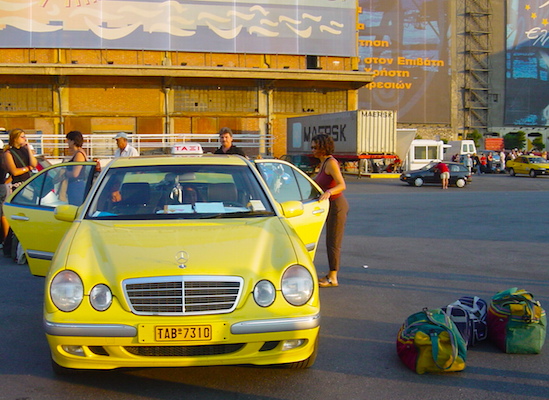 The easiest way to get to Pireaus is by taxi. Either a pre-arranged transfer with George the Famous Taxi Driver or from your hotel concierge calling a radio-taxi.
Budget travelers should stay in hotels within walking distance of the metro in Athens. For Hotels in Pireaus that are convenient to the ferries see Athens Coast and Suburb Hotels or go to Pireaus Hotels
If you plan to book hotels without a travel agency you can find them by price, location, popularity etc by using Matt's Hotel Booking Search and if you are looking for cheap rooms, apartments and inexpensive hotels go to www.hotelsofgreece.com and for each island they are in the white section or the 2-star section. But book ferry tickets first, not hotels first if you are going to more than one island or traveling during popular times to popular islands, or traveling anytime to unpopular islands that may not have a ferry every day..
For Bus Schedules, train schedules and other practical information see Athens Practical Information
See also Matt's Itinerary Suggestions and Fantasy Travel's Create-an-itinerary page which are both very useful for planning your trip to the islands.
Any questions you can e-mail me at matt@greecetravel.com

You can find hotels in Greek Islands by location, price, whether or not it has a swimming pool or is on the beach, and see photos, maps and customer reviews by using this link to booking.com. Excellent prices and many hotels you can book and then cancel with no cancellation fee. For those who want to book without using a travel agency this is the best way to do it.