ROCK JAZZ HIP HOP

PARAFONO is a live-music club dedicated to jazz and blues - located near the center of Athens. For almost 25 years it has attracted a devoted following of music lovers that come to hear the most respected names in jazz and blues. Its cabaret setting, superb sound system and lively audience are what make Parafono the ideal venue in which to experience some of the very best JAZZ and BLUES entertainment offered in Greece. Sunday night is Dan & Katey's HOOTENANNY Country, Rock, Acoustic Jam so if you are a musician bring the tools of your trade. Parafono is on 1 S. Kirinis str & 130a Asklipiou str which is on the back side of Lykavettos. You can phone 210 644-6512 for directions or e-mail them at mail@parafono.gr
7-Times Club at 13 Maiouli Street right by the Monastiraki Metro Station in Psiri plays international music, a mix of live and DJ. Their house band plays everything from Elvis to Depeche Mode and you can hear anything from rock and roll, to swing, different varieties of jazz, pop, funk, bozza-nova, sixties and even Irish music on St Patrick's day.
BOSSA NOSTRA 22 Aristophanous, Psyrri. Red decor. Some Latin. Tel. 210 3244891
ALSOS Pedio tou Areos (Green Park) Greek laika and rock alternative. Tel.210 8212271.
GRAFFITI 192 Sygrou, Kallithea. Wed. classical rock; Thu. & Sat. trip hop, drums
and bass, Fri. reggae; Sun. live jazz. Tel. 210 9597995.
LOOP 3 Ag. Asomatou, Thisio. Alternate bands. Tel.210 3247666

Euro Jazz Festival Technopolis Athens: Letís getÖ jazz
The 12th edition of the festival will take place from May 23 to 27, 2012 - For twelve consecutive years, the European Jazz Festival in "Technopolis", Athens welcomes some of the most creative European musicians. Artists of the European Jazz scene and many promising young musicians will perform for the biggest jazz event of Athens. See their website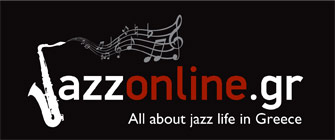 Jazz-Online is a Greek site that will tell you everything there is to know about Jazz in Greece including concerts, festivals and the clubs that play jazz. There is also a page that introduces you to Greek jazz musicians, articles, interviews and everything you need to know about jazz in Greece. Of yes, I forgot to mention that it is in English.
60'S AND 70'S POP AND ROCK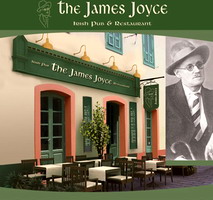 Matt Barrett's favorite hangout is the James Joyce Pub at Astiggos 12 in Monastiraki. With an extensive bar menu, lots of imported beers, great music and lots of energetic X-pats who seem to be mostly Irish and Greek-Irish. They open at noon daily and stay open late. Their bigscreen TVs show sports from all over the world including NFL Football, Major League Baseball and NBA Basketball as well as Cricket, European Football and whatever else happens to be on. In my opinion this is the best bar in Athens and over the Christmas holidays I ended most nights here. But I could easily begin my nights there too because they have great food. Introduce yourself to Diedra and Tom (the tall guy) and settle in for a night of beer and conversation with whoever happens to be sitting next to you since they will most likely speak English. Some nights they have live music. To find it from Monastiraki just walk down Hepheston or Iphestos (next to the old metro station) to the end. Turn right and then left and it is half way down the block across from the big hole the American School of Archaeology left.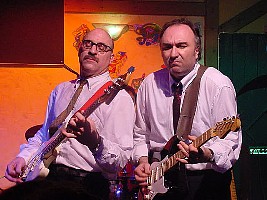 Mikes Irish Bar: On Sinopis street in the Athens tower, this college style bar plays live music on most nights, serves great draft beer and has an atmosphere that will make you think you are in Austin Texas, Boston, Mass or Chapel Hill, North Carolina. Go on a night when Johnny Vavoura and his band (photo) are playing and treat yourself to a night of traditional rock and roll. Call 210 7776797. Recommended by Matt Barrett because he happened to go on a night when Vavoura was playing. But keep in mind that if you are over 21 and not into heavy metal and really don't like trying to order a beer while standing 6 people deep at the bar you might want to avoid Saturday nights and probably Friday nights too. Especially if you don't smoke. Don't expect a typical Irish Pub full of interesting working-class Irishmen in animated conversation either. The name is pretty deceptive because generally it can be so loud that you can't hear anybody and know if they are Irish, Greek or from Katmandu.
SIXTIES Posiedonos Ave. 62,P Faliro.(by the sea).Live sixties band, many alternating guest stars. Perhaps the best sixties music in Greece.(highly recommended by Dorian and Michaelis ) Closed Sunday and Monday Tel. 9819355, 9812741.
TOP STADIUM Hotel Stadio, Bas. Kostantinou 38. Alternative singers, Closed Sun. and Mon. Tel. 210 7226054.
MEMORIES M. Mousourou 1, Mets. 4 singers alternate; warm, cozy, full menu. Open Wed., Fri., Sat. Tel. 210 9225712, 210 9226672. (recommended)
WILD ROSE 10 Panepistimiou, Center of Athens. Pop, sixties, rock party on tuesdays, blue gray decor. Open every day. Tel. 210 3642160.
FOLIE FOLIE 2 Elsin, Ambelokipi. Mon. reggae, Tue.Latin, Wed.Samba, Thu.hip hop, Fri.funk, Sat.mix, Sun. sixties. Open 'till late. (recommended) Tel. 210 6469852.

The legendary Greek rock group Socrates is playing in our around Athens so check the Athenorama weekly events magazine.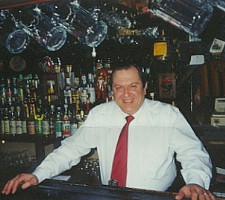 Peter Abanoudis is the owner and host at the legendary Red Lion Pub which opened in Athens as the first authentic English Pub in 1972 and has been a popular meeting place for members of the foreign community and travelers. For those who are looking for a little familiarity or can't afford to visit both Greece and the UK on one holiday the Red Lion is a great place to meet people. You can sit at the bar and order from his selection of imported and Greek beers in bottles and on tap. English is spoken widely in this pub and in fact you can even forget you are in Greece. They have dart tournaments and a DJ who plays Rock & Roll tunes from the 60s, 70s and 80s. To get to the Red Lion just find the Hilton and the Caravelle Hotels and it is in the small park between them at 16 Nidiron. It's a 15 minute walk from Syntagma or you can take the Blue Line of the Metro towards Ethniki Amyna and get off at the stop called Evangelismos. Recommended highly by Tom Mazarakis.
Open Mondays through Saturdays (Sundays it is closed)
Hours of Operation: 8:00 PM until the last customer leaves.. . . . . .
JAZZ BLUES FUNK
Cafe Boheme at 36 Omirou Street in Kolonaki is a bistro-style restaurant (maybe the best in Athens) with a great little bar, interesting patrons and a DJ with terrific taste in music. Listen to cool traditional jazz and blues as well as stuff like Frank Sinatra, big band and music that your parents might have listened to if you don't. Cassandra Wagstaffe is the owner and host and is the daughter of the drummer of Wishbone Ash. Wonderful ambience and attentive and beautiful bartenders make this a place to go anytime. If you are looking for a small, intimate bar to make your home this is it. Walk up Omirou from Stadiou street across from Kolokotronis Statue and it is just past Akadamias Street. Tel. 210 3608018.
BE BOP Orminou 4, Hilton Hotel. Live Greek rock, plus jazz, funk, soul. Open all evenings. (recommended by Michaeli) Tel. 210 7221708.
BLUES 20 Panormou, Ambelokipi. Only blues in old neo-classical house. Open all evenings. Not live. Tel. 210 6433372.
EMPLEON 20 Laskaratou, Ano Patissia. Funk, soul, rock. Every Thu. Latin and Caribian fiesta
HALF NOTE 17 Tribonianou, Mets. Opens at 11 pm. Live jazz, blues, R&B, American and International name acts. (recommended by Michaeli)
KIBUBU 9 Galatsiou, Patissia. The owner is a very good friend of ours. Mexican, Latin decor. Caters to all age groups. Indoors and out. (recommended by Dorian and Michaeli) .
Action Folie: Akti Dilaveri 9-11. Mikrolimano. Tel. 210 417-4325
Astrolavos : M. Antipa 62-66. N Iraklia. Tel. 210 271-8205
Blues People: Kelsou 5-7 and Bouliagmenis 63. Tel.210 924-6978
Poikili Stoa at 14 Agiou Filippou Street is an ouzeri-mezedopoulion-snack bar with a spectacular view of the Acropolis and ancient Athens, and an owner and staff who love American Blues and Jazz and are eager to play it and talk about it. Tel: 210 321-0431.
Allotivo is for those who like to listen to sophisticated jazz in a small classy bar while drinking fine scotch and whiskies, high-end tequila and hard to find imported beers on tap. A hangout for the actors and actresses who live in Kypseli, its an intimate place, hard to find but once you do you will probably come back. Its at Eptanisou 16 in Platia Georgiou, Kypseli. If you walk down Patission past the Archaeology museum and turn right on Tinou you will come to it. Tel 210 8215331.
GAY CLUBS

Athens gay scene is becoming as popular as Mykonos, not surprising since the fun in Athens lasts all year and not just a few summer months. Here are some of the more popular clubs in Gazi:
Mayo, 33 Persefonis, Gazi (tel. 210/342-3066)
Sodade, 10 Triptopolemou, Gazi (tel. 210/346-8657
S'Cape, Iera Odos and 139 Meg. Alexandrou, Gazi (tel. 210/345-2751
Blue Train, 84 Konstantinoupoleos, Gazi (tel. 210/346-0677
Eyeland, 24 Ikarion, Gazi - Lesbian
Moe, 1-5 Keleou, Gazi

Alternative
Bar Code: 34 Syntagmatos Pezikou 6. Tel. 210 422-2829
Berlin : Herakleidon 8: Tel. 341-0239
Decadence : Boularotounou 69. Lofos Strefi. Tel.210 882-3544
MAD : 14 Syngrou. Makriyanni. Tel. 210 922-6694
Mo Better: Themotokleos and Koletti. Tel. 210 381-2981
Plan B: Lempesi 19. Arches Syngrou. Tel. 210 942-2737
Xorostasio : Skouleniou 2. Klathmonos Square. Tel. 210 331-4330
Free-Style
122 : Doukisis Plakentias 122 and Panormou. Ambelokipi.
Animal : Kerameikou 51. Tel. 210 522-7870
Astron : Taki 3. Psiri. Tel. 0977 469-356
Cafe Folie: 156 Kiffisias. N Psihico. Tel.210 674-0264
Delight : Ermou 116. Tel. 210 323-5330
Fidelio : Ogigou 2 and Nauarachou Apostoli. Psiri. Tel. 210 321-2977
Groovin : Pratinou 80. Pangrati. Tel. 210 725-1738
Light Love Life: Boutsadon 50. Gazi. Tel.210 342-4779
Loop : Ag Asomaton Square. Thission. Tel. 210 324-6446
Muller : Benaki 62. Exarchia. Tel. 210 383-0550
Nipiagogio : Elasidon and Kleanthos 8. Gazi. Tel. 210 345-8534
Whisper : Sina 19 and Skoufa. Tel. 210 364-1130
Zoo : Michalokopoulou and Sebastias. Illissia. Tel. 210 778-6672

House Techno
Block : Pigis 3 and Akadamias. Tel. 210 384-0205
Bossa Nostra: Aristophanous 22, Platia Iroon. Psiri. Tel. 0977 126417
City Grove: Bourbaki and Korizi 4. Makrianni. Tel. 210 924-0740
Garage : Sygrou 115a. Fix. Tel. 210 924-8211
Macamba : 22 Vouliagmenis. Tel. 210 924-9430
+Soda : 161 Ermou. Thission. Tel. 210 345-6187
Playroom : Akadamias 43. Tel. 210 364-5027
Venue( The Uptown): Kiffisias and Sina 7. Marousi. Tel. 210 610-6869
U-Matic (Future Club): Vouliagmenis 268. Tel. 210 971-6145
Mainstream Clubs
Bareladiko Next Generation : Tefthidos 7. Peristeri. Tel. 210 578-2222
Camel Club: Iraklidon 74 and Peraios. Thissio. Tel. 210 347-6847
EXO : Marko Mousouri 1. Mets. Tel. 210 923-5818
Hook Planet: Akti kondili 40. Ag Dinoysious. Pireaus. Tel. 210 461-9924
Kalua : Amerikis 6. Syntagma. Tel. 210 360-8304
Loft Loft (Tonight) : 215 Kiffisias. Marousi. Tel. 806-6802
Prime Vision: 22 Vouliagmenis. N. Kosmos. Tel. 210 924-6688
Privilege : Peraios 130 and Alkesonios. Gazi. Tel. 210 347-7311
Sabbia Downtown: Ermou 18. Tel. 210 324-3741
Sex : Gravias 10. Pireaus. Tel. 210 412-6755
Space of Sound: Amerikis 2. Tel. 210 321-0900
Wild Rose: Panepistimiou 10. Tel. 210 364-2160
Questions?
Are you a club that wants to be listed or do you want a link to your website Any of these clubs closed? In these difficult times it happens a lot and I would love to keep this page up to date. E-mail me
For Concerts and other performances see Summer Events
See also Alexia Amvrazi's Nightlife Guide to Psiri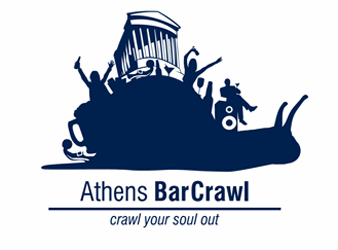 Athens Bar Crawl is a new service for up to date entertainment and fun opportunities in the city sort of an educational meze-platter of bars and entertainment and a great way to visit the best bars of Athens while bringing your own friends along for the ride. The party goes on a daily basis, all year round currently, visiting more than 20 bars and clubs in the city - most of them located in the historical centre of Athens. Every night of the week they cover a different itinerary depending on the clients desires and current events. Visit unique Bars, authentic Pubs, cosy Coctail Lounges and finish the night in some of Athens most happening clubs (a different one each night!).Your entertaining guides will tell you about Athens nightlife, interesting stories about the History of the place, and much more! For more information see www.athensbarcrawl.com