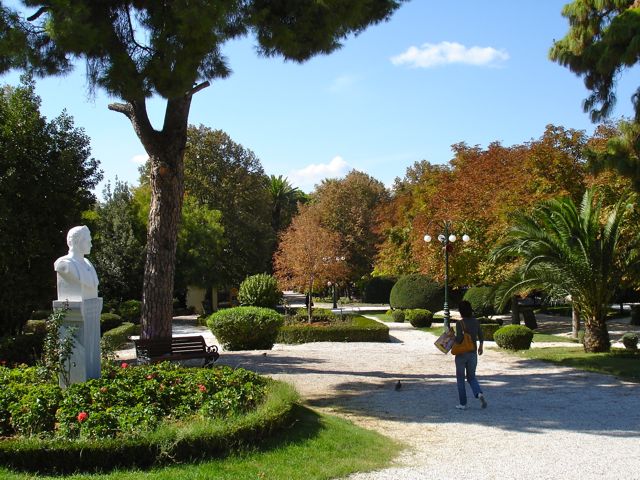 I have always wondered why more tourists don't stay in Kifissia. Probably one of the reasons that people don't come to Greece is that they don't like cities. They come from small or medium size towns or even out in the country and the idea of cities scares them. Many people who come to Greece see Athens as this obstacle they have to surmount in order to go to the islands because you HAVE to see the Acropolis, right? Being someone who enjoys the chaos of Athens I may not agree but I certainly understand it, especially after seeing photos of demonstrations in Syntagma Square and getting e-mails from travelers who wonder if there is anywhere they can stay that is not downtown and still be able to see the sights. Some people choose to stay on the coast and from there they can take the tram or a taxi in and see pretty much everything in a day and be back in time for a swim. But what about staying in the leafy northern suburb of Kifissia? There are a half a dozen buses that will get you right downtown, and the final stop of the ISAP metro is at the bottom of Kifissia Square and only takes about half an hour to get to Monastiraki Station from where you can walk to just about everywhere. You can even stop at Platia Victoria Station on the way back and hot the National Museum. You can also take the metro all the way to the ferry boats in Pireaus without even changing. And if you are not a metro kind of person you can just take a taxi from your hotel to the Acropolis or the port.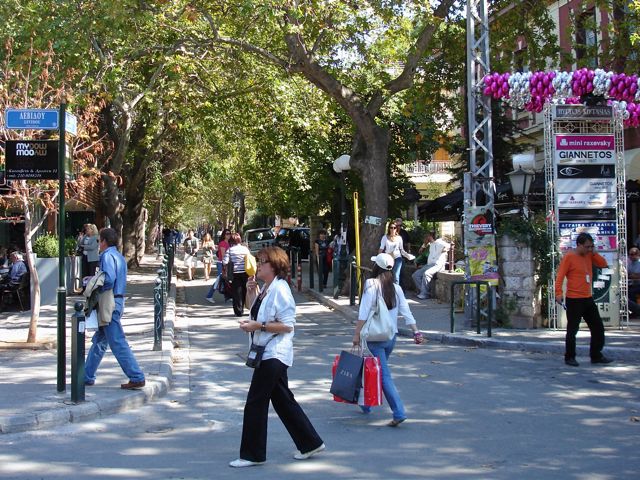 Kifissia is actually a beautiful place and street by street much nicer than downtown Athens. Besides the main square there is also Kefalari Square each of which is like a smaller version of the National Gardens, with ponds and palmtrees and interesting plants and flowers. The area is on the slopes of Mount Pendeli and has a milder climate than Athens which is why all the rich Greeks have historically had their summer houses here and many now live there year round. There are hundreds of shops, cafes and restaurants among the shaded streets and several very nice hotels. There are lots of places for young people to hang out, bars and video-game rooms, a Cinemax Theater, a bowling center, an actual mall, and as many upscale shops as you will find in Kolonaki, with horse and carriages to take you around if you get tired of walking. You can entertain yourself just by wandering around and looking at the historic villas and hotels and their beautiful gardens. In April/May The Kifissia Flower Show presents dozens of different species of flowers, from Greece and abroad, in Kifissia Park. The park holds other events from rock concerts to book fairs and other events particularly in the warm months. Drive over the mountain and you are on some of the best beaches in Attika, notably Schinias which is my favorite. But since most of the hotels have beautiful swimming pools and spas you may just want to hang out there.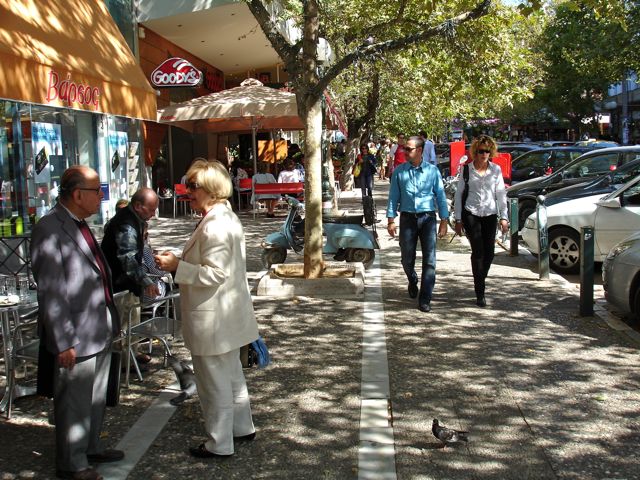 Kifissia has a long history. It was a retreat of philosophers during the reign of the Roman emperor Hadrian, when the wealthy Herodes Atticus built the Villa Kifissia. During Ottoman period half the inhabitants of the town were Muslims and half were Christian. There was a mosque and many small churches some of which survive today. During the Second World War both the Germans and the British had their headquarters there, though not at the same time. During the Cold War when the USA had a strong military presense in Greece this is the area where many of them lived. The American Club (which was Nazi headquarters during WW2) had a Stars and Stripes Bookstore, a liquor store, a real American bar, a restaurant that served American food, a gambling room with one-armed-bandits, a large swiming pool, a youth center and a movie theater called the JUSMAG Theater where you could see the latest films from the USA. They even had church on Sundays. It is now the International School of Athens.
So if you want to go to Greece and you don't want to stay in Athens, ask your travel agent about staying in Kifissia.
Kifissia Hotels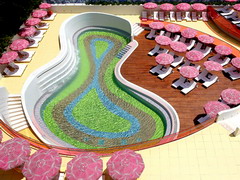 Semiramis Hotel is a design hotel located at Kefalari square, opposite a beautiful park in a quiet residential area within walking distance of the shops and Galleries of Kifisia and 30 minutes away from the center of Athens. Condé Nast Traveller in May 2005 included it in THE 6O BEST NEW HOTELS IN THE WORLD and wrote: "This 52-room popsicle is as much a showcase for Joannou´s contemporary art collection as for Rashid´s curvaceous, colorful designs... The young staff, in pastel flares and sneakers, are eager to please." The Semiramis, Karim Rashid's first hotel project, is a fusion of Rashid's influence and owner Dakis Joannou's vision and own dedication to the modern art world. Mr. Joannou, an eminent collector, patron of modern art and qualified architect, commissioned Karim Rashid to create a hotel that will offer more than extra bed space in Athens. Click for more info, photos and booking information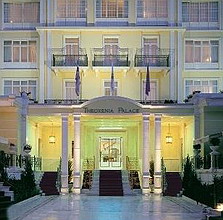 Theoxenia Palace is called the crown jewel of Kefalari Square where it presides with grace and glamour. And now, completely renovated, this landmark structure is once again, as it was always meant to be, the premier hotel of the Northern Suburbs of Athens. Whether your visit entails business or is purely pleasure, a stay here assures you the ultimate in gracious luxury, attentive personal service and the pleasures of an incomparably magnificent and convenient location. The unique advantage of the Theoxenia Palace guest rooms is the excellent view of the Kefalari Square, a distinctive element of the hotel's identity. All guest rooms have satellite TV, mini-bar, safe, air-condition, soundproof windows, luxurious marble bathroom with label amenities and hair drier. The hotel also has a swimming pool and a health club. Click for more info, photos and booking information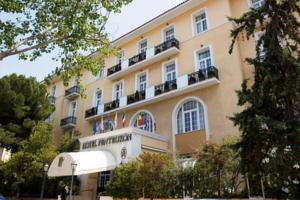 The historic Hotel Pentelikon boasts luxurious rooms and suites, a convention center, a large ballroom for 300 people, a Michelin-awarded restaurant, and a health center with gym and spa facilities. Synonymous to the discrete finesse and prestige, the Pentelikon is sitting on a plot of 96,875 ft² with a 37,674 ft² botanic garden. Its 101 rooms and suites are beautifully furnished with first-class fabrics in pastel colors and equipped with all modern amenities that make up a luxurious and warm setting. The accommodating staff will pamper guests with extensive 5-star services including concierge service and twice daily turn down service. Free parking is offered, while upon request limousine service is provided. Exquisite Mediterranean cuisine is proposed at the luxurious Vardis restaurant, the only restaurant in a hotel in Greece that has been awarded a Michelin star for 8 consecutive years. Free Internet via modem is available in the hotel rooms and is free of charge. Wi-fi is available in public areas and costs EUR 4 per hour. Click for more info, photos and booking information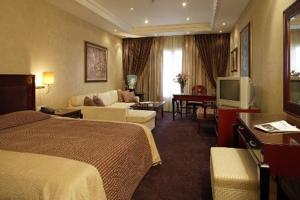 Theoxenia House Hotel: This boutique hotel offers luxurious suites, featuring furnished balconies and designer furniture. Guests have access to Theoxenia Palace's restaurants, gym and swimming pool. All spacious suites are classically decorated and feature luxury fabrics, original paintings and draped curtains. Each offers a sitting area and a work desk. Bathrobes, slippers and exclusive bath amenities are complimentary. New 32'-inch and 40-inch LCD HDTVs with internet access and satellite reception are standard. All Theoxenia House guests have access to Theoxenia Palace's sauna and massage facilities. Theoxenia House Hotel, a member of the Small Luxury Hotels of the World, is about 330 ft from public transportation. Kifissia shopping center with boutiques, cafes and restaurants is within walking distance. Click for more info, photos and booking information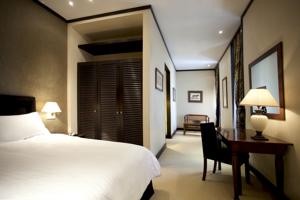 Kefalari Suites is within easy walking distance of the exclusive shopping district and well-known restaurants of Kifissia. This boutique hotel offers free wireless internet access and a rooftop jacuzzi. Housed in an impressive 19th-century mansion, Kefalari Suites offers a luxurious setting for your stay in Athens. The rooms and suites at Kefalari are decorated in different styles, offering their own personality. Superior Suites feature extra space, a comfortable living area and kitchen facilities. Kefalari Suites enjoys a peaceful location. The beautiful rooftop terrace offers a relaxing outdoor space and includes a jacuzzi. Wi-fi is available in the entire hotel and is free of charge. Click for more info, photos and booking information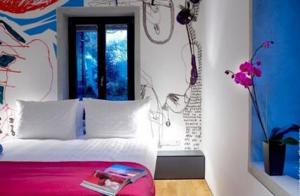 Twentyone: Located in the heart of the leafy and upmarket suburb of Kifissia, Twentyone is an ultra-stylish boutique hotel that combines minimalist design with comfort and functionality. The 21 rooms and suites of Twentyone are spotlessly clean and have bold, colourful décor. They are all equipped with state-of-the-art audio-visual equipment, free Wi-Fi, air conditioning and minibar. The hotel's bar-restaurant, with its arty interiors and outdoors lounge area, is the perfect place to enjoy international cuisine, meet friends or have informal meetings. Twentyone enjoys a quiet location with direct proximity to the excellent entertainment, shopping and business centres of Athens' northern suburbs. The airport is 20 minutes' drive away, while you can reach Athens city centre in 40 minutes by Metro or bus. Click for more info, photos and booking information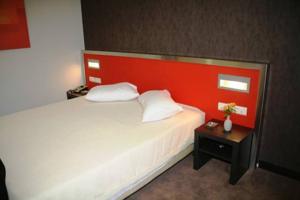 Hotel Des Roses is a modern 2-star city hotel situated 3 minutes walk from Kifisia Train Station for easy access to downtown Athens. It offers free parking, a lounge and a bar. The modern rooms at Des Roses come with private bathroom with shower, air conditioning, TV with satellite channels, direct dial telephone and free wireless internet. In the lounge there is an LCD TV set, wired and wireless internet access, as well as a computer with internet access. The hotel offers a 24-hour room service, as well as cold buffet breakfast. The Athens Olympic Complex is a 10-minute drive away. Goulandris Museum of Natural History is approximately half a mile away. Wi-fi is available in the entire hotel and is free of charge.Wired internet is available in the entire hotel and is free of charge. Click for more info, photos and booking information
More Travel Information

For booking hotels in Kifissia and travel to the islands I recommend using a reliable Greek travel agency. For tours into Athens or around the mainland as well as transfers to and from the airport and the port of Pireaus I recommend George the Famous Taxi Driver. You can also take the metro from Kifissia all the way to the ferry boats in Pireaus. Kifissia is loaded with good restaurants and your hotel will be able to tell you which are the nearest and the best.