A Tale of 2 Souvlakis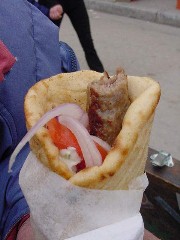 Where Metropoleos street meets Monistiraki square are several souvlaki shops, next to and facing each other, each one just as good as the other. But you must be careful here. If you sit down and order a 'souvlaki', the waiter will return with an enormous plate filled with salad, chopped pita-bread and a skewer or two of meat. Of course this is not the souvlaki you know and were expecting. I remember seeing a family of tourists who moments before had been bursting with excitement over the anticipated arrival of their first souvlaki in Greece, then stare in astonished disbelief at the five plates put before them. Sadly they ate them, thinking they had made some kind of tragic mistake when they ordered. They had not made a mistake. While everyone in the world knows what a souvlaki is, these restaurants have given the word a new meaning. The reason is simple. The cost of a sandwich versus the cost of a whole meal.
When they tried the stunt on us my friend Dorian confronted the waiter.
"What the hell is this?" He asked.
"It's a souvlaki", said the waiter. "It's what you ordered".
"I didn't order this." said my friend.
"Sure you did. I took the order myself. See it's written right here." (He showed us an illegible scrawl on a piece of paper.)
"If this is a souvlaki, then what do you call the skewer of meat with tomatoes, onions and sadziki wrapped in pita-bread?" Dorian asked.
"That's the " Special Sandwich ", smiled the waiter with an embarrassed look on his face that told us that he knew he had been trapped by a couple of experts.
"Take these away and bring us two souvlakis. The kind they sell as souvlakis everywhere in the world except here." Said Dorian.
The waiter returned smiling with our souvlakis.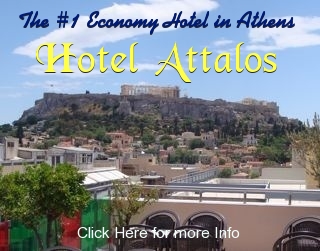 So when you go to one of these places be sure to tell them Souvlaki Sandwich . It should look like the picture above on the left. This article will cost the Greek economy billions of drachma in lost souvlaki revenue but at least souvlaki lovers of the world will return home fulfilled. If it is in a plate, laying flat, with more then one skewer of meat, then send it back. (unless you want the platter, which actually is pretty good ).
I have gotten more e-mails about the above story than just about anything in the guide. One person even threatened me if I did not remove it. I didn't remove it and I am still here. But in Greece where they take food serious you have to be careful with what you say about souvlaki.
If you have any questions see The Alex Charalabidis Guide to Souvlaki and Dimitra's Guide to Souvlaki
The Best Souvlaki Shop in Athens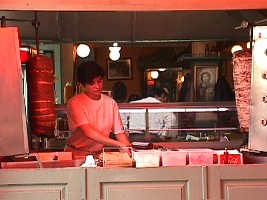 Ask any taxi driver which is the best souvlaki shop and they will probably tell you it is Thanasis on Metropoleos street by Monastiraki. Is it the best? Who knows? Others say Kostas on Agia Irini Square next to the church of the same name on Aeolou Street is the best. Some people like the souvlaki in Platia Iroon in Psiri. Probably the best is in some neighborhood tourists never visit. If you have a favorite let me know. See Readers Souvlaki Reviews
The most popular Souvlaki shops are those at the end of Metropolis street right at Monastiraki square. The one on the corner is owned by the same guy who owns the famous old Taverna Sigalas, right next door. His name is Spiro and his picture is everywhere, happily posing with famous people, Greeks and international. In fact it is my personal goal to have my picture up there with Spiro one day since it is sort of Greece's answer to Gruman's Chinese Theater. Unfortunately you have to eat there to get your photo taken and since I average about one souvlaki a year, usually from the Albanian souvlaki guy on the island of Kea, you probably won't see my photo up there anytime soon. In the meantime see my Guide to Greek Food
Introducing the Fegaropita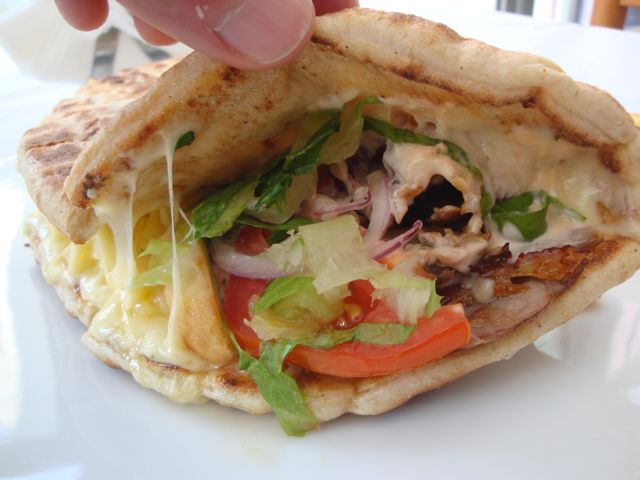 Since the invention of the souvlaki we have seen many variations appear and disappear. Some have found their way into the mainstream, the chicken gyro for example while others have faded into obscurity, probably never meant to have been introduced in the first place. I myself in my years working at a small souvlaki shop called Hectors in Chapel Hill, North Carolina have invented a vegetarian souvlaki which is now commonly known as the Greek Grilled Cheese and has been a staple of college life since the seventies. Recently in my neighborhood of Kypseli I have been introduced to a small souvlaki shop called Apolausi that has a couple items I have never seen before, that are quite good. One of their innovations is called Skepastes Yiyas which are like layered souvlakia which you can get with pork or chicken gyro, kebab, or filet of pork, chicken or a combination of the two, mixed with the usual onions, tomatoes and lettuce as well as sadziki or whatever sauce you prefer. Then there is the Fegaropita which means 'moonpie'. This is an extra large pita filled with meat, cheese, lettuce, tomato, onions, and a special sauce that is folded over and then grilled until the cheese melts. It's pretty good too. Actually despite the souvlaki shop ambiance it is sort of a poor man's taverna with grilled paidakia, pork fillet, whole grilled chickens and the usual salads and sides, as well as xima (local wine) and beer. They also have several different types of souvlakia, with or without pita. Of course getting here is not that easy though you can take a taxi or take the #2 or the #4 trolley and get off at 'Zakynthou' and walk down half a block to the corner of Kypseli Street and Renias, right next to the Gymnasio-Lykio (middle-high school). The address is Kypselis 50 and if you leave within a reasonable distance they will deliver if you call them at 210 882 4009. For orders of 18 euros you get a free Fegaropita. (Click on the photo to see it full size)