Nightclubs and Bars in Kypseli
If you want to wander the maze of back streets in Kypseli they are all in a grid pattern and though it is easy to get lost it is just as easy to be found since all you have to do is find Patission Street and go left and in twenty minutes walk you will be in Omonia Square. There are lots of nightclubs and bars scattered around Kypseli and lots more restaurants and small cafes. On Agia Melitiou Street are a couple of African Nightclubs which my Gambian next door neighbors keep inviting me to. There are a few bars and clubs that look like shady underworld places with scary looking dudes standing watch outside, but who is to say whether they are looking out for the cops or are just there to protect the club from an invasion by people without style. There are lots of small cafe-bars, former cafeneons I suppose that tried to modernize with the times, and when you walk by them and look inside its the same tired old people, playing cards, smoking cigarettes, and looking like they are just passing the time til they die or are carted off by their kids to some old people's home so the apartment can be sold.
For live music, which is usually only on weekends, Taxidi stin Anatoli is on the second floor of a house on the corner at 31 Odos Kypselli and Sporadon and I probably walked or drove by it 100 times and never noticed it. To Pontiki is another rembetika club in a very large house at 9 Eptanisou and Androu, just around the corner from Platia Agios Giorgos. Ampellofilo is a rembetika-laika music taverna at Samothraki #3 near the intersection of Lelas Karagianni, just up from Agia Zoni near Fokionos. If you are looking for the places where the Greeks go for nostalgic music, places that you are more likely to hear Loukas Daralas songs than George Dalaras and people order whisky by the bottle for 100 euros and don't mind buying several then check these places out. You can actually get through the night without spending a lot of money if you don't get carried away and lose control of your wallet after your first couple drinks, but what's the fun in that?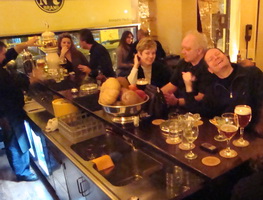 For a quiet night the Au Revoir on Patission Street is one of the last of the old cafe-bars, a small monument to a time when Kypseli was the place to be and a popular stop for a drink after the theaters let out. And of course there are the many cafe-bars on Fokionos Negri which are usually full of life on weekend nights and even some weekday nights depending upon what is going on in the neighborhood or which teams are playing on television. Some bars have live Greek music, some live rock, and some even have karaoke. Allotivo (photo) is for those who like to listen to sophisticated jazz in a small classy bar while drinking fine scotch and whiskies, high-end tequila and hard to find imported beers on tap. A hangout for the actors and actresses who live in Kypseli, its an intimate place, hard to find but once you do you will probably come back. In my opinion it is one of the best small bars in Athens. Its at Eptanisou 16 in Platia Georgiou, Kypseli. If you walk down Patission past the Archaeology museum and turn right on Tinou you will come to it. Tel 210 8215331. They have a surprising menu for such a small place with no obvious kitchen. I highly recommend the HB Strong Bock Beer which is served with delicious sausages and mustard. Depending on what you order to drink you may get a complimentary dish of pickled vegetables. Its right next door to Oi Nostimies tis Mary's if you get seriously hungry and get a late night craving for one of her super-sized grilled hirino brizolas (pork chops) since she stays open until 2am. Also within a few steps on Patission street is Blue, a live rock music cafe with lots of tables but not a big enough bar. But these are really on the edge of Kypseli.
Foibos is a small bar with a very faithful clientele and they play jazz, blues, some rock and pop too. They also have live rembetika music some nights. It is at #19 Fokionos Negri. The owner and her two sons are Greek/Australian and speak fluent English.
Theater and Cinema in Kypseli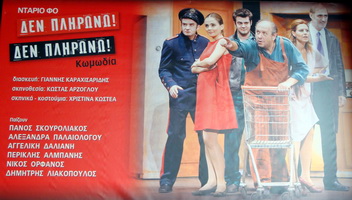 Kypseli is also the theatre district of Athens, sort of the 'off-Broadway' area, with dozens of small theatres scattered around the back streets and some of the main streets as well. Almost all performances are in Greek though you will find that many are translations of well-known plays in English. There are also modern interpretations of ancient Greek plays by Euripides, Aeschylus and Sophocles. You can find a guide to performances and reviews in Athinorama magazine, only in Greek though. The Topou Allou Theater at Kefallinias street 17 and Cycladon street in Kypseli has performances in English on Sundays. Unfortunately many of the old theaters have been converted into billiard halls, supermarkets or remain empty, awaiting their next incarnation. But there are still plenty left and you can find them in the theater section of the Athinorama magazine of what's going on in Athens which comes out every Thursday. You will need to read Greek but if you are going to the theater in Kypseli you probably already do.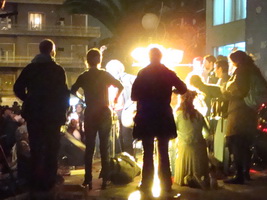 Being the theater center of Athens the neighborhood is full of actors and actresses, old and young, who have made their homes here to be close to their trade. You may see an eighty year old woman with bell bottoms, sneakers and dyed purple hair walking confidently down Fokionos or find yourself sitting in a cafe across from a group of women with looks that Hollywood starlets would envy. Its also the home to struggling playwrights, authors, artists, musicians and poets of all ages and stages of poverty and success. Famous Kypselians include Kosta Tournas, Demis Roussos, Loukianos Kilaidonis, and a large number of famous actresses and actors, many who still live in the neighborhood. Those who have left still manage to find their way back on sunny afternoons to walk up and down Fokionos and stop at their favorite cafe for a coffee and conversation with old friends. One reason that Kypseli is attractive to struggling artists, students and immigrants is because you can rent a very nice apartment for very little money and it is a safe area. It still retains a neighborhood identity. Though it is changing from upper middle-class to a mixture of working class, immigrants and artists, there are still a large number of old Kypselians who take pride in being from here and will stay here forever. These are the people who are involved in the saving of what remains of the old houses, the Demotiki Agora and it is their children who stood with them as they battled the police to save the park on Patission street and then sang and danced at the concert which followed.
Kypselli has a number of movie theaters like the Aello Cinemax 5+1 at 140 Patission which shows a mix of English and foreign language first run films with Greek subtitles and Greek films too. The 5+1 means it has 5 indoor theaters and one Therini, which is an outdoor summer theater. The Illion at Troias 34 and Patission Street shows Greek and foreign films as does the Trianon Film Center on Kodriktonos and Patission a block closer to downtown and the Filip on Thasou 11 near Platia Amerikis. There used to be a lot more but with the popularity of videos only true movie theater lovers choose to see their films this way. Plus with the Africans often selling pirated DVDs while the movie is in the theater and sometimes before, the days of these theaters may be numbered. You can find out what is playing at the movies by checking the weekly newspapers Athens News and Athens Plus, as well as Athinorama and the Kathimerini in the International Herald Tribune which comes out every day but Sunday.