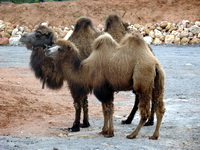 The Attica Zoological Park opened in May 2000, initially as a Bird Park, hosting the 3rd largest bird collection in the world (1500 birds from 300 different species), farm animals for the younger visitors and 3 very impressive big aviaries with birds from the 3 continents of Asia, Africa and America where visitors can walk through. In April 2001 we opened a new section, the "World of reptiles " with Pythons, Boas, Crocodiles and other reptiles and in July 2002 the "Greek fauna " section was inaugurated with Wolfs, Brown Bears, Foxes, Wild Cats, Lynxes etc. In February 2003 we added a major extension, the "African Savannah " (Giraffes, Zebra, Antelopes etc) as well as Lamas, Jaguars, Snow Leopards , the very rare White Lions and other beautiful mammals.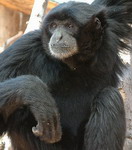 At the end of June 2003, another extension was added to our Park, where the visitors have the opportunity to observe the closest relative to man, the Monkeys and Apes . In December 2004 the session of the wild cats was extended with Tigers, Servals and Ocelots , a big area was added to the African Savannah and a part of the New extension was opened with Pygmy Hippos and Prairie dogs. The new extension will be completed mid 2005 with African wild dogs, Alligators , trained Seals and theforest of the Monkeys. Our Park offers recreational as well as educational experiences. We believe that creating awareness is very important for the protection of wild life and the environment in general and accordingly we offer educational programs as well as guided tours for school children.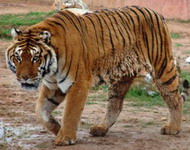 Our Park is a recognized member of EAZA (European Association of Zoos and Aquaria) and as such we apply all standards required by the Association (animal husbandry, animal welfare, education of visitors, etc) Within the EAZA framework we participate in 9 European Endangered Species Programs (EEP's) and 18 European Studbook Programs (ESB's) with a view to develop captive breeding of threatened species. Since early 2004 all our animals are registered and followed through ISIS (International Species Information System) and ARKS (Animal Record Keeping System) and as such we have also access to an international inter-zoo database for all the species we keep and as well as others we eventually intend to keep.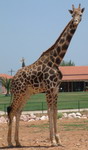 For visitors, Zoos are a place for entertainment and relaxation. For us it is also a place of education and species conservation.
The massive growth of the world's human population has caused a very serious crisis for the natural resources, the environment and all the wild species of plants and animals which depend on it for their survival. Many species are in threat of extinction because their habitat have already been degraded or destroyed. For some of these species their only hope of survival is human care in Zoological Parks and captive breeding centers.
Zoos worldwide are visited by over 700 million people each year, and their potential for making people of all ages aware of the threat to the global ecology is unlimited.
We believe that today, and even more in the future, we can offer a small contribution to all the above.