If you start at the top of Syntagma Square and walk down the steps and past the fountain, at the bottom of the square is the beginning of Ermou Street, a paradise for those who live to shop.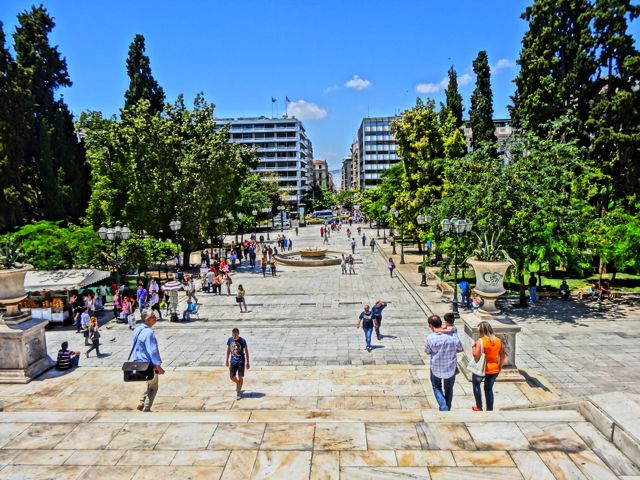 From the Parliament building you can make a straight line that follows Ermou all the way to The Gazi, the old gas works of Athens, now the center of its nightlife. Ermou street is a commercial avenue which has been turned into a pedestrian only street (besides the occasional motorcycle or taxi coming from the Hotel Electra or Athens Cypria). It is the primary clothing shopping street for Athens and contains many of the big international names like Benneton, Marks & Spencer, H&M, Zara, Berksha, Sepura, and a bunch of other stores that you have probably heard of but mean nothing to me. The Greek department store, Fokas, is near the top of Ermou in a beautiful old neo-classic building that looks like it would be more suitable housing a museum and is worth a visit, even if you are not buying anything, so you can see what a Greek department store is like. The Hondos Center is also of interest, especially for women, since you may not have experienced anything like it before. It is a giant cosmetic store with other items of interest to women, sort of a department store crossed with a Walgreens. It even has a cafe.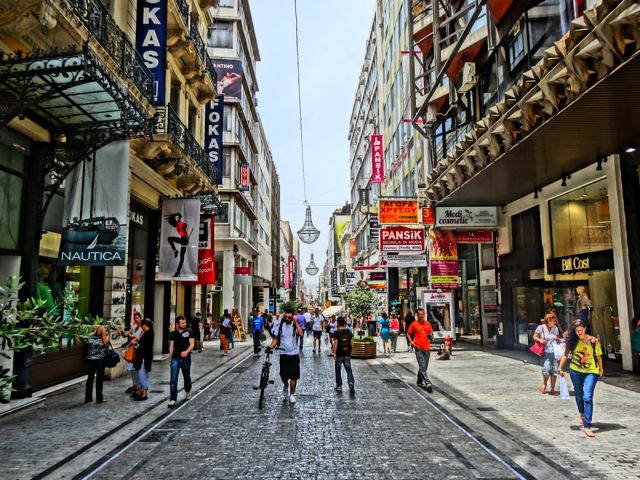 There are shops, large and small, individually owned or owned by giant corporations, with every style of clothing you can imagine, like a super-mall in the USA but more interesting. Most of the people who work in the shops speak English and because of the economy things are priced to sell at 30%, 40% and 50% off, for styles you can't find at home and some you probably wear every day. The annual sales that were held in August and February have been stretched in either direction so you may find even greater discounts and wish you had come to Greece with an empty suitcase so you could put together this year's wardrobe and make this a practical holiday, coming home with clothes and shoes that will make you the envy of your slave-to-fashion friends. Nikos Spilliopoulos Shoes at 63 Ermou has a great selection of discounted Italian shoes and other leather goods, while the Spanish company Zara is in a league of its own when it comes to men and women's clothing. These are the only two places I shop at on Ermou which is why I mention them. Not because they are they are the best but they are the only ones I know.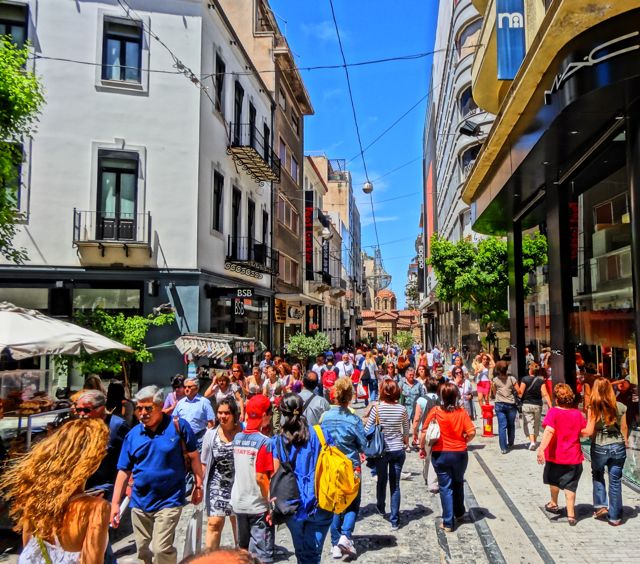 Being the primary path on foot between Syntagma and Monastiraki squares, there are always people on Ermou and during shopping hours the street can be full of shoppers, even during the height of the crisis or a demonstration in Syntagma Square. It is also full of street musicians, mimes, clowns, street merchants, beggars, pick-pockets and lately lots of young cops keeping it all under control and keeping the Africans with their knock-off handbags from getting too comfortable. There are coffee shops on many of the side streets as well as fast food places where you can get burgers, souvlakia, tiropita, spanakopita and sandwiches or you can get roast corn or chestnuts (in season) from the street venders who are to Athens as mussel-venders are to Constantinople (Istanbul). In the winter old men sell salep, a tea made from the root of an orchid and supposedly cures those nasty ailments that hit us in cold and damp weather.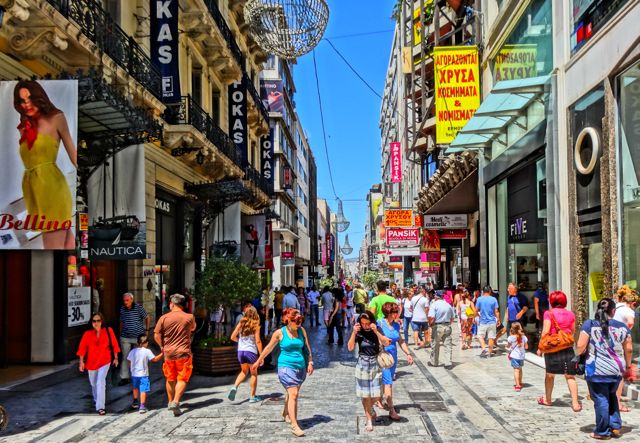 A recent photo journal in a major US news website showed closed shops and for-rent signs on Ermou Street as evidence of Greece's economic problems, but even in 2015 in the midst of the crisis, a walk down Ermou might make you wonder: what crisis? Maybe all these people are not shopping. Maybe they are dreaming of a day they can shop again and just practicing so they don't forget how to do it. Well whatever they are doing, the streets are full and people are going in and out of shops and the abandoned shops from the article must have been those at the bottom of Ermou, below Athinas street in Monastiraki, where clothing, shoes and make-up give way to antiques, used books, restaurants, yogurt shops and ouzeries. Here in the fashion district the stores may be struggling as consumers cut back, buying one pair of designer jeans instead of three. But if you are looking for evidence that Greece is going through a depression you will have to look elsewhere than on Ermou Street.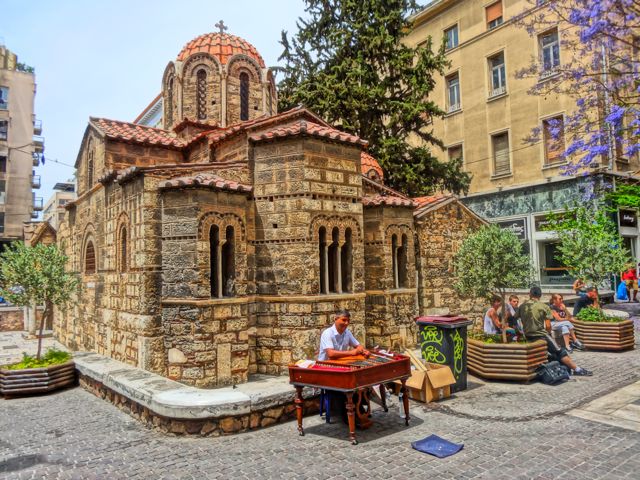 Three quarters of the way down Ermou, right in the middle of the street, actually lower than the street, sits the small church of Kapnikarea. Here you will find those people who have tired of shopping, usually husbands or bored boyfriends, catching their breath as they sit on the stone wall that surrounds the historic church, waiting for wives and girlfriends whose stamina exceeds their own. Were they to go half a block further on the left, there is a small alley with a cafe, also called Kapnikarea, where they could drink ouzo, raki, beer, wine or soft drinks, and eat while listening to authentic live rembetika and laika music through the afternoon and into the early evening, perhaps not caring if their mates ever return from shopping. As you continue down Ermou past beautiful neo-classic buildings that have been newly restored after being set on fire by rampaging youngsters in December of 2008, you will come to Aeolou Street, another pedestrian shopping street that connects the Plaka with the Central Market(Agora) and eventually becomes Patission Street a block from Omonia Square. You can turn right on Aeolou and walk 15 minutes and be at the National Archaeology Museum, passing Ethnikis Andistassis Square, (also known as Dimarchos Square because this is where City Hall is).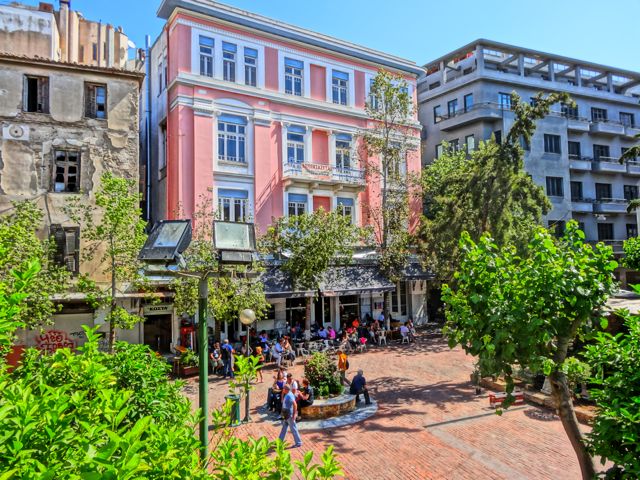 Off Aeolou Street just a couple blocks NW of Ermou is the Church of Agia Irini, which used to be the main cathedral of Athens until they built the new cathedral on Metropolis Street (which is now falling down.) Next to Agia Irini is a square which used to be full of flower shops but now only one or two remain. The shops have been replaced by cafes which are among the best places to go for coffee in the morning, a beer or snack in the afternoon, and at night they are abuzz with young people when they turn into bars. In the same square is a tiny souvlaki shop called 'Kostas' which despite the hype you hear about this or that souvlaki shop in the tourist areas being the favorite of taxi drivers and other culinary experts, is acknowledged by many to be the best in Athens.
Budget travelers can stay at the Hotel Tempi, or if you have a little more money at your disposal the newly reopened (after 100 years) Emporikon Athens Hotel right on the square, to be near the fun. The Hotel Attalos is a block away on Athinas Street. Besides coffee, drinks and people-watching the Ag Irini area boasts one of the best international restaurants, Mama Roux at 48 Aeolou, which features Italian, Mexican, American, Middle East and Vegetarian fare as well as Sunday Brunch and it is also a nighttime hangout with live music now and then, either in-house or musicians passing by and passing the hat.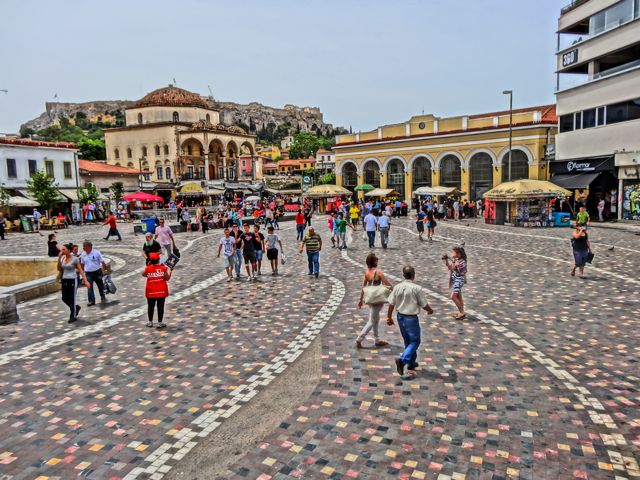 From Aeolou street onwards, Ermou is no longer a pedestrian street as traffic is diverted from Metropolis Street to avoid the souvlaki eaters. The next block has a number of fast food joints and at the intersection of Athinas Street is Monastiraki Square, probably the liveliest square in Athens, certainly the best place to hear street musicians. The metro station is here, the blue and green lines intersect and you can get to the port of Pireaus and the airport from here without changing trains, one of the reasons I encourage people to stay in this area, besides the fact that EVERYTHING is within walking distance of here. The boutique hotel A is for Athens with their trendy rooftop cafe-bar, is right on the square. It is a popular place to stay but with a bar that is open to the general public and an elevator that only holds three people, guests may find themselves waiting in line or taking the stairs to get back to their rooms. The economical Hotel Attalos is two blocks away on Athinas Street and it too has a rooftop bar with Acropolis view too, though only for guests of the hotel. For backpackers the Safestay Athens is on Ag Theklas street just 2 blocks down Ermou from the square on the right.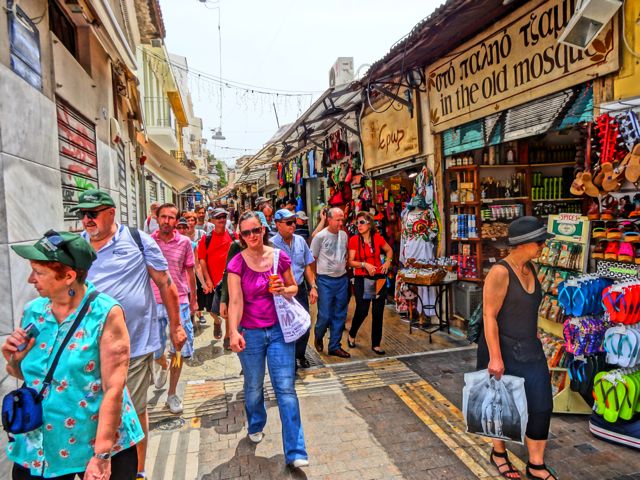 As you continue down Ermou Street you have Monastiraki Flea Market on your left with its collection of clothing shops, antiques, used books, tourist shops, cd and vintage record stores, restaurants, cafes, ouzeries and the famous James Joyce pub, not to mention pick-pockets so keep your hand on your wallet or leave it and other valuables in your hotel safe. Most tourists who come to Athens do all of their shopping in this area, returning from Greece with kitschy T-shirts, plastic worry beads, and other essential items to display on mantle pieces or be given away as gifts where they are shoved in a drawer and forgotten. But among the shops there are treasures to be found if you are patient and know how to look. When a cruise ship comes in, Monastiraki is packed with tourists. When half a dozen cruise ships are in it is even worse as the streets are jammed with what look like caricatures of American tourists. But don't be fooled. The tourists come from everywhere. It is just that everybody looks like American tourists now. That's globalization.
The other side of Ermou is the neighborhood of Psiri which has some overflow from Monastiraki with more eclectic shops as well as some terrific restaurants, ouzeries, cafes and bars. Before The Gazi became the center of Athens nightlife, Psiri was the place to be. The narrow streets have lost some of their luster but many of the original businesses, the pioneers of the neighborhood who opened in the late eighties and early nineties, are still around while most of those who came later have called it a day. Taverna Psiri, Oinopoulio tou Kokora, Naxos, Nikita's, Cafe Evi, and Liosporos are still serving good food and ouzo, tsipuro, beer, wine and meze to customers who have remained faithful through the crisis and for those purists who reject the trendiness of Gazi. You can turn right on Maouli Street, Ag Theklas or Kariaskakis Street and make your way towards Platia Iroon (Hero Square) the center of Psiri and then walk down Agion Anargiron Street and you are bound to stumble upon one of these places. It looks dark and scary as you enter but generally you are pretty safe. I am here every night I am in Athens.
Ermou Street ends abruptly at Ag Assomati square where automobile traffic turns right and makes its way toward Pireos Street, Metaxourgio and parts unknown while pedestrians can turn left towards Thission or continue going straight down what was once Ermou but is now a park towards Keramikos, the ancient cemetery and eventually to The Gazi, the new center for all that is fun and decedent. You can go there and find a nice cafe or ouzeri and wait for the nightlife to begin or you can turn around and walk back the way you came and see if there are any shops you missed.