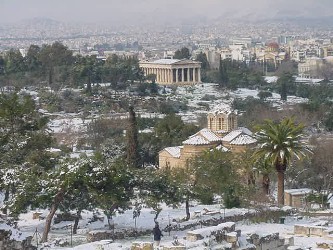 Winter in Greece is not just the off-season. It is the way-off-season. But for some people that is a good reason to go there. You may not be laying out on a sunny beach (then again you may) but the winters are mild in Athens and contrary to popular opinion the islands don't actually close down like a summer amusement park would. There are hotels that stay open year round and restaurants too, and a few days on an island in December or January is a slice of what island life is really like. Trips around the mainland will take you to places like Delphi, Meteora, and Myceneae on days when you can have these famous sites to yourself. Athens comes alive for the holidays with Rembetika, laiko and jazz/blues/rock shows in all the clubs, free concerts in Syntagma square and music and dancing in the tavernas and ouzeries of Psiri and the Plaka. The famous archaeological sites like the Acropolis and Keramikos are nearly empty and grass and plants poke through from every crevice. Street musicians wander the city playing everything from Mozart to Tsitsanis and the shops of Ermou, Aeolis and Monastiraki are alive with fashionable people.

Hotels are cheap, some a bargain.

Athens is a great place to be during the Christmas holidays. And if you are lucky it might even snow!