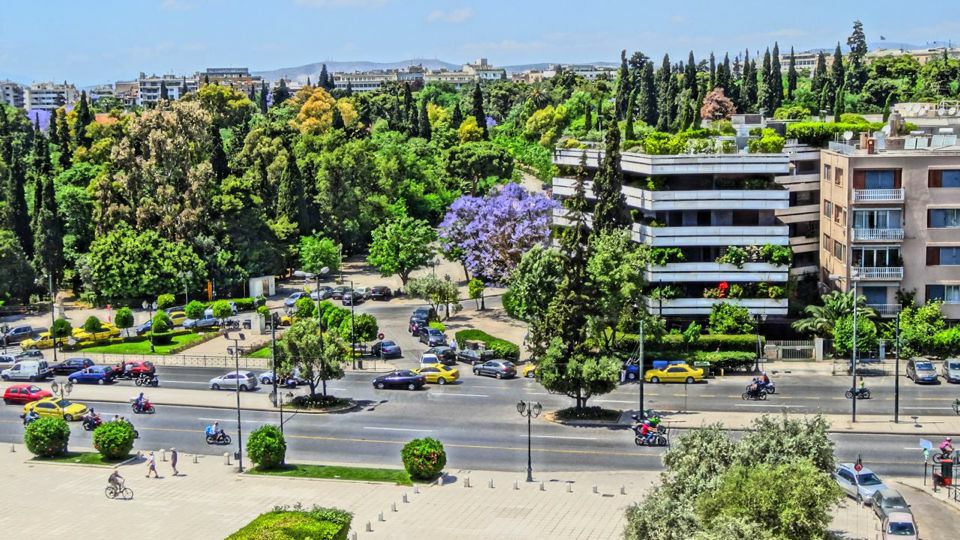 The National Gardens at the intersection of Herod Attikou and Vassilios Konstantinos Avenue. Vassilios means king. Yes, him again.
Why don't they name this street after a poet like Seferis? If Greece was a true democracy the streets would be named for poets, artists and philanthropists, instead of bad German kings.
Herod Attikou Street will take you right to the Benaki Museum and Kolonaki. Vas Konstantinos Ave will take you to Ambelokipi.
On the way there is a statue in a small park of US President Harry Truman which in the sixties and seventies was blown up so often they had to station a cop there permanently.
Now it is pretty much forgotten. The monument was presented as a gift of appreciation by Greek-Americans for President Truman's support ($$$$$$$$$$$$)
for the Greek Government in the civil war against the Communist after World War II. But once democracy was restored in 1974 it became an easy target for people who believed that
the Greek Civil War was not such a good thing. As gifts go I think it was a bad idea. It is not that Truman was trying to save Greece from communism.
He was trying to save the world from communism and decided to use Greece as the battlefield.
Anyway it doesn't matter. Truman is dead. Communism is dead. And nobody gives a damn about the statue except the poor cop who is stuck guarding it.