This interview appeared in May of 2007 in both the English and Greek versions of the Kathimerini Newspaper in Athens Greece.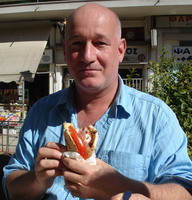 Anyone hunting for information on Greece using Google has probably come across the name of Matt Barrett. His Greece Travel Guides (www.greecetravel.com) are among the most popular travel sites on the web for the last ten years. His Athens Survival Guide (www.athensguide.com) is chocked full of photos, stories and information to such an extent that even Athenians use it and has helped countless travelers to see the city as a place to visit and enjoy rather than to just see the Acropolis and get out. His History of Greece (www.ahistoryofgreece.com) is probably the most thorough, and colorful Greek history on the web and goes all the way to the present day. He has introduced islands like Lesvos and Sifnos to Americans and other foreigners who in the past would have only known about Mykonos, Santorini and Crete. He has done this with a simple recipe: Honesty, great photography, a dose of humor and plenty of free information. By making the process of planning a trip to Greece enjoyable he has created a form of entertainment and visitors to his site can spend days, weeks and months following links through a labyrinth of pages about Greek art, music, food, archaeology, and of course traveling.
Kathimerini: When did you start your Greece websites and what gave you the idea?
Matt: In 1996 I think, that was the first year. I had been spending my summers in Greece, in Athens and on the island of Sifnos mostly, playing guitar in the Old Captain bar and a couple clubs in Athens. During the day I would write in my journal which was just some cheap notebook I would buy and so I had a large amount of material in all these notebooks in my closet. I even had a Guide to Athens I had been working on. So when the internet happened I had an advantage over anyone else making a site about Greece. I had hundreds of pages of stories and descriptions of places, which gave the site some color and humor and all I had to do was cut and paste and then write in practical information like where and when to catch the ferry. There were very few Greek sites when I started. There was gogreece and a couple travel agencies, but nobody doing what I was doing so the site got popular really quickly because it was unique and funny too. So popular that I really stopped playing guitar completely and focused my energies on the website.
But my inspiration to make it a travel site came from a bus trip I took in Crete from Palekastro where my friend Stewart was working on a dig, to Iraklion. We were going through some of those tourist towns on the north coast and a typical British package tourist sat next to me and did nothing but complain about Greece. She said that besides the sun and the sea the country had nothing to offer. As I talked to her I realized she was completely ignorant of anything about Greece except that it was sunny and had sea. She didnít know about Knossos, about the history of Crete, about Greek cuisine, Greek lifestyle, the Greek people, nor did she care. Someone showed her a photo of beach and sky and gave her a price she could afford and she said OK, got on a plane and a bus and spent the days basking in the sun like a big fat lizard and the nights drinking beer in the closest thing she could find to a British pub. I thought about this woman and how much she was not seeing and I decided that the way to promote Greece was to educate people about it. When the internet happened it was the perfect vehicle. Of course the people who discovered the site in the beginning were already pretty informed because back then not everyone was on the net. But gradually my sites reached the general population too.
Kathimerini: Did you begin with the Athens Survival Guide?
Matt: Actually I began with the island of Sifnos because that is where most of my material was from. I had one hotel, the Stavros. I did not even have a clear idea of what I was doing. I would just write and put it on the site. But my friend Sarah heard my story of the English woman and said she wanted me to meet someone. A travel agent from Zaire who worked at Dolphin Hellas Travel named Kiki Zikou who had been saying the same thing about tourism in Greece. So as the site grew and people asked me to recommend a travel agent I sent them to Kiki, and right about then I realized I should put my Athens info on the web. So in the beginning there was just Athens and Sifnos. Then people would ask about other islands and because I had been just about everywhere I could answer them. But as with many of my pages, when I got tired of answering the same question over and over again, I would make a page for that particular island or place. I would write everything I knew, then I would go to the island again, this time with a digital camera, and incorporate the new with the old, find a few great places to eat and some nice hotels and I had a new island website. If you look at some of my island pages you will see a sort of then and now approach because some islands, like Mykonos for example, I spent lots of time there in the seventies and then came back in the nineties to a different island. Of course I was a different person too and the wild-eyed teen who was living in caves at Platyialos, was now staying in nice hotels with his family.
Kathimerini: You give a lot of extra attention to Lesvos, in fact you have the domain Lesvos.com for your site Lesvos: More Than Just Another Greek Island. Can you tell us about that?
Matt: Yes, that is an interesting story, I think. My wife is from Lesvos. A small village called Xidera and she took me there. It is the most remote village in Greece, or one of them. Completely agricultural. Her sister bought a house in the next village and we spent a couple months there. I had lots of time on my hands so I made a site for the village and then worked my way out to other towns. The more I traveled around the island the more I realized that this was the perfect Greek island. Not that the beaches were any more spectacular or the sun shone brighter. But there were hot-springs, castles, roman ruins, incredible food, mountains, forests, streams, traditional villages and even some tourist towns. That same summer all the package tour companies had pulled out. The hotels that had counted on their business were left with empty rooms and no money to pay the banks. For many it was a catastrophe and the island is still feeling the effects. Clearly the island had put their faith in some shady characters, the same people who had sent that woman to Crete. What did they care about castles and hot-springs? They wanted sun and sea and whether they were in Lesvos, Turkey or Tunisia was all the same to them. My feeling was that it was casting pearls before swine. Why not introduce Lesvos to the people who will appreciate it for its beauty, culture and tradition? So I made Lesvos: More Than Just Another Greek Island. Now I am sure I did not save the whole island from financial ruin but I know I saved a few hotels and restaurants and put the island on the map as far as American tourists are concerned. Before, the only Americans who came were Greek-Americans with family on the island. I also know there are a lot of people running around the island looking for sardeles pastes because of me.
Kathimerini: Besides advertising on Google how do you promote your website?
Matt: Believe it or not I donít advertise on google. They just like the site and I come up high in searches which is great for me. Besides an ad in Harpers once a month all my advertising is done with flyers on college campuses. Back in the sixties and early seventies Greece was the place to go if you were a young back-packer, fresh out of high school, or taking a break from college or for the summer holidays. In a way it was the Golden Age of Greek Tourism and you would be amazed at the percentage of people who visited Greece then and are coming back now, for the first time. The kids are in college and out of the nest and they are at or near retirement age and Greece has been tugging on their hearts for decades and they are going back.
Somewhere in the not too distant past Greece decided that they did not want to be a destination for backpackers and frugal young people. Greece wanted the good tourists. The ones that would spend lots of money; Rich Americans. In a way they discouraged young people from coming. Hotels got expensive. Pensions disappeared as did youth hostels. They figured they could just send Avramopoulos to Hollywood and all the rich people would come flocking to Greece. But the fact is that those frugal young people who came to Greece in 1974 and had the best summer of their lives, went back to America and in many cases become successful and eventually return with their families or later when their kids have moved out. And they donít stay in pensions. They stay at the Electra Palace and the Volcano View Villas and the Princess of Mykonos and they spend money. So itís the usual story, you know, Greeceís short sightedness. So I spend my advertising budget on college campuses and maybe they will come to Greece and maybe they wonít. But they do come to the site and they stay on the site and Greece infects them and if they donít come this summer they will come next or maybe 10 years from now or more. My philosophy is that if I can get someone to my site, I can get them to Greece. If they go to Greece and have a wonderful time, then I know they will be back.
Kathimerini: So how can you be sure that someone visiting Greece will have a good time?
Matt: You canít be 100% sure. You know how Greece can be. If something can go wrong it usually will and often it creates a domino effect. But I work with people in Greece who I trust and I have enough information on my site that people can avoid problem areas and are prepared if things donít go exactly to plan. This is the main reason I recommend people use reliable Greek travel agents instead of booking their hotels on some popular hotel booking site. I get lots of e-mails from people in a panic because they booked their hotels on the various islands and discovered the ferries they needed did not exist. Great. They saved 2 euros but now they have to pay for 2 hotels for the same night. If they had booked with a Greek travel agent, first of all there will be a ferry or the agent wonít book the hotel. If by some chance the ferry is cancelled, the agent is going to deal with the situation. Do you think he will tell the customer, ďSorry, the ferry to Mykonos was cancelled so you have to stay another night in Santorini and by the way you have to pay a cancellation fee plus the extra night at the hotel in SantoriniĒ? No. He will call the hotel and explain the situation and the hotel will waive the cancellation fee, and if he does not waive it, the agent will eat the fee and never use that hotel again. Either way the client does not pay for something that was not his fault.
Some people think they will save money booking directly with the hotel. Maybe they will save a couple euros. But not only do they lose the services of the agency, one of which is having reliable ferry schedules and getting the tickets in advance, but if they canít get to the hotel for whatever reason, they are going to have to be the ones to negotiate their refund and all the hotels have different policies. There are some hotels whose policy is 100% cancellation fee regardless of the circumstances. In other words if your ferry catches fire and sinks and you donít let the hotel know 48 hours in advance, you have to pay for the room. When 9/11 happened there was not one person who was denied a refund by the travel agencies because they cancelled their trip either because there were no flights or because they were too freaked out to travel. The agencies lost lots of money. Some went out of business. But there were actually hotels that I had to plead with to not charge the customers. OK. Not all hotels are so money-hungry that they would stoop so low, but they do exist unfortunately, just like there are good taxi drivers and bad ones. But the point is that it is really really helpful to have a travel agent protecting your interests rather than filling out a form on travel-o-saurus.com and then spending the next few months trying to get ferry info and hoping for the best or counting on the goodwill of a hotel manager or the guy at the desk from midnight to 6am.
Kathimerini: If you ever became minister of tourism what is the first thing you would do to improve tourism in Greece?
Matt: The first thing I would do is make it profitable to be a travel agent. Tourism is Greeceís number One industry and yet the government seems to be at war with the travel agencies. The margin of profit in a travel agency is something like 12%. For flights and ferry tickets it costs more to issue the tickets then they make. That is why travel agents donít sell ferry tickets or flights unless you buy hotels and tours from them
Greece needs to create a climate where the travel industry attracts the best and the brightest. If you want an educated society you pay your teachers well. If you want to attract tourists you pay your travel agents well and you put them in an environment where they enjoy their work, not where they afraid that next week they could be out of business. Then the smartest people get into the travel business and the whole structure begins to improve. So lowering the taxes paid by the travel agents will increase the profits, attract better people into the business and in the long rain will bring more money into Greece because the agencies will be able to compete with the international computerized booking sites and more of the clients money will end up in Greece and not in the pocket of Travelocity or Hotels.com
I think the biggest complaint from tourists, besides the ferry connections, is about the garbage on the islands and in the countryside. The way I would deal with this problem is first by education. People in America did not stop littering overnight. It had to be drummed into our souls so that if we threw a gum wrapper out the window we would be crippled with guilt. It took generations to learn that littering was unacceptable and selfish. Now with the influx of people from Mexico and Central America we have to start over again so it really is an un-ending process. Same in Greece. Just when the Greeks get it, the Albanians arrive, so you have to keep educating people. Not that the Greeks have overcome the problem. You have to make people aware that by tossing a cigarette butt into the sea or in the sand you are not returning it to nature. It did not come from nature. You are doing something filthy and disgusting. It is that simple. Maybe like bikers are required to wear helmets, smokers should be required to carry ashtrays.
In Mykonos I saw something really cool. They had kids working all day keeping the beaches clean. Picking up cigarette butts, bottles, cans, paper and in return they got a place to stay and maybe some money. I think every beach and community should do this. Take one room of a hotel and donate it to a couple kids whose responsibility is to keep the beach clean. Or the town or community could do this. You could have an army of young travelers keeping Greece clean for the price of a room and a meal or two. If I put a page on my website looking for volunteers I bet it would be the most popular page on my site.
Kathimerini: Do you have contact with EOT? Have they ever contacted you?
Matt: Never. Not only that but I have e-mailed them numerous times and have never gotten a reply. I get lots of e-mails from people who wrote to EOT and did not hear back from them. I donít know if EOT really cares about tourism in Greece. I think they care more about EOT. But in fairness I have to say that the young people who work in the office on Filleninon Street can be very helpful and I send my readers to them for maps, schedules, brochures and assistance. But probably someone needs to take a hard look at what is going on within EOT and see if the money could be more wisely spent. The outreach of my site is enormous and I believe I have convinced more people to visit Greece than EOT has and I am running my whole operation from a shed in North Carolina and advertising with flyers!
Kathimerini: You have an Introduction to Rembetika and Laika Music on your site. (www.greecetravel.com/music ) How did that come about?
Matt: It sort of began in the early seventies. My friend Jimi Hatzimitriou took me to hear this band Socrates who were playing at a club called Kitaron, near Platia Victoria. They were the greatest band I had ever seen, playing Hendrix and really good originals. Yanni Spathas is still the worldís best guitar player in my opinion. Anyway one night Jimi saw Dionysios Savopoulos at the club and talked to him and asked him if he liked the band. Savopoulos said he loved the band and that kind of intrigued me because up to that point I thought Greek music all sounded the same and here was a guy my parents listened to and he dug Socrates. So I went with Jimi to see Savopoulos play at the same club about a year later. He blew me away. It was in his Vromiko Psomi period and his band was this rock-traditional-laika group, like nothing I had ever heard. He also had karagiozis as a warm-up and Sotia Bellou, the old rembetika singer. As Savopoulos drifted more towards ethnic folk, laika and rembetika I sort of followed him and then began to discover all the old stuff his music was based upon. When I found Gail Holstís book Roads to Rembetika it gave me a sort of road-map to follow, like who was good and when. While I was living in the states I had this nostalgia for all things Greek and rembetika music filled a void. I was in my early twenties in New York living in the East Village, far from Greece, feeling something of what the exiles from Smyrna felt. Maybe I should not say this in a family magazine but it is one thing to listen to rembetika and like it and think it is cool. Its another to be far away from Greece, stoned, and really feeling the music. I think there are a lot of people who study rembetika as a social phenomenon or some kind of musical niche that is the private domain for them and a few of their smart friends. But unless you are far from your home, high on hashish so that you are feeling every note and the words are so alive they suck the breath out of you, you donít get it. You may like it intellectually or melodically but you are missing the point.
One night my friend Leigh and I went to Astoria. We thought we were so cool. We would walk around the east village with one arm out of the sleeve of our jackets, like this secret sign to other mangas in the neighborhood, even though we were pretty American. We were both Greek but I was brought up on Long island and he came from DC. So anyway we knew there had to be some rembetika clubs somewhere in Astoria. We had in mind a smoky hash den kind of tekede, like in the Kosta Ferris film Rembetika. We knew this kind of place would not be on Broadway so we were aimlessly wandering around the neighborhoods when we passed what looked like a garage, and live rembetika music and voices coming from inside. We did not know if it was a private party but we peaked in and everyone looked at us like we were tourists and then went back to enjoying themselves. Of course we felt like tourists and we were a little uneasy and gave that embarrassed smile that you do in these situations and started to leave. Just as we were closing the door we hear ďLeigh! Ela mesa!Ē We looked at each other and went back in and it was this guy who Leigh had allowed into a NY club he was doorman at. Actually he had turned him down for whatever reason they donít let people into these places, the wrong shoes or his nose didnít look right, but as the guy turned away he spoke to his friend in Greek and Leigh had said ďYou are Greek? Why didnít you say so re-malaka? Ela mesaĒ and let him into the club. So that was the same guy and it was like he was returning the favor and we were instantly friends with everyone and that club was our new hangout.
A couple years later Leigh and Jimi had a band called The Dots and I met them at the end of their tour in Germany. We were in Berlin in a neighborhood called Schlesses Tor and there was this little Greek restaurant and on weekend nights they had a band, 2 Greeks and 2 Turks and they played all the old rembetika stuff. The bouzouki player was a guy named Klimis Sofianides. I think and he was the best bouzouki player I had ever seen. But after hours they locked the doors and broke out the chillims and whoever was in was in til dawn. It was Greeks, Turks, a few Germans and one Greek-American rock and roll band from New York City. We would listen to these guys play all night and then come out into the sunshine right at the river separating that part of West Berlin from East with the patrol boats and the Bridge of Spies and we would be thinking ďHow could life be any richer and any weirder?Ē
So that was my indoctrination into the world of Rembetika and when I made my website I wanted to try to share this and let people know there was more to Greek music than the Zorba theme they heard at every baseball game. As I got more and more into it I began to discover that laika from the sixties was able to affect me, not the same way but because I was older and instead of getting stoned I was drinking wine and ouzo and I was more of a faded romantic. So laika music struck another chord in me. Hearing Stratos Dionysiou singing to the taxi driver to just go anywhere he wants because his wife just left him and he was going to kill himself. What man does not understand that? I think lyrically and musically Greek popular music of the sixties was the best music in the world, except for maybe the Beatles and the Kinks.
Kathimerini: You mentioned that you are Greek. Barrett does not sound like a very Greek name.
Matt: Nope its not. And my name was not Barrettopoulos as people sometimes joke. My real name is Economopoulos and my grandfather shortened it sort of to Econopouly. Maybe he thought he was Anglicizing it. He was from Kalithea, Laconia and my grandmother was from Kyparissi, Laconia but she moved to Alexandria Egypt and they met in the USA in an arranged marriage I suppose. My father was born in the USA. My mom was totally American, an orphan actually adopted by my grandparents who were Jews from Russia. In 1963 my dad taught at the University of Athens for a year and we liked it so much he got a job at ACS and we lived in Greece from 1968 to 1974 during the Junta. My formative years. When I went back to the states I took the name Barrett, not because I was mad at my father or didnít want to be Greek but for a couple reasons. First of all I wanted to go to Greece in the summer and if I happened to stay more than 3 months I wanted the option of paying a fine, not serving in the military. The second reason was because I was a musician and Matt Barrett was a much cooler sounding name than Matt Econopouly. At least in North Carolina.
Kathimerini: So you send time in Greece and the USA but where do you do most of your writing?
Matt: This is sort of how it works. I spend the whole summer in Greece and then come once or twice during the year for a couple weeks each time. When I am in Greece I am taking photos, traveling, eating, drinking, talking and pretty much looking for interesting things to include on my website. Then I go back to the USA and once the depression wears off I look at the thousands of photos and see which ones tell a story. Sometimes I will do a page that fits a need for travelers using my site and sometimes I will do one that is just about something I want to write about. I spend about 8 hours a day working on the site. The first thing I do is answer e-mails, mostly a combination of people asking my opinion on some island, hotel or an itinerary. Then there are those looking desperately for ferry info, often wanting me to tell them something different than what they have discovered themselves, that there is no ferry to Amorgos from Lesvos. After I do e-mail I either fix pages that need updating or I embark on a new project. If I have a lot of time it can be a big one like my History of Greece for example. Also in the summer, towards the end when our island if full of August visitors and its too much of a hassle to move the car because I will never find a spot within 2 kilometers of the village. I write then too. I love working in Greece because I spend all day writing about Greece and then I walk out the door of my house and its like magic. Iím in Greece! In the USA I finish work and walk out the door and I am in North Carolina. Its sort of depressing.
Kathimerini: What would you say are the most important sections of your website?
Matt: That really depends on who is viewing the site. I think if you know nothing about Greece then the Island Synopsis is important because it gives you a manageable amount of info on each island and if one appeals to you there are links to more info. If you are scared to death of Athens then my Athens Survival Guide is the most important section because it will make you feel more comfortable about going. If you are a Greek-American or Canadian worried about the military or you want to know about getting residence permits, drivers licenses or other practical stuff, then Dorian Kokasí page (www.athensguide.com/dorian) is the most important. If you want to rent a car and drive around the mainland then my driving in Greece pages are important. But I think the pages that people print out the most are the restaurant pages.
Probably the part of my site I am most proud of is A History of Greece (www.ahistoryofgreece.com) because that was like doing a term paper in high school or a dissertation. It was real work, reading, researching and writing. It started out to be just a brief outline of Greek History, like you would find in Lonely Planet, just to give the visitor some idea of why Greece is important. But the more I read the more seemed important and then once I got into the modern Greece sections, especially those periods that I witnessed or felt a part of, the site just grew and I became like the Sorcererís Apprentice, unable to stop and finally I had to just say OK, this is enough for now. But I keep adding to it and when I get another big chunk of free time I will complete my Biography of Famous Greeks which is part of the History but in its infancy. But my father was a teacher, a really great one, the kind that believed that education was the most important thing in the world, and I think that he would have been proud of my History. Greek history is complicated and not everyone will agree with my point of view but I have not gotten much hatemail so I guess it is perceived as a relatively fair viewpoint.
But I have to say that when I get an e-mail from someone thanking me because he has been away from Greece for a long time and has been looking at my photo pages (www.greecetravel.com/photos) and crying, it makes me feel that maybe those are my most important pages because they keep people in touch with Greece and that part of Greece that is inside them, whether they are actually Greek or they just love Greece.
Kathimerini: Is there a book in the works?
Matt: The beauty of the internet is that I can update pages, fix mistakes, add and subtract info. A book is something final and it can become obsolete pretty quickly. I use some travel guides when I travel and I find hotels that have been gone for 10 years, still recommended. When people who use my site go somewhere I recommend and it is not there, they usually let me know. I have had offers but they just want my info so they can stamp their name on it. Rick Steves asked me to write a book with him but then his publisher said the time is not right. But it would be pretty easy for me to do a book. I just would not want to take on the financial burden because the site does fine and makes enough money for me without the hassle of deadlines and conforming to someone elseís idea of what a book about Greece should be or should include. A Lonely Planet or Frommers or Fodors has to be all things to all people and has to be relatively thorough. Thatís a hard job. My site can be whatever I want it to be. I can write about what I like and what I know. And it works because if you go to my testimonials pages you will see thousands of e-mails from people who used my site and had a wonderful time in Greece, so much so that they are thanking me, or the hotel, or the travel agent from my site. Even Greeks who visited my site expecting to be annoyed at the American who presumes to know Greece have come away with a different impression then the one they expected. There are dozens, maybe hundreds of e-mails from them thanking me for the way I have portrayed their country or Athens. To me that is the most amazing thing of all and makes me the most proud. Being Greek-American can be hard sometimes because you are torn between two cultures and donít feel fully accepted by either. I will never be as Greek as I want to be and maybe that is a good thing. But the fact that I am Greek enough to introduce Greece to thousands of people, and be praised by the Greeks themselves makes me feel that I am doing something that matters. And when I get an e-mail from someone who says that going to Greece awakened something within and changed their life then I feel that this endeavor, which began as the musings of a confused guitar-playing traveler has become something really meaningful.
Kathimerini: What do you see in the future for your websites?
Matt: It is hard to project because they take so much work and the more pages I add the more I will have to update and fix and this is pretty much of a one-man show. Even now it is hard to keep track of all the different pages. Sometimes I come across a page I did in 1996 that I had totally forgotten about full of spelling mistakes and bad html. Maybe one day I will hire a webmaster to spiff it all up, but then I might be afraid that it would lose its personality and look like one of a million other sites. What I see happening is a reflection of what has already happened. I will keep writing, keep answering e-mails and when I get an inspiration I will add something major. Like last year I found my fatherís slides of Greece in the sixties and spent weeks cleaning them up and putting them on the site and people love them, especially those who were around in the sixties.
It is funny because when I was a kid and then even in my twenties I would put together these scrapbooks of poems, photos, stuff cut out of magazines, stories and journal type writing. Kind of like singing your own songs in public but with pictures too. Then I look at my website and I realize that this is what I have done but now on a scale that I could not imagine, and instead of me giving it to some girlfriend to show her how much I loved her or how she broke my heart, I am giving it to the world. And instead of the girl putting it in some drawer never to be seen again, people are printing out pages and taking them to Greece with them. If you want to know what makes my guide unique I think the answer is right there. I am not selling Greece. I am giving it away. And I am giving away a part of myself with it.
---
---