When the French and Turks became friends again it became important to get the marbles out of the country as quickly as possible. Louis Francois Sebastien Fauvel had been released from prison and was on his way back to Athens and would surely be unhappy when he saw what the British had done to the Parthenon and the looting of all the city's treasures, he being a collector and one of the few people who understood their value, not to mention the fact that he had coveted the statues himself and been refused. Lord Elgin tried to buy a big ship but was unsuccessful and even though he was able to hire several smaller ones the crates were piling up faster then they could export them. To add to his problems his own ship, the HMS Mentor with seventeen cases on board, including some of the finest sections from the Parthenon freize, sank in a storm at the entrance to the harbor of Kythera. With fifty cases still in Piraeus it seemed like half of Elgins treasure would have to be left behind. Then on Christmas Eve in 1802 the HMS Braakel ran aground outside Pireaus. When Phillip Hunt appeared with a small army of Greeks and Albanians and rescued the ship, the Captain in gratitude agreed to take 44 cases back to England.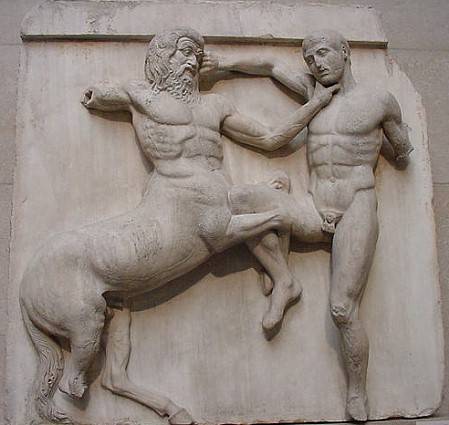 By 1803 Lord Elgin had had enough of the east and received permission to return to England. On the way home he stopped in France, arriving in early May. On the 18th war was declared and all British males of military age were arrested as prisoners of war, Lord Elgin among them. By the time he returned to England in 1806 his wife had left him for another man. In the meantime after two years of diving the last crate of marbles from the HMS Mentor were finally brought ashore and sitting on the beach in Kythera. There were another 40 cases of marbles collected by Lusieri waiting on the docks in Piraeus. There were crates of marbles in various British ports and in the backyards of his friends who were clamoring for him to come and pick them up. On top of everything else he was broke. His divorce trial became the most lurid scandal of the the season and he could not get the British government to re-imburse him for the expenses of buying, bribing and bringing the marbles to England. His life was in a worse mess than when he left England and to top it off he was ridiculed and humiliated by Lord Byron in his attack on Lord Elgin in "Childe Harold's Pilgrimage" as well as other famous works:

Cold is the heart, fair Greece! that looks on thee,
Nor feels as lovers o'er the dust they lov'd ;
Dull is the eye that will not weep to see
Thy walls defac'd, thy mouldering shrines remov'd
By British hands, which it had best behov'd
To guard those relics ne'er to be restor'd.
Curst be the hour when from their isle they rov'd,
And once again thy hopeless bosom gor'd,
And snatch'd thy shrinking Gods to northern climes abhorr'd.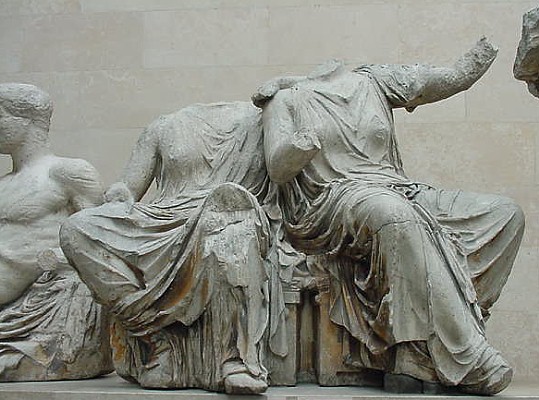 Lord Elgin had planned to come home victoriously with his marbles expecting to continue his fast track to the upper crust of British society with perhaps an ambassadorship to Russia or something else prestigious. There were no offers. Maybe it was the deterioration of his face that made it impossible for him to be posted in any high profile position despite his talents. Meanwhile with no money to set up his own museum the marbles sat in a shed in his yard. But they attracted a steady stream of artists and culturally-minded people and were the talk of the nation.

In the words of Canova, the leading sculpture of the day:

Oh, that I had but to begin again, to unlearn all that I had learned. I now at last see what ought to form the real school of sculpture. I am persuaded that all artists and amateurs must gratefully acknowledge their high obligation to Your Lordship for having brought these memorable and stupendous sculptures into our neighborhood.

The English painter Benjamin Robert Haydon saw the marbles then excitedly brought his friend the painter Henry Fuseli to see them. He recounts Fuseli's reaction

'At last we came to Park Lane. Never shall I forget his uncompromising enthusiasm. He strode about saying, "De Greeks were godes! de Greeks were godes!"

Haydon commended Elgin for bringing them to England.

Then there was Richard Payne Knight who for ten years went around telling people the marbles were second rate and not even Greek but of the Roman period (he was wrong). Lo and behold he ends up on the comittee to decide whether or not the British museum should buy them, saying he would only offer 15 to 20,000 pounds. Yet he tries to get Parliament to pass an act that would forbid Elgin from selling them abroad. Nonetheless when artists saw the Parthenon marbles and compared them to the Roman copies, the superior craftsmanship was recognized and Knight's arguments began to lose steam.

The marbles were finally sold to the British government after a long debate in the house of commons over whether a British Ambassador was justified in using his position to acquire antiquities. Elgin wanted roughly 75,000 pounds for his expenses. In the end they paid Lord Elgin 35,000 pounds and placed them in the British Museum. The legality of the sale was in question then and it is still in question now. The firman was never produced and perhaps never existed. The British claim to the marbles rest on this firman and without it they simply bought stolen property from Lord Elgin regardless of how noble anyone's intentions were.

Lord Elgin felt seriously misunderstood and he tried to defend his rescuing of the marbles to a British public that wanted to know why they should spend their tax money to buy the collection for the new British Museum and a government which was torn between calling him a savior or a thief:

"Every traveler coming added to the general defacement of the statuary in his reach: there are now in London pieces broken off within our day. And the Turks have been continually defacing the heads...It was upon these suggestions and with these feelings, that I proceeded to remove as much of the sculpture as I conveniently could; it was no part of my original plan to bring away anything but my models."

Elgin was right. As more travelers came to Greece people were knocking noses off statues to bring home as souvenirs. Even Byron who ridiculed Elgin could not restrain himself from carving his name in several columns and monuments like a ghetto teen with a can of spraypaint. But a few years later when the Greeks revolted against the Turks they began the restoration of the Parthenon and Elgin's act of 'historic preservation' began to look more like thievery.