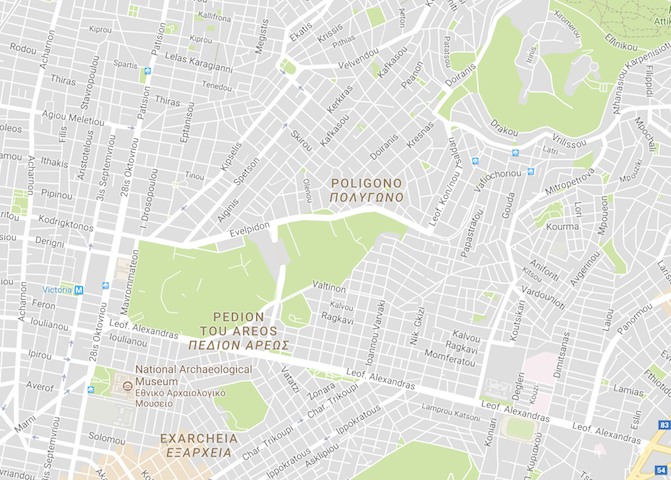 We are on the last few legs of our first trip to Greece, and we have been driving quite a lot for 4 weeks (Naxos, Santorini, then anti-clockwise loop Athens – Meteora – Corfu – Olympia – Gythio – Athens), so I feel somewhat qualified to offer some tips on navigation apps, for your consideration on your "Survival on the Greek Roads" page. I have also used these apps on several driving trip over the last 5-odd years in other European countries.
When driving in a foreign country, I almost never put the car in gear without using a navigation app on my phone to set a destination. It takes a huge amount of stress off the driver, means the passengers can relax and also provides a lot of useful information for the passengers e.g. "how long till we get there"?
The 2 iPhone apps I rely on for navigation in Greece are:
Google Maps – default choice
Pros
Better choice of routes
More accurate travel times
Faster to load
More detailed search results, e.g. businesses with opening hours
Cons
Place names and business names are often presented in Greek characters, so may be unreadable for non-Greeks
Seems several years behind on freeway construction
Audio translation of road names is often lengthy and garbled – a bit pointless
HERE WeGo – for when Google Maps falls down
Pros
Greek place names are translated into Western alphabet – much easier to search and read maps
More detailed road maps
More up-to-date on new freeways
Includes speed limits
Cons
Slower to load
Less accurate travel times
More prone to "crazy shortcut" routes.
Both apps are prone to the "crazy shortcut" feature, where they instruct you to turn onto a country lane that would save a few minutes, if you could continue at 90kmh, but actually takes twice as long because you will be lucky to get up to 40kmh. As a rule, I never turn onto any road that doesn't have a blue signpost to somewhere. Hopefully the app will recalculate a more sensible route in a few seconds.
Some of the other useful features of both apps:
If you miss a turn or don't like the one offered, or cant find a park where you wanted, the app will recalculate a new route in seconds
You can download entire areas to save your mobile data
You can save lists of favourite places in lists for quick recall
You can use them for navigation on foot
You are going to need mobile data to get the most out of these apps. We bring a pocket wifi gadget (currently a Huawei E5786) and load that with a local SIM for data. It makes a portable wifi hotspot that you can connect your other phones etc to. It's often a lot faster and less hassle than hotel wifi. Currently the best pre-paid deal for data appears to Cosmote's "gigaday", where you can get 1GB for 1 euro, which lasts for 24 hours. They also seem to have the best network.
Some other general tips for your consideration based on what I've observed:
Older Greek drivers are generally very considerate and tolerant – but watch out for other foreign drivers who are more inclined to be distracted and reckless
Before passing a slower vehicle, cyclists or pedestrians that haven't seen you, it seems expected (and sensible) to give a quiet peep or two on your car horn, to let them know you are coming.
On a busy highway with broad shoulders, the standard driving "lane" (when not overtaking) is to have your car straddling the line you would normally take to mark the right edge of the road, i.e. your right tires are on the shoulder of the road. This avoids having to swerve right when you are overtaken or oncoming traffic is overtaking.
On remote or mountainous roads, it's fairly common to come across unattended goats. Edging forward slowly with an occasional peep of your horn generally clears them off the road without getting them too stressed.
Let me just add that using GPS is tremendously helpful in getting in and out of Athens.
Comments from Matt's Greece Facebook Group:
John Davis: I take my Garmin loaded with the Europe map. Never hap a problem other than addresses don't mean anything. I just use GPS coordinates, it will put you within feet. I also "save" anyplace important to me with a name, so I can get back to it. Works for me.
Hans van Vliet: Drove around Greece a few times with just a map. Encountered no problems at all. If i had to choose a GPS it would be OsmAnd+ which has all the maps you want on your micro sd card. So no data needed while on the road.
Matt Barrett: I have never used GPS so I am thankful to Mike Honey for writing this. Now I don't have to make up a bunch of stuff and act like I know what I am talking about.
Marina Godovich: This year I downloaded map of Peloponessos from the maps.me for offline use, so no need for data. It is very detailed and voice intructions are exellent. The only drawback (I can't believe I am complaining about it!) - it doesn't say "recalculating" if you take the wrong turn. The program just continues to guide you along the road you're on thinking it was your intention all along. For a person traveling alone it is definitely a disadvantage. Otherwise - I highly recommend the service.
Paul Hellander(Lonely Planet): Mike writes "On a busy highway with broad shoulders, the standard driving "lane" (when not overtaking) is to have your car straddling the line you would normally take to mark the right edge of the road, i.e. your right tires are on the shoulder of the road. This avoids having to swerve right when you are overtaken or oncoming traffic is overtaking."
Allow me to say a few words on this. On perfectly well-engineered, two-lane highways (and I am thinking particularly of the Egnatia Odos between Thessaloniki and Veria for this example) you will occasionally come across drivers of the 'old school' who straddle the emergency lane and the first lane driving at a speed that is noticeably below the average road speed.
The vehicle is usually a truck, a van or quite often a passenger vehicle whose driver simply prefers to drive at 80kms per hour on a road where the maximum limit is 120 kms per hour. The logic is - I think - "here, overtake me without having to move into the outside lane". Trouble is there is never enough room and I always move into the outside lane anyway.
The practice derives, I believe from the days when National Highways (motorways, freeways, autostrade) where the carriageway consisted of a fairly wide main lane and a quite wide hard shoulder: in other words neither a proper motorway, nor an everyday ordinary rural road. Slower drivers used part of the hard shoulder to drive on to allow for easier overtaking. On today's more defined National Highways with two or more lanes and hard shoulders, the practice is inexplicably still prevalent. I notice it more up North than the South, but it is an annoying habit that serves no practical purpose. I have noticed both old and younger drivers following the practice, so it can't just be a generationally defined practice.