Porto Germano is the best place to swim in Attika. The sea is postcard blue in color and the beach and town sit at the end of a large bay that faces west, with pine covered mountains on three sides. There is a modern looking town with houses and small apartment buildings, like condos, but the impression, at least in early May, is of a small coastal village somewhere more remote than Attika. If you have a free day and want to swim in the kind of sea you usually find in the Sporades, its worth the trip.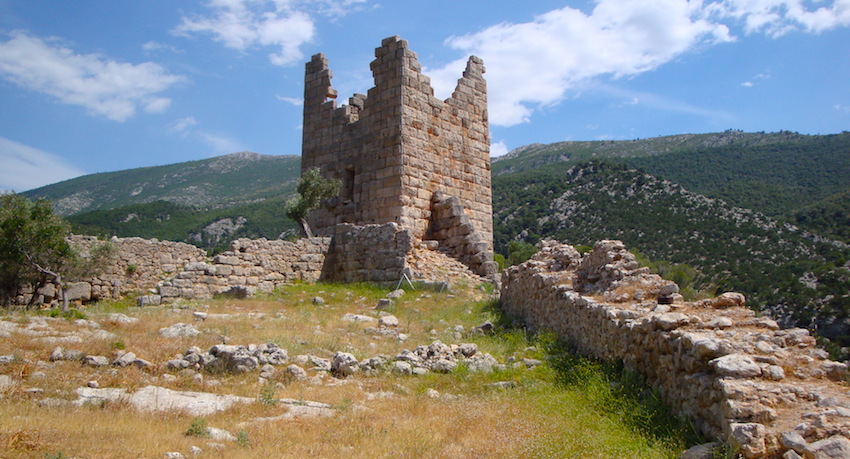 But the most amazing part of Porto Germano is the fortress and ruins of Ancient Egosthena. The 4th Century BC fortress itself is the most impressive in Greece from that period with much of the walls and the towers still intact. The towers are the tallest surviving from the 4th century bc in Greece. There is a small church and the remains of a monastery within the fortress. Inside the church are frescoes, the latest being from the 1830s, but they are replacing paintings that were damaged and much older, some of which can still be seen, though they have been darkened by centuries of candles and oil lamps.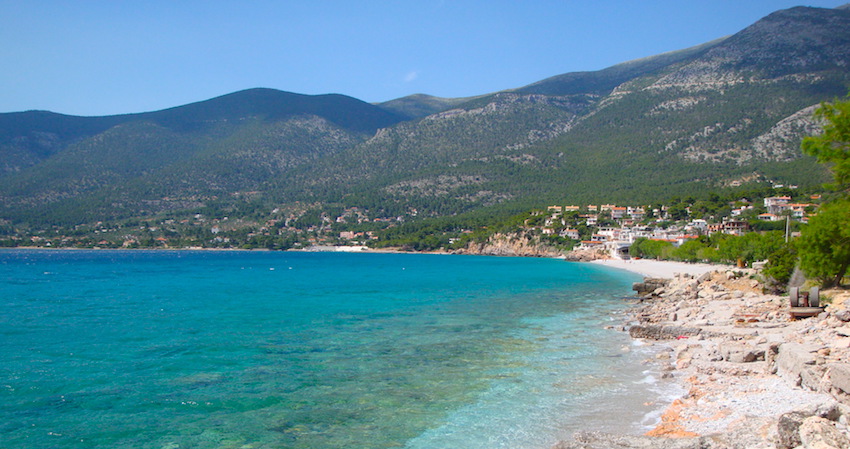 The town beaches are very nice for town beaches, with crystal clear water and convenient to the restaurants, cafes and shops. In fact they are pretty spectacular with a color of blue that you may not be used to seeing if you come from one of those cloudy grey countries. And if you want to really feel like you are on a remote Greek island follow the NE coast to Prosili. Get there before noon when the crowds come in the summer. Off season you may find you have it to yourself.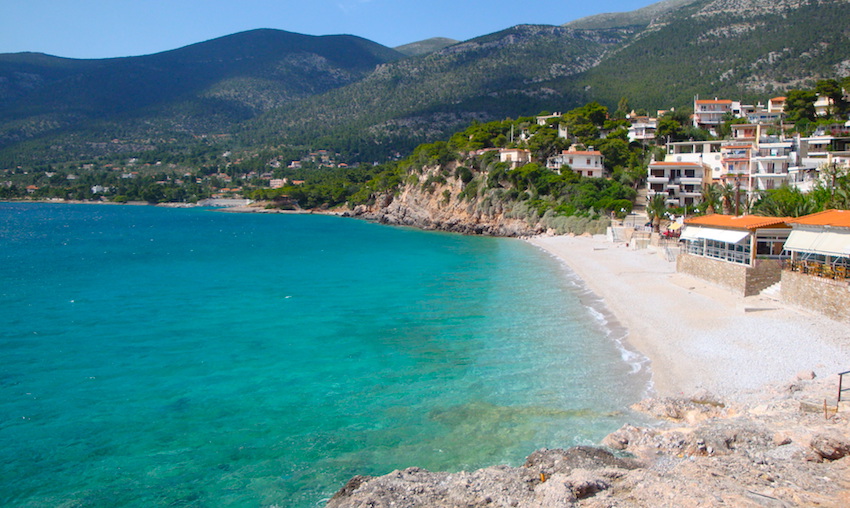 For seafood on the sea try To Kaiki tou Michalis for fresh fish, nice mezedes and a beautiful view of the sunset as the whole bay faces west into the Corinthian Gulf. Also Akrotiri Taverna, right on the sea for fish and meat and the usual Greek fare. Psarotaverna H Avra has been in business since 1946 and is famous for its fresh fish and friendly family service and a loyal clientele, right on the sea. Psarotaverna Mparambou is on the southwest edge of the town, on the sea, and like the others popular with locals and people who come from Athens for the day (including my friends Giorgos and Fani who own O Bakalogatos, one of the best restaurants in Athens). Obviously people come to Porto Germano to eat fish in a setting that is more like the Greek Islands than some of the islands themselves.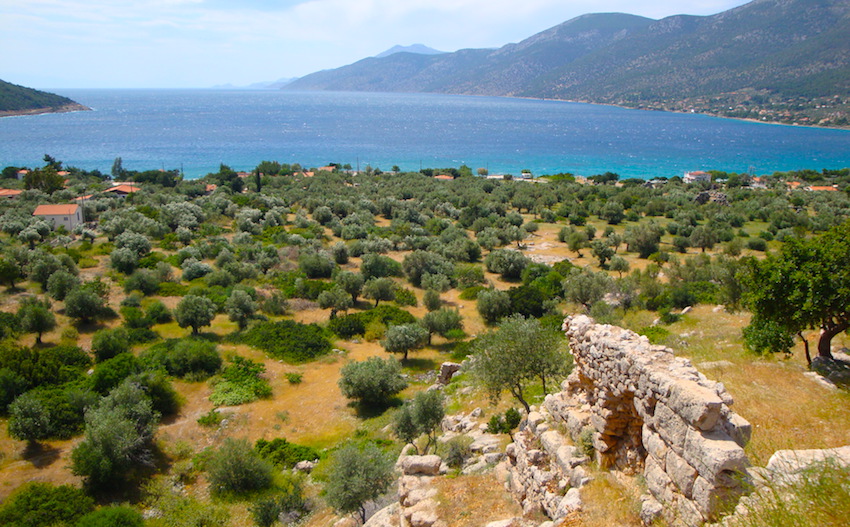 For those who want to stay the night, or many nights, or the entire summer there are not many choices in accommodations. Charming Country Cottage by the Sea is a holiday home located in the town a few ssteps from the sea and if you want to stay there you should probably book it right now. A few miles south just 20 feet from Psatha Beach, Holiday Apartment Vilia Attica offers beachfront, self-catering units with garden, mountain and views of the gorgeous Psatha Bay, another hidden gem in Attika. Continue to Kato Alepohori and there are more choices. Serenity Villa is a self-catered vacation home with a garden, grill facilities, free WiFi and free private parking. Blikas Houses have a garden and free WiFi. Each unit comes with a patio, a fully equipped kitchen with a fridge. Stunning 3 stories Villa & Bungalow by the Sea! is on the beach, has free bikes, a garden, barbecue facilities and free WiFi. The air-conditioned villa is composed of 8 separate bedrooms, a living room, a fully equipped kitchen with a microwave and fridge, and 6 bathrooms. Lak Alepochori Homes are furnished with a AC, private bathroom, a flat-screen TV, free WiFi, desk, a living room, an equipped kitchen, balcony and views of the sea. Sunset Beach House has a garden and free WiFi. Each unit features a terrace, a fully equipped kitchen with a microwave, a fireplace, a seating area with a sofa, a flat-screen TV, a washing machine, and a private bathroom. For more apartments and holiday homes see Kato Alepohori Apartments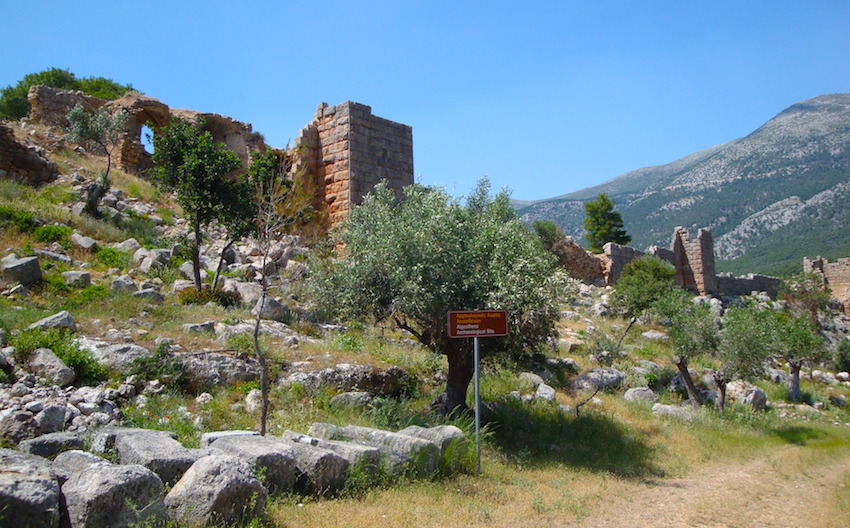 To get Porto Germano you need to drive to Elefsina and take the road to Thebes and follow the signs. This is a good daytrip to do with George the Famous Taxi Driver. If you plan to stay here you may want to rent a car so you can explore the area and it will be easier to do this and drive from Athens then it will be to find a rental car once you get here. If you stay in the area you are close to several important historical places including Thebes, which has one of the best archaeological museums in Greece. You are also within easy striking distance of Loutraki, Corinth and the Argolis.
Help Support Matt's Greece Guides
Do you enjoy using my site? Have you found it entertaining as well as useful? If so please show your appreciation by booking hotels through the travel agencies and the links found on my Hotels of Greece site. The small commission I make on the bookings enable me to keep working and in most cases you won't find them any cheaper by searching elsewhere. You can find hotels in Greece by location, price, whether or not it has a swimming pool, and see photos and reviews by using this link to booking.com which also contributes to my website when you book. If you are appreciative of all the free information you get on my websites you can also send a donation through Paypal or Venmo
Join Matt Barrett's Greece Travel Guides Group on Facebook for comments, photos and other fun stuff. If you enjoy this website please share it with your friends on Facebook and other social media.