Yannis Stavrou: Painter

"...Yannis Stavrou is a painter who touches upon the city's metaphysical tissue. An offspring himself of the lucky generation, which witnessed the historical heart-rending moments of Greek urban centers , and more closely so in his city of Thessaloniki, he takes us by the hand, striding with confident strokes back to our legendary childhood evoked by his images; deep down into the bottomless hollow of Thermaikos harbour, where the massive metal shapes of ships are hovering all aloof, emerging through the midst of cracking-dawn's fog; up through the steep alleys traversing our neighbourhood and past the fading reflections of its households. The street-lamps' flickering light is cast upon windowpanes mixing with the first-born crescents of the rising sun. Our last stop finds us in the heart of the city center's morning awakening. And there, in the midst of the evocative setting of inter-war flats discerned by an artificial air of cosmopolitan facade, we spot the fine silhouette of a tram sliding through semi-darkness.
Yannis Stavrou's serene images render a lifetime's essence - an essence of matter and spirit. In his own universe, he is moulding a harmonious relationship between the "urban landscape" and infinity. In infinity's unlimited domain he dares to boldly project the nature of his feelings through the use of light. No doubt, he is aware that light expresses best a city's soul..."- Dr Manos G. Biris, Professor of the Architecture History in the Polytechnic School of Athens

"...Trams hauntingly roam the city streets under a veil of nostalgia for bygone days. Massive bulks of sculpture-like iron ships float in the still waters of the Thermaikos Harbour making their way through the stillness of the night or the cracking dawns fog. Rusted cranes and deserted storehouses also make "cameo" appearances in the industrial, often cinematic, settings inhabiting Stavrou's serene microcosm. Having originally studied sculpture in the Athens School of Fine Arts before painting won him over, Stavrou has been drawing his inspiration from the same thematic gamut over the years. He skillfully avoids repetition by experimenting with his chromatic palette and playing with light. With his favourite ochres, greens and blues, and his artistic manipulation of the blinding brilliance of daylight or more often so the delicate, gloomy hues of moonlight, Stavrou rejuvenates his subject matter.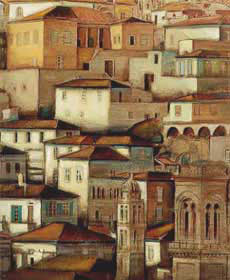 ...The island of Hydra, the artist's muse for a decade now, stands in between Athens and Thessaloniki.Vertical lines in the place of curves, perspective and an intentional diversion from picturesque details to a disciplined and structured effect towards the depiction of Hydra's historical mansions and houses bear testimony to Stavrou's interest in architecture. This however, is translated as a balanced development of the composition within the boundaries dictated by the painting surface, and not as the adoration of the form alone in the academic sense.
...Introspective and romantic in their disposition, Stavrou paintings, though dealing with landscape, break free from naturalistic renditions. The absence or discrete - often unnoticeable - presence of human figures, a ghost - like Parthenon as if standing in mid - air in defiance of the law of gravity and the all - engulfing, cathartic, tranquillity permeating Stavrou's atmospheric compositions are often invested with metaphysical air transcending the barriers of time and space..." Written by Christy Papadopoulou- ATHENS NEWS", 7th of December, 2001
Biography

Yannis Stavrou was born in Thessaloniki,Greece, in 1948. He originally studied sculpture at the Athens School of Fine Arts before painting won him over. He currently lives and works in Athens.
He has organized twenty four solo shows and participated in many group exhibitions. His works are part of both public and private collections.

" If I have to characterize my work I would describe it as contemporary figurative art expressed through neo-impressionist forms and colours. My favourite subject is the cityscape, the urban landscape; cities, ports, ships are often presented in my oil paintings. On the other hand, I am always attracted to sculpture as I originally started my fine arts studies in sculpture.
My hometown has left its indelible mark in my painting. Thessaloniki's northern colours, its fog, its cosmopolitan architecture and finally its harbour and people set the foundations of my artistic horizon.
There's a central theme-title underlining my work: Greece in colours. Cities, streets, people, sea depictions, everything I love and miss. Emotional tension finds an outlet in the process of creation. People and historical events live inside me as shapes and colours. Colour is central to my painting. Life is the epitome of the universe. Through painting I try to stay close to those things I like but I can't own. The human vanity of the process of selection. This mysterious repetition of nothingness that torments us. Things which often hurt us but we insist on desiring and loving in a unique way."

SOLO / ONE PERSON EXHIBITIONS

1978, "MEDUSA", Athens
1979, "WORKSHOP", Larissa
1980, "MEDUSA", Athens
1985, "EPOCHES", Kifissia - Athens
1987, "EPOCHES", Kifissia - Athens
1995, " IMAGE" - Sculpture, Athens
1996, Hydra's Town Hall
1996, "MONOHORO" , Athens
1996, Bank of Greece , Athens
1997, " AL ANDAR" - Latin America 's Institute of Culture , Athens
1997, Hydra's Town Hall
1998, "IANOS"- Exhibition of Paintings made for Harry Klynn's poetic collection "City", Thessaloniki
1998, Hydra's Town Hall
1998, "IANOS", Thessaloniki
1999, " IMAGE" , Athens
1999, Hydra's Town Hall
2000, "KIVOTOS", Hydra
2000, "IANOS", Thessaloniki
2001, "STOA TOU VIVLIOU", Athens
2001, "KIVOTOS", Hydra
2002, "IANOS", Thessaloniki
2002, " Piraeus Marine Club", Piraeus
2002, "KIVOTOS", Hydra
2003, "KIVOTOS", Hydra
Click on Photos to Enlarge